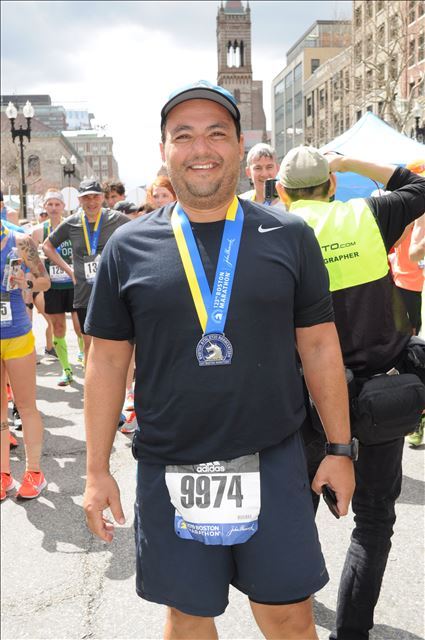 Alexandre Faria is in the results of The 2017 Chicago Marathon with a time of 3:17:06. He used this time to enter The 2019 Boston Marathon.
Unofficially, Alexandre ran Monday's Boston Marathon in a time of 3:01:55. He was not given an official result. In essence, he was disqualified.
There are 12 intermediate timing mats at The Boston Marathon. Alexandre only hit two of these timing mats. Alexandre crossed the 5k timing mat in a time of 34:06, a pace of 11 minutes per mile.
He registered at the 25.2 mile timing mat in a time of 2:50:29.
His finish time of 3:01:55 calculates to 7 minutes per mile.
It is clear that Alexandre took another form of transportation towards the finish and hopped on the course just before the 25.2 marker – Alexandre missed the 40k mat (24.85 miles).
I then took a look at the Alexandre's race photos. Alexandre was photographed with his cell phone out near the finish line, and he posed in the finisher area with his medal.
After seeing these photos, and noting that his bib number would indicate a sub 3:30:00 qualifying time, I became interested in his qualifying marathon. Why would a legitimate runner cut the course in Boston after only running 5k?
2017 Chicago Marathon
Alexandre's Boston qualifier was obtained with a 3:14:06 time at The Chicago Marathon in 2017. I pulled his result: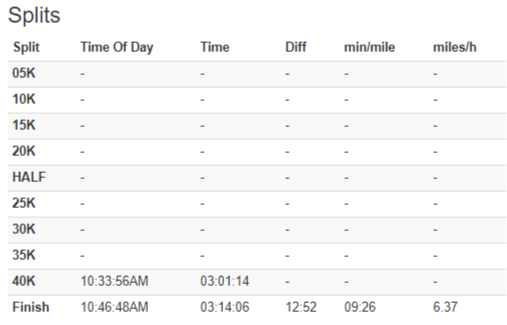 Alexandre did not hit a single split before 40k. He registered at the start, the 40k mat and the finish. Despite missing 7 splits, he remained in the official Chicago Marathon results and therefore was eligible for entry to The Boston Marathon.
For Chicago, he only had photos before the race, at the finish, and after the race (Is he hitchhiking??).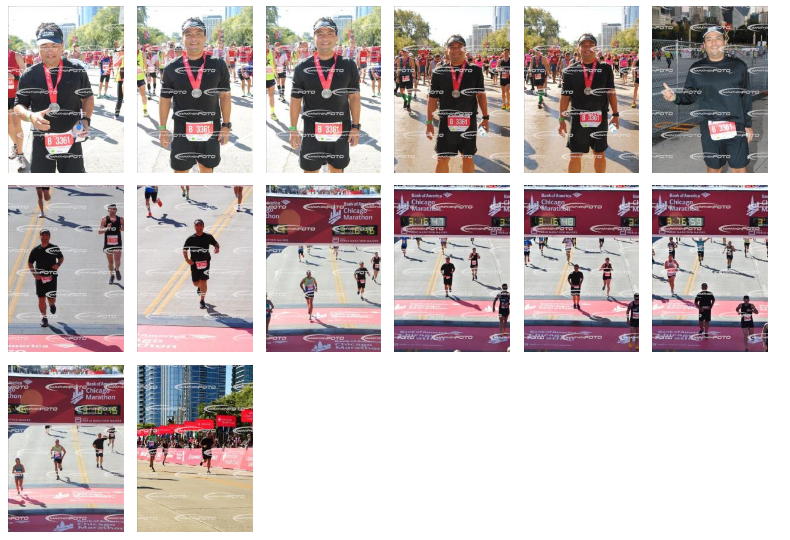 Unfortunately, at the time of the 2017 Chicago Marathon, I did not have the ability to scrape the results for that particular race. The capability was built in prior to the 2018 Chicago Marathon, but, I did not look back at the prior results.
Had he finished Boston legitimately, his time would have likely exceeded 5 hours. He would have been near the top of my list of runners to review for potential cheating in their qualifiers. His apparent course cutting at Boston just led to him being caught sooner.
I am surprised that this result was not immediately flagged and removed by Chicago. I will reach out to them. I will also take another look at The 2018 Chicago Marathon results and report anything suspicious to The race.
Support Marathon Investigation
Thank you to all that have contributed to Marathon Investigation. Your contributions are what enables me to continue the work of Marathon Investigation. To support the site, please consider making a small contribution.
Don't want to use PayPal? Click below to contribute without going through PayPal.