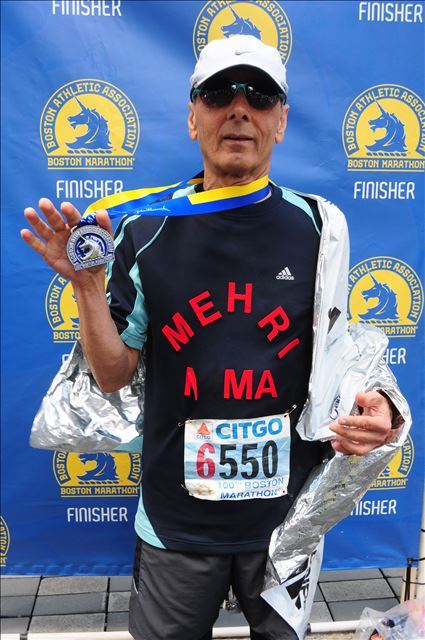 The "Retro Bandit" was identified after The 2018 Boston Marathon. He earned the nickname for running (at least a small portion of) The Boston Marathon wearing a 1996 Boston Marathon bib. Further research showed that he jumped into the 2016 and 2017 Boston Marathons as well. He always claims a medal and poses for photographs.
On Monday evening, while scraping the results of The 2019 Boston Marathon, one of the first things I did was to check to see if any photos were up on Marathonfoto.com. The first bib I checked was Bib #6550. Sure enough, there were photos of the Retro Bandit.
The runner once again was shown on the course and in the finishers area. Photos show him with his medal, the mylar blanket, and a bottle of water. He clearly took advantage of services reserved for registered runners.
Who is The Retro Bandit?
Last year, at first, some readers were giving him the benefit of the doubt. Maybe he was legitimately registered, and was wearing the bib as a tribute of some sort? This notion was quickly dispelled.
I was able to determine his finishing time based on finish line photos. The runner with the 1996 bib did not register at the finish. He did not have a legitimate 2018 bib.
While 1985 Boston Marathon results are not available online, a reader of Marathon Investigation had a copy of the results . The owner of the 1996 bib was identified.
Ali Eghlima, an MIT graduate, was the legitimate owner of the 1996 bib. He ran the 1996 Marathon in a time of 3:05:54. It has been confirmed that Ali is the Retro Bandit.
According to Athlinks, 1996 was his last official race. He also appears in the 1989 and 1995 Boston Marathon results.
A source had previously confirmed that Ali is on the BAA's banned runner list. But, banning a bandit has little effect. This also shows how easy it is, despite increased security, for anyone that is so inclined to jump on the course and cross the finish.
Support Marathon Investigation
Thank you to all that have contributed to Marathon Investigation. Your contributions are what enables me to continue the work of Marathon Investigation. To support the site, please consider making a small contribution.
Don't want to use PayPal? Click below to contribute without going through PayPal.