There were moments I was cursing and wanted to stop but I just kept telling myself "strong thoughts only" Ended up placing 2nd female overall and 1st in my age group and can't even believe it but BOSTON QUALIFIED!!! Like what?!?!?! I don't have much of a buffer for cut off times but have one more marathon to help with that. Man oh man what a way to spend the Sunday!!!
The second place female finisher of The Fort Worth Marathon finished in a time of 3:28:42. This time is also a Boston Qualifying time, just under the standard of 3:30:00. A time of 3:28:42 would have missed the cut for the 2020 Boston Marathon by just 21 seconds. The finisher has clear Boston ambitions.
The Course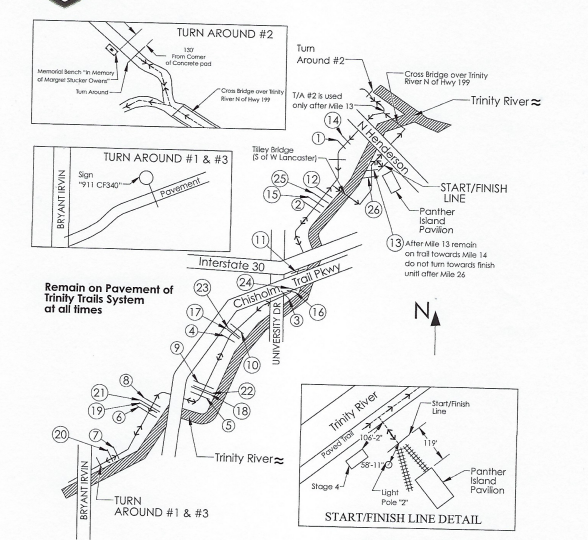 The Fort Worth Marathon course is USATF certified, and a Boston qualifying course. The course consists of two loops of the above course.
The Result
The Fort Worth Marathon publishes a single split at 13.1 miles – at the end of the first loop.
*Note – the split times for all competitors are now unpublished**

1st Half: 1:52:52 – 08:37 per mile
2nd Half: 1:35:50 – 07:19 per mile
17 minutes and 2 seconds negative split
It is very unusual to run such a substantial negative split. I looked at her previous results on Athlinks to see what her typical race pace is.
| | | | |
| --- | --- | --- | --- |
| Date | Distance | Time | Pace Per Mile |
| 1/26/2019 | 13.1 | 1:51:48 | 0:08:32 |
| 2/24/2019 | 13.1 | 1:49:27 | 0:08:21 |
| 5/25/2019 | 5k | 0:27:05 | 0:08:44 |
| 10/5/2019 | 13.1 | 1:57:13 | 0:08:57 |
She has not approached the 7:19 per mile pace that she registered for the 2nd half of The Fort Worth Marathon.
Additional Evidence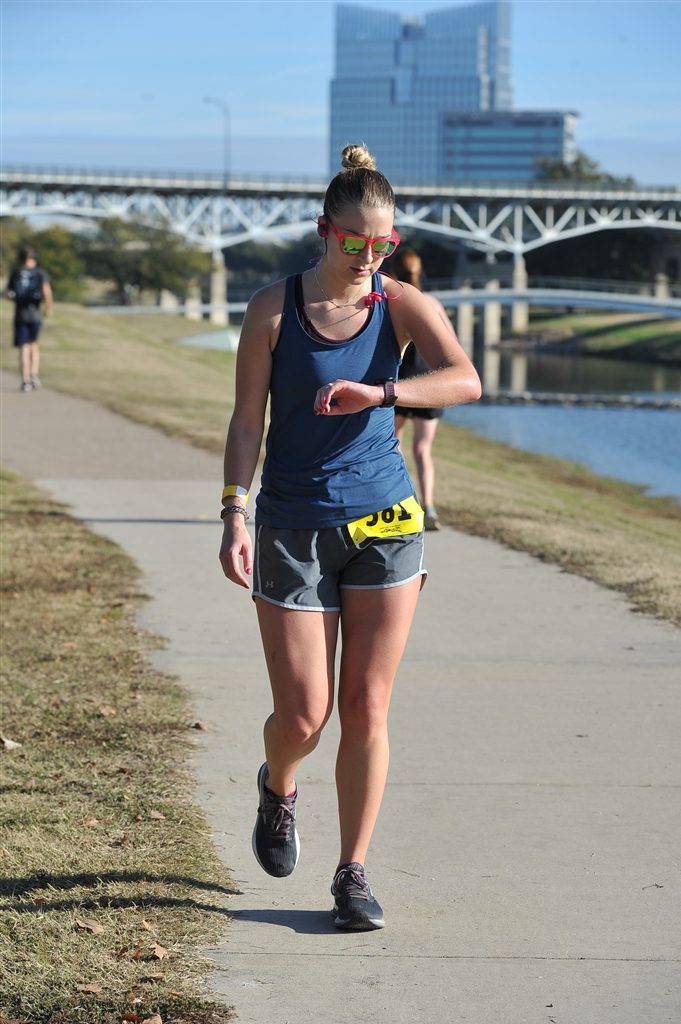 She made a detailed post on Instagram. Her post does not align with her results.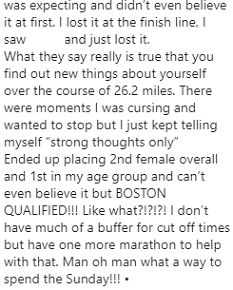 She said that she slowed down her pace at around mile 20 to "8:05 ish."
If she ran an even 8:05 pace from miles 20 to 26.2, that would have meant that she ran a 6:38 minute per mile pace between miles 13.1 and 20. The photo of her walking while looking at her watch is estimated to be taken at approximately mile 15.
She says she turned her GPS off when she went into the restroom.
It would be highly unusual for a runner to stop their GPS during a restroom break DURING A RACE. Also, her statement is inconsistent with her GPS data.
Note: After putting together the above evidence, I was able to obtain her GPS data, which was synced on TrainingPeaks.
I uploaded her data to Strava and was able to confirm the conclusions made above.
The Flyby video shown above gives a representation of her track, compared to a few other runners who ran the entire course. You can see where she turns around prematurely.
She turned around on the second loop, at mile 18 approximately 2 miles before the turnaround point. Her GPS was never paused. She shortened the course by roughly 4 miles. From miles 14 through 22 (when she finished) she was averaging over 10 minutes per mile.
"I did end up slowing my pace down at this point to about 8:05 ish and at this point things got ugly…"
Had she ran the entire course, she would have finished in a little over four hours. The only statement that could be verified from her Instagram post was that her first mile pace was actually 7:54.
Fort Worth Marathon Response
I messaged The Fort Worth Marathon on Saturday November 16th, they reacted by quickly removing the runner from the marathon results. She is no longer listed in the results.
The Runner's Response
I attempted to contact her through a direct message on Instagram. She did not reply. After I messaged her, she made her Instagram account private.
Support Marathon Investigation
Thank you to all that support Marathon Investigation. To support the site, please consider making a small contribution. Your contributions are critical and are what allows Marathon Investigation to continue to operate.