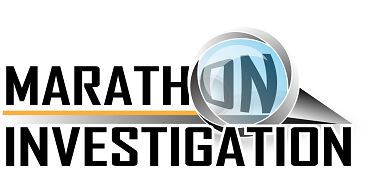 I had planned to write about the media's reporting and the resulting response relating to The Frank Meza tragedy earlier. But, as some time had passed, I decided it would be best to move forward. I knew I would always be asked about Frank, but I did not want to write any more articles on the subject.
After a disappointing article in last Sunday's New York Post, I decided it was time to address the media coverage and the resulting response.
A few weeks ago, I received the below email. After some time, I agreed to be interviewed.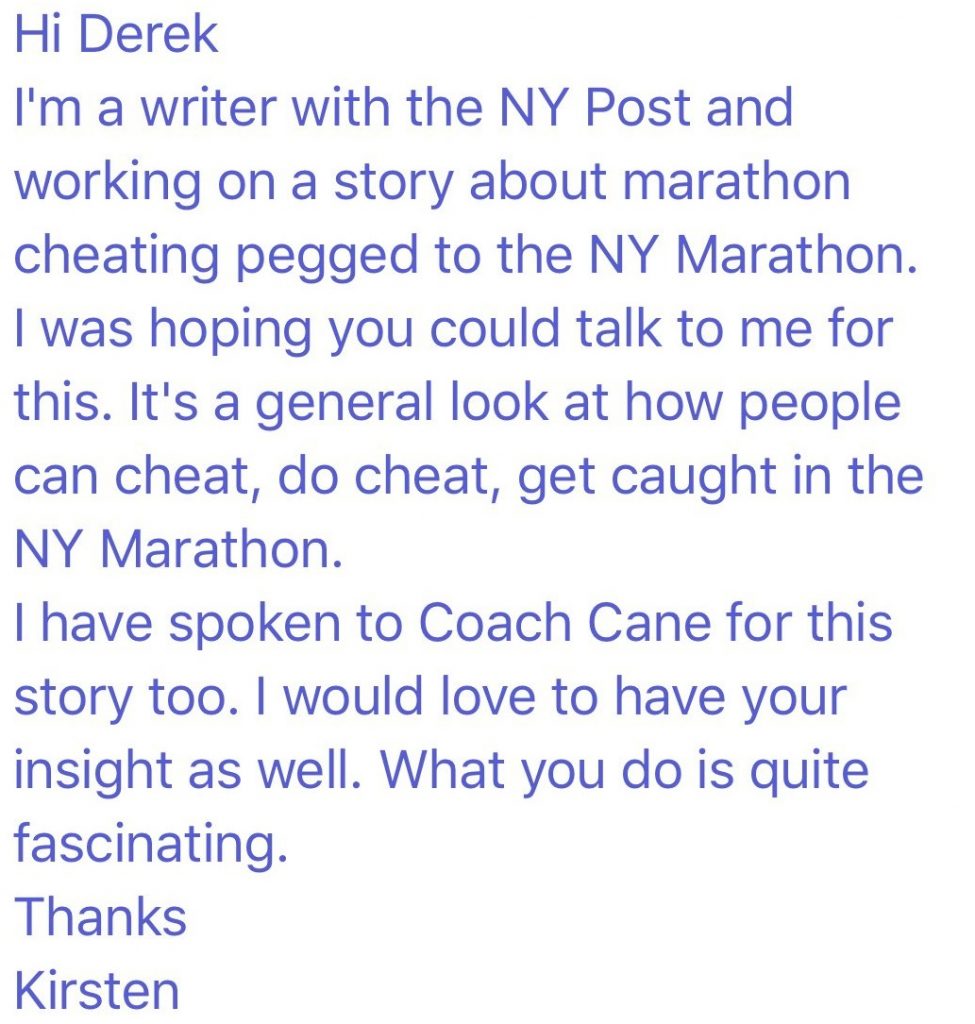 "It's a general look at how people can cheat, do cheat and get caught in the NY Marathon"
We initially spoke for just under 1/2 hour. The conversation was in line with the initial email. We spoke about cheating in general, methods of cheating, etc.
About 1 week later, Kirsten reached out saying she had a couple of quick follow up questions.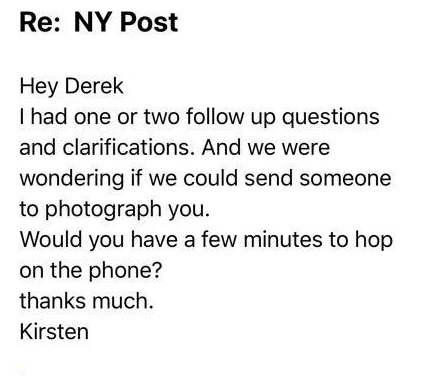 Those questions were about Meza. Mostly, I spoke about the changes that resulted from the tragedy. The same changes outlined in the article I posted in August.
Kirsten has said that she would send the link to the article once it was live. She never did. Maybe she knew how I would feel.
My issues with the article which
I've communicated with the author were that
1) The headline did not accurately represent my statement.
2) I was told that this was a general article on cheating at The New York Marathon.
I understand that the Meza story will always be tied to my story, so I agreed to answer those questions, not expecting that my cooperation would lead to a change in focus of the story. I did not say anything that was inconsistent with my past statements regarding Frank.
Basically, I said that if Marathon Investigation continues to exist, that I'd always write about cheating that were as egregious as Frank's. That should go without saying. It does not mean that I am unsympathetic, or that what happened has not affected me deeply.
The Media

Much of the initial media coverage of Frank's death was similar to The Post's. It was convenient to either make the direct link to Frank's suicide and Marathon Investigation or to insinuate a direct link. As I learned, many people don't read past the headline or the first paragraph of a story.
After his disqualification, a story on Frank appeared on Good Morning America, the anchors laughed at him. The Dan Patrick radio show talked about Frank. The story was going viral nationally in the days before Frank's suicide.
Inside Edition knocked on Frank's front door the day before Frank committed suicide. The day after his death, they were in his living room reporting on his suicide and the alleged bullying.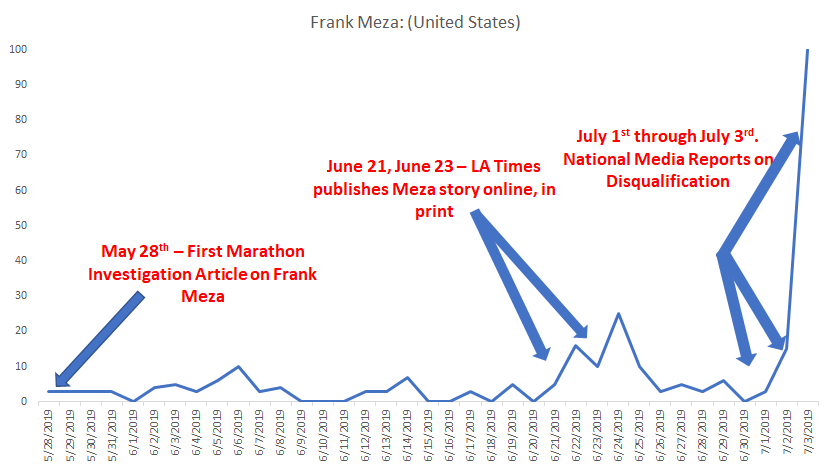 None of these stories blamed their own reports of Frank's cheating. The New York Post reported on Frank's disqualification on July 3rd, the day before his suicide. Did they ask themselves if they would do it again? Of course not.
If the media wants to link my reports to Frank's death, then they at the very least need to acknowledge the reach of the national media, and the coverage Frank received immediately preceding his suicide.
There are some people that are not fans of Marathon Investigation. I have no issue for those with genuine criticism. I am happy to debate them. I am happy to learn from their perspectives.
Others tried to capitalize on the strategy to further their personal agenda.
Kelly Roberts
I initially mentioned Kelly in an article nearly three years ago. Although she claimed the article was an attack on her, it was not.
In June of 2017, I wrote about Kelly after she was found to have bandited more races – Bandit Selfie Repeat – Popular Blogger Continues To Ignore The Rules. This story ended up going viral mostly because of her then sponsor, Oiselle's defense of banditing.
It is against that backdrop that Kelly made the following posts on twitter in the days following Meza's death.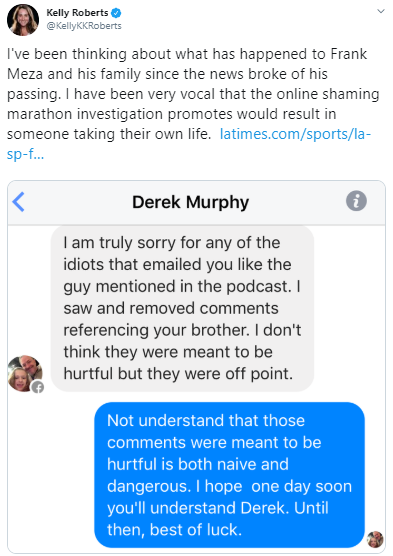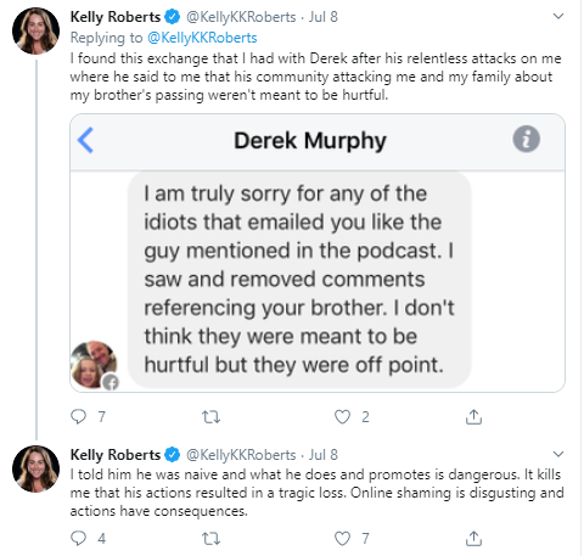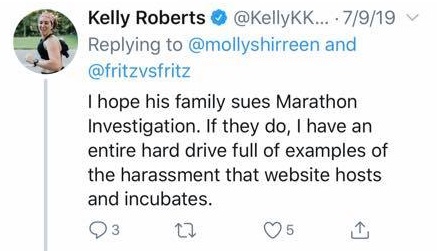 There is a lot to address, and Kelly had a lot of time to walk back her statements.
First, she posted a segment of a personal conversation. I was under no obligation to reach out to Kelly, or even to remove any comments from the Facebook thread that she was referring to. But I reached out and apologized for statements that I certainly did not encourage. In order to make her point, she was deceiving her followers. She was lying by omission.
Here is the rest of the conversation.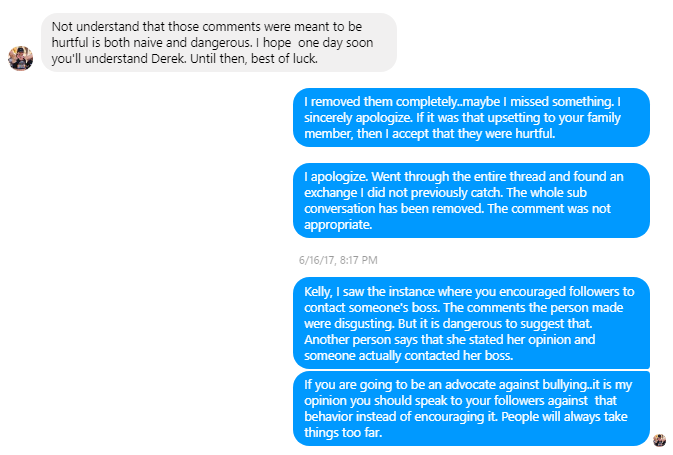 The rest of the conversation did not fit into her narrative. The part where I once again apologized for comments that I did not make and did not encourage. The part of the conversation where I found and acknowledged the inappropriate comments.
When I saw these posts by Kelly, I was at a low point. Both the situation itself and the backlash were taking a toll. I found it extremely disingenuous that Kelly would post this conversation, and deliberately leave out a key portion, and to do so on the day that Frank's cause of death was officially determined.
Even when she was questioned about these posts in responses to her tweets, she did not acknowledge her omissions.
Kelly also tweeted this: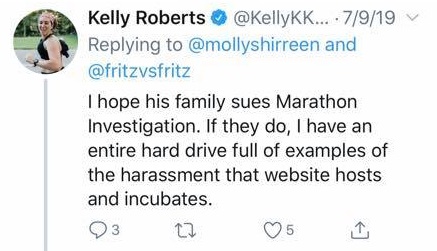 Again, I have never encouraged harassment against Kelly or anyone. While I am not legally responsible for the reaction to my articles, I do not allow harassment of anyone on the site or my social media. I have never encouraged that anyone contact Kelly or anyone else.
Kelly cannot say the same. Kelly posted this after sharing an (inappropriate) comment she received on her blog.

I have never, ever crossed the line that Kelly crossed above.
If you claim to be against harassment and bullying, you can't just be against it when it's convenient. You have to be against the behavior, no matter who the recipient is.
Conclusion
I did not want to write this article. I put it off for four months. But, the New York Post article made me realize that if I don't address inaccuracies such as their headline, or the false narrativeS that 'influencers' such as Kelly Roberts make public, that people will believe what they put out there.
More than once, I've seen comments in different groups that reference bullying and harassment on the part of Marathon Investigation. When I address these allegations and ask for examples, the accuser never has an example.
I have been criticized for not being a 'journalist'. But, when I see how some actual 'journalists' and publications do business, I have no doubt that I have acted more ethically than most of them. I try not to embellish the details, or post unnecessary fluff to make my articles more readable or more interesting. My headlines always are intended to reflect the content, not to mislead someone into clicking.
I always try to act with integrity when I write an article and decide on writing an article. I stick to the facts, and if I offer an opinion, I make it clear that what I am writing is my opinion. I stand by what I write.

Support Marathon Investigation
Thank you to all that support Marathon Investigation. To support the site, please consider making a small contribution. Your contributions are critical and are what allows Marathon Investigation to continue to operate.