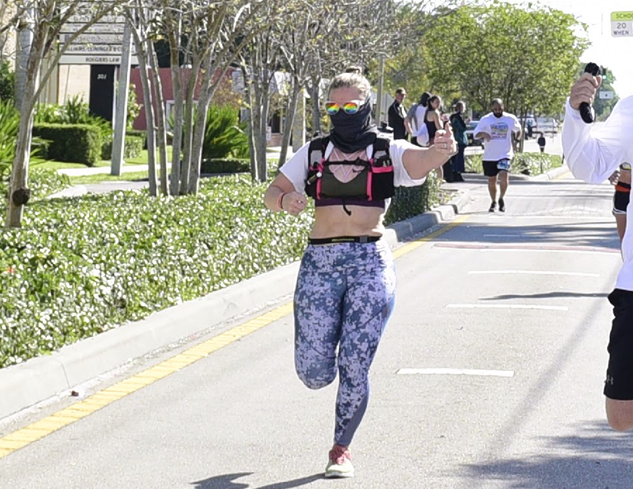 To support Marathon Investigation, you can make a contribution by clicking on the bottom of the page, or go to Paypal.me/marathonsleuth. Everyone's support is appreciated!
Sunday March 1
The Marathon of The Treasure Coast was set to start early on the morning of Sunday, March 1st. A series of events led the runners off the course shortly after the start line. The course takes the runners past the start finish area, and they were given the option to re-start to make sure that they ran the official, certified course. Runners looking to qualify for races such as Boston, or New York took advantage of the do-over.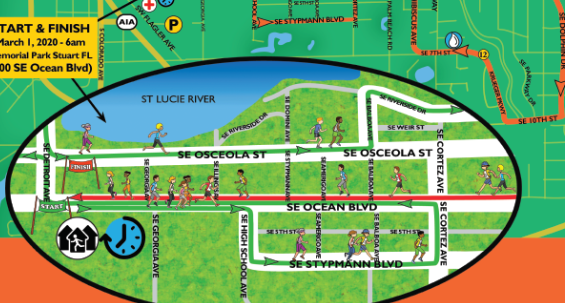 The smaller, 2nd wave was competitive. The times at the top of the leader boards were faster in both the half and full marathons.
Kacey finished in 2nd place in the Women's Half Marathon.
Evidence of Bib Swapping
Kacey was in the initial results with a time of 1:29:46 – and was assigned bib 1178. Her husband Thane was in the results with a time of 3:08:31 – and was assigned bib 1250.
One look at the photos show that they were wearing each other's bibs, and her finish line photo confirms that Kacey finished in the time that was credited to Thane.
In the photo of her and Thane, they are wearing each other's bibs. Her finish photo shows her crossing the finish line in well over three hours.
It could be reasonable to believe that this swap was an accident.
However, following the race, Kacey made the following post on Facebook.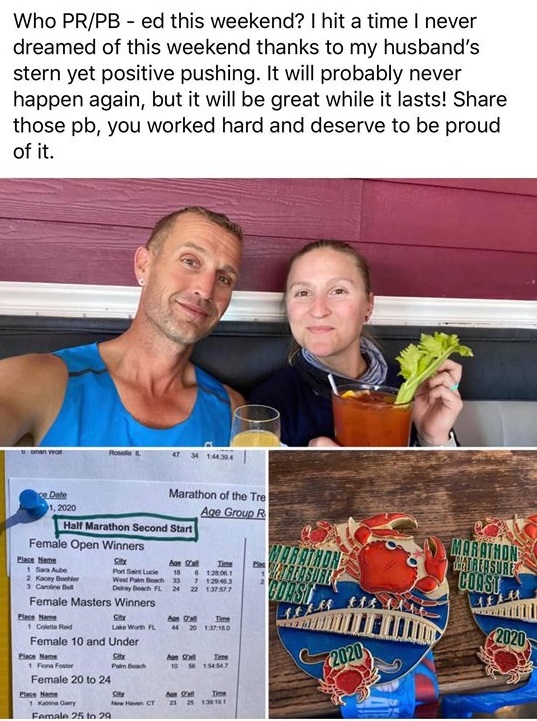 Kacey clearly was taking credit for Thane's time. She posted a picture of the results that were posted in the finisher area. If the swap was accidental, she would have known immediately that the results were not accurate. However they said nothing to race officials, and bragged about the time afterwards.
The Denials
I reached out to Kacey at 8:30 PM on Thursday night, she replied at 9:04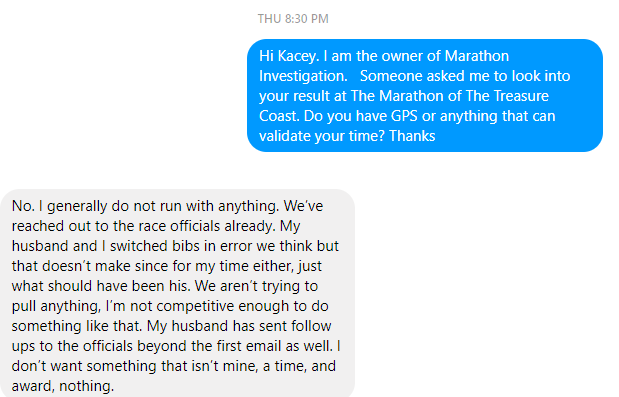 While she was admitting that they switched bibs, some other points didn't ring true.
She took a photo of her result at the race
She bragged about her time on Facebook
I asked to see the emails. If they did reach out to the race director to correct the results immediately after the race, I could at least give them credit for that.
Kacey sent me the two emails above showing that they did indeed email the race director.
In the first email there was no mention of Kacey's time. Thane was only trying to get his time changed. It is only in the 2nd email that they admit to accidentally swapping bibs.
I spoke with The Race Director, Mike Melton on Thursday evening. He informed me that the 2nd email from Thane was just received at 9:03 PM that evening.
Tuesday 6:08 PM – Thane sent the first email to Mike asking that his time be adjusted.
Thursday 8:30 PM – I sent a message to Kacey asking if she had anything that would validate her time.
Thursday 9:04 PM – Thane emails Mike about the 'accidental' bib swap. Kacey responded to my message at the same time.
The "follow up" that Kacey told me that Thane sent to the race official was literally being sent at the same time she was responding to me.
FRIDAY
On Friday morning, I messaged Kacey with what I knew to that point. They were aware that Kacey's time was incorrect at the race, and they only admitted this after they were caught. Kacey doubled down: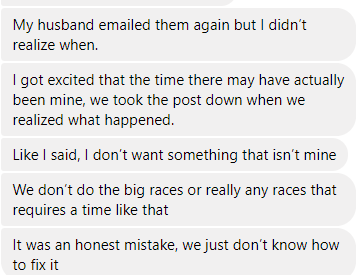 Again, her husband was emailing the race at the exact time Kacey was messaging me. Kacey and her husband are avid Disney runners. Thane even wrote abut wanting the result fixed for Proof of Time at Disney and she clearly took credit for the time.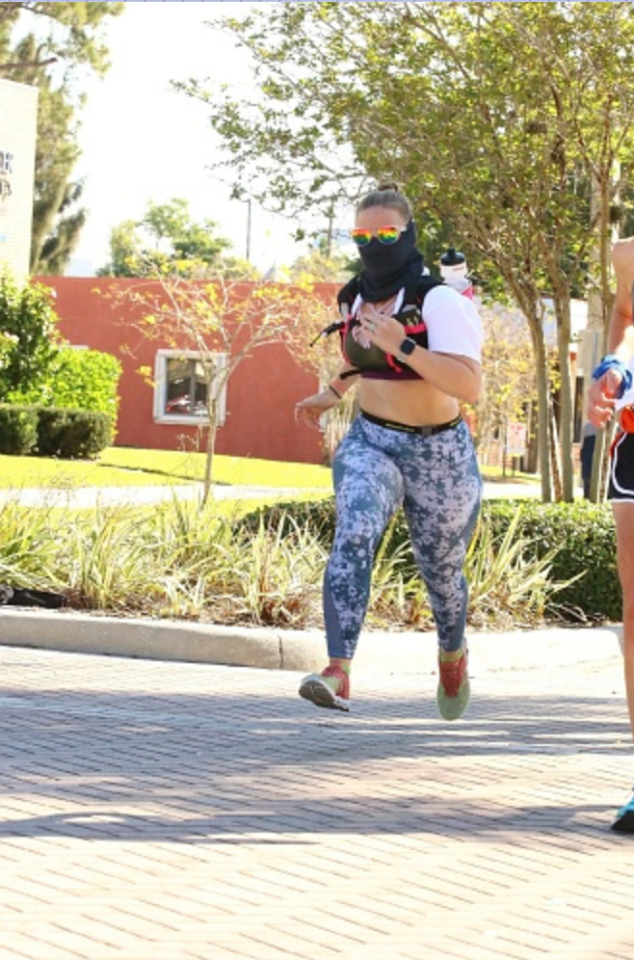 I don't want something that isn't mine, a time, and award, nothing
Kacey accepting her award for 2nd place at The 2018 Red Carpet Run Half Marathon
Kacey finished in 2nd place at the 2018 Red Carpet Run. When I asked her abut her personal record half, she gave me the time from this race.
We had the following exchange: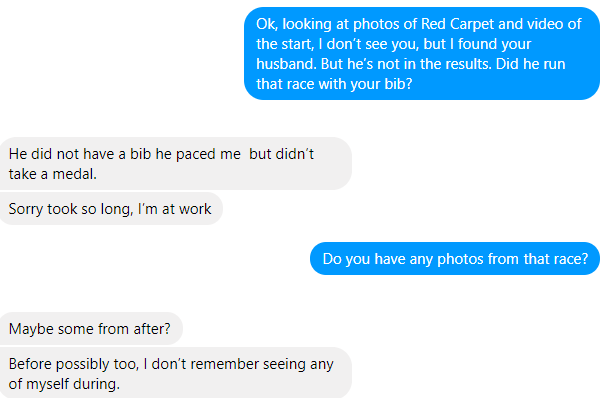 Here are photos that were found of Shane during the race.
She said Thane paced her. She's not in any of the photos with him. She said he did not have a bib. A bib is visible in the photos.
After presented with this evidence, I told Kacey that I would allow her to make a statement if she chose to. Here is what she had to say.
A husband ran for his wife

Call me crazy, but we like spending time together, my husband and I. I know, that's strange, but we look forward to it.

My husband wanted to make sure I could get a POT for a race, not to get into some big milestone or iconic race, but just to make sure we could be together in a corral with our friends. I am a more than capable runner, but my husband is a prince of guy who would do anything to help me.

TC Marathon Director and Derek from Marathon Investigations reached out to us with questions. We have requested that our times from this past weekend Treasure Coast Half Marathon (wave two) be DQed. The other race we did this for was in 2018 and although it no longer matters since it is so long ago, it happened.

Anyone who knows us will tell you, we aren't bad people and would never do anything in malice. We help others train and show up early on race mornings just to cheer people on. We made mistakes, we've made apologies. We are sorry.
I did confirm that they emailed the race and asked to be disqualified.
The biggest issue in all of this is that she did accept awards that were not hers, and that their actions pushed 4 deserving women out of their deserving places on the podium. She stood on the stage at The Red Carpet Run and accepted a trophy that was not hers to take.
I do hope that they are truly sorry. I hope they apologize to the affected runners, and that they reach out to The Red Carpet Run and return the trophy. I do plan on notifying The Red Carpet Run as well.
Awards have not been sent for the 2nd wave runners at Treasure Coast and they will be sent to the appropriate winners.
Thanks to those that did the legwork on this one, and those that stepped forward so that the rightful winners can get their recognition.
Support Marathon Investigation
To support the site, please consider making a small contribution.Your contributions help to cover the costs associated with running Marathon Investigation.