The COVID-19 Pandemic is at the top of everyone's mind, and will be for a long time. There have been no major races since The LA Marathon was held on March 8th. On March 8th there were "only" 550 confirmed cases in The United States. Tonight, there are nearly 8000 confirmed cases.
For the most part, Americans, and runners are starting to get it. Races are going to be canceled and Race organizers are among the first to feel the impact. They are forced to cancel events, deal with angry customers, and they have no idea when or if things will return to normal.
Of course, there are some people that don't get it. I still see people complaining about cancellations, demanding refunds, etc.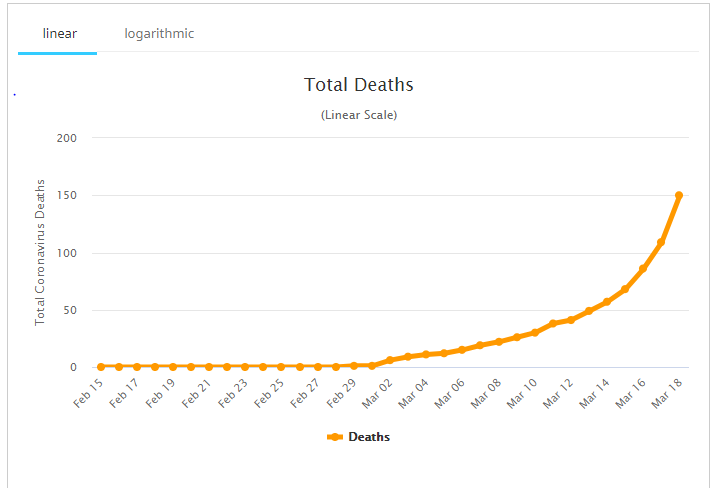 Just like total cases, deaths are increasing exponentially, if we hold events, and don't change our behavior, the trend will continue. As it is, it will take awhile to affect the curve. Be smart, be cautious and be compassionate.
Marathon Investigation
Yes, there was some cheating at The LA Marathon. I pulled the data the day of the race, and again a few days after it was completed. I've received tips. A case of bib swapping affected the Open Division placements. I've written that article, but I am not motivated to post it. It just does not seem that important right now. Race cheating is not on anyone's mind right now.
A couple weeks ago, I had started another project where I plan to randomly investigate at least 500 runners from The 2019 Boston Marathon in an effort to make an estimate of the total # runners that gained entry through cheating, or by swapping bibs. I spend a bit of time on this project every day or so. It's a good diversion.
Spotlight Articles
Awhile back I had written about my intention to shine a spotlight on some positive stories in the running community. I wrote one article, but did not keep up with it.
Until things get back to normal (whatever that may be) and races resume, I am going to work on stories that shine a spotlight on those that are a positive force in our community.
If you know of a person or an organization that should be featured, please email me at derek@marathoninvestigation.com.
When racing resumes, and when life is back to something resembling normal, I will resume the articles about cheating.
To support Marathon Investigation, you can make a contribution by clicking on the bottom of the page, or go to Paypal.me/marathonsleuth. Everyone's support is appreciated.