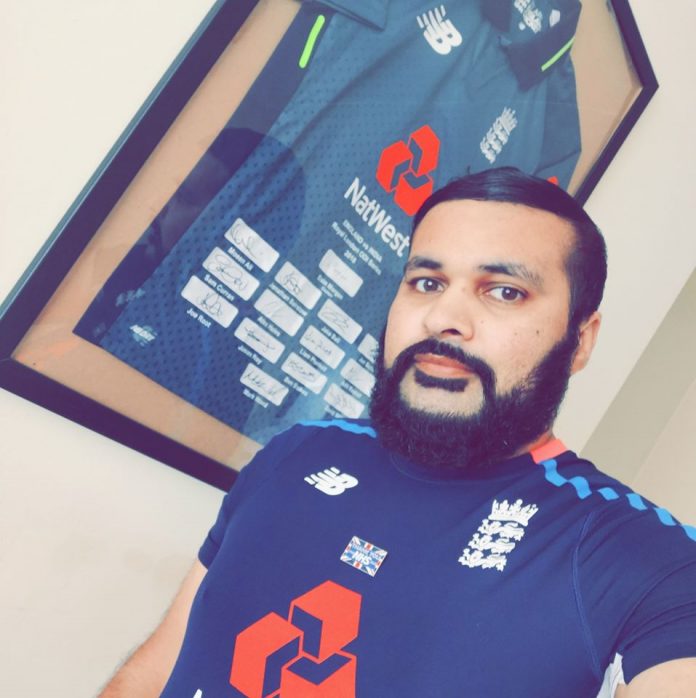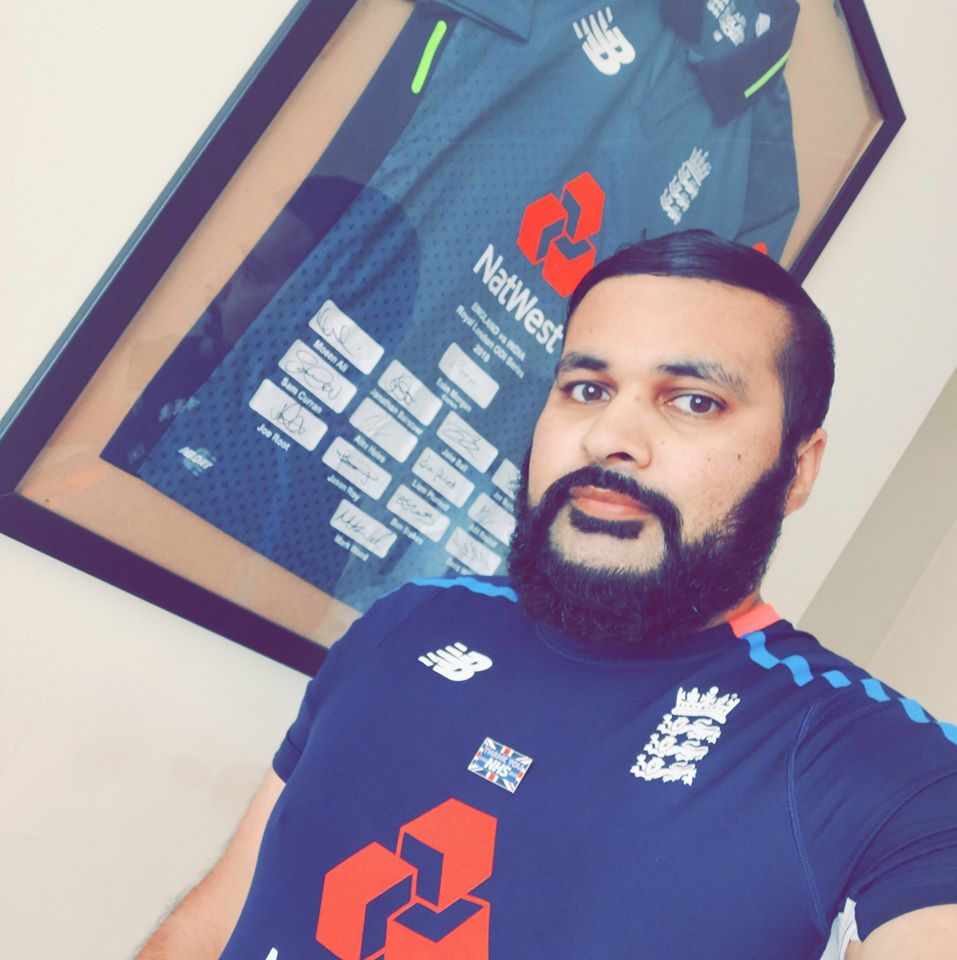 A U.K. man received plenty of media attention for running around his coffee table. With the publicity, came scrutiny.
On June 3rd, BBC posted a feel story about Asif Amirat. According to the article, Asif logged 832 miles in May. His 832 miles were the most logged by any runner in the U.K. for the month. The article stated that Asif started running marathon distances, and planned to run 100 marathons in 100 days. Asif was running to support NHS Superheroes.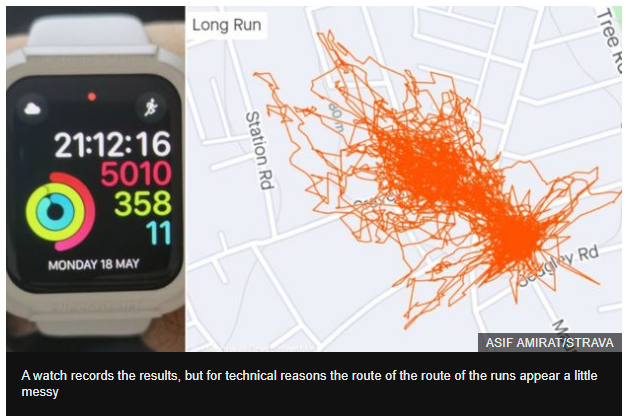 It was after his story appeared on ITV News, that he really started getting attention. He even received a Pride of Britain award.
After the media attention, the scrutiny began.
Many began to question Asif's claims. Asif began to receive messages. The messages called him a fraud, accused him of looping video, and faking his GPS files.
The accusations against Asif include the following:
He faked the videos – the feeds were looped
He edited his data – evidenced by anomalies such as 2 minute kms.

He received plenty of abusive messages. He was called a fraud, and a cheater and more.
My initial opinion was that the times were simply inaccurate. At first, Asif was recording his data in outdoor mode. As seen in the screenshot from BBC TV, that results in wildly inaccurate tracking. The jumps in the GPS signal would explain the 2 minute kilometers seen in his splits, and also would result in more miles being recorded than Asif was actually running.
The above video is from June 20th. His Strava account shows that he ran 28 miles in 5 hours of moving time.
Asif started running with a new Garmin, apparently in an attempt to get more accurate readings. He started running with his watch set to indoor mode. Asif's June 25th run was the first entry on Garmin Connect where he used his new Forerunner 245.
ONE FOR THE TROLLS
Many of the critics challenged Asif to run outside to prove his abilities. On July 11th, Asif ran outside.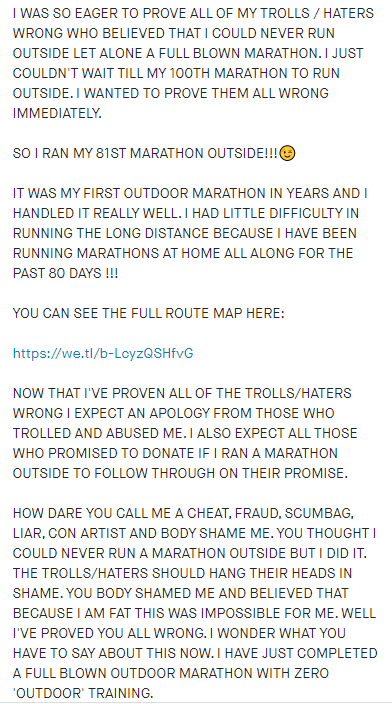 Unfortunately, this run did not put an end to the criticism. This run was entered on Strava as a manual entry, and only included screenshots of maps, and his times, but none of the detailed data.
Initially Asif posted pictures of his Garmin watch, his Apple watch, and some Garmin Connect stats. He even had an answer for his slower than usual time:

The next day, he briefly made his Apple watch data available publicly through Strava. He says the Apple Watch died before he could finish his run.


THE TROLLS AND BULLIES THOUGHT THEY COULD BRING ME DOWN BUT I'VE BROUGHT THEM ALL DOWN NOW. HOW DARE YOU ACCUSE ME OF BEING A CHEAT
AFTER CALLING ME A CHEAT AND A FRAUD YOU SHOULD BE ASHAMED OF YOURSELVES. TROLLS AND BULLIES SHOULD BE HANGING THEIR HEADS IN UTTER SHAME.
It was when he posted this entry that I first attempted to contact Asif. I noticed the large gap in moving time vs. elapsed time. The elapsed time was over 6 hours through 23 miles through 22.85 miles. I also wanted to understand why he was not sharing his Garmin data. It was not available through Garmin Connect or on Strava.
After initially blocking me on all social media, Asif responded. He seemed very open and upfront. I told him initially that I felt there was a calibration issue with his Garmin, and that I felt his distances were overstated, but that I did believe that he was running for as long as he claimed, and that I didn't think he manipulated any data.
Asif says that he has been unable to sync his Forerunner to Strava, but he was able to extract his .GPX file and send it to me. His outdoor entry was set to private on Garmin Connect. He added me as a connection so that I would have visibility to the run through the Garmin Connect Application.
Next, I will present my analysis of his runs as well as Asif's responses.
July 4th – Garmin Data 50.09 KM 5:39:13

I chose July 4th as an example, because Asif offered up a lot of data for that day. He wore his Vivoactive, a fitbit, his Apple Watch and Garmin 245. All of the data he shared was consistent. He Did a lot of running/walking.
154 Steps per minute per Garmin Connect
5:39:13 Moving Time per Garmin Connect
0.96m Avg. Stride Length per Garmin Connect
I counted his steps per minutes at various points in various videos. 154 SPM seems reasonable. The stride length is where I believed there was the disconnect that was inflating the distance of his runs. It was clear to me from watching the videos on YouTube and Facebook, that his stride length was much less than .96 meters (3.15 feet).
I asked Asif to measure the carpet. He did so. While the pictures he sent were a bit difficult to confirm the measurements, I am able to make a reasonable estimate based on the measurement along the border: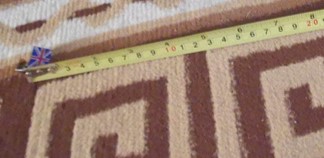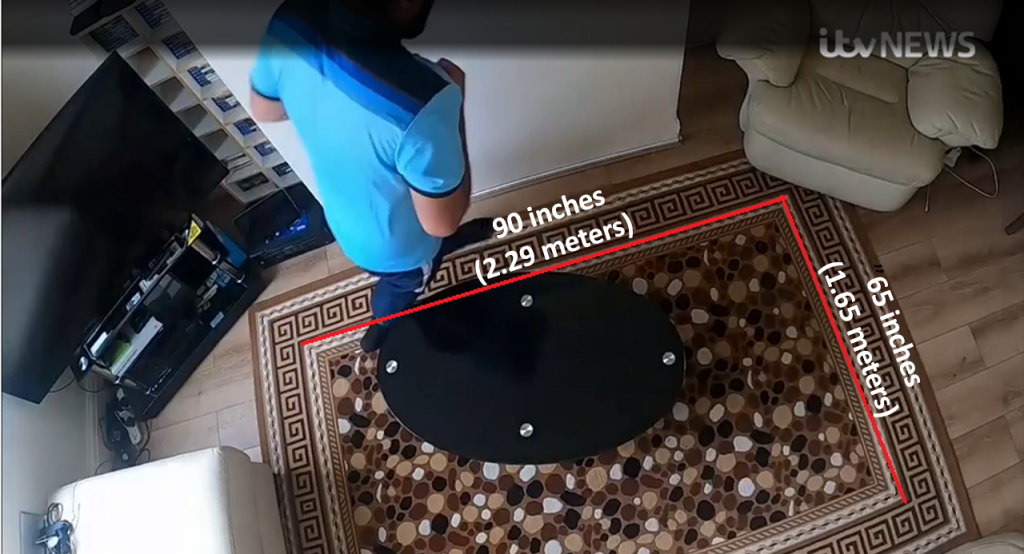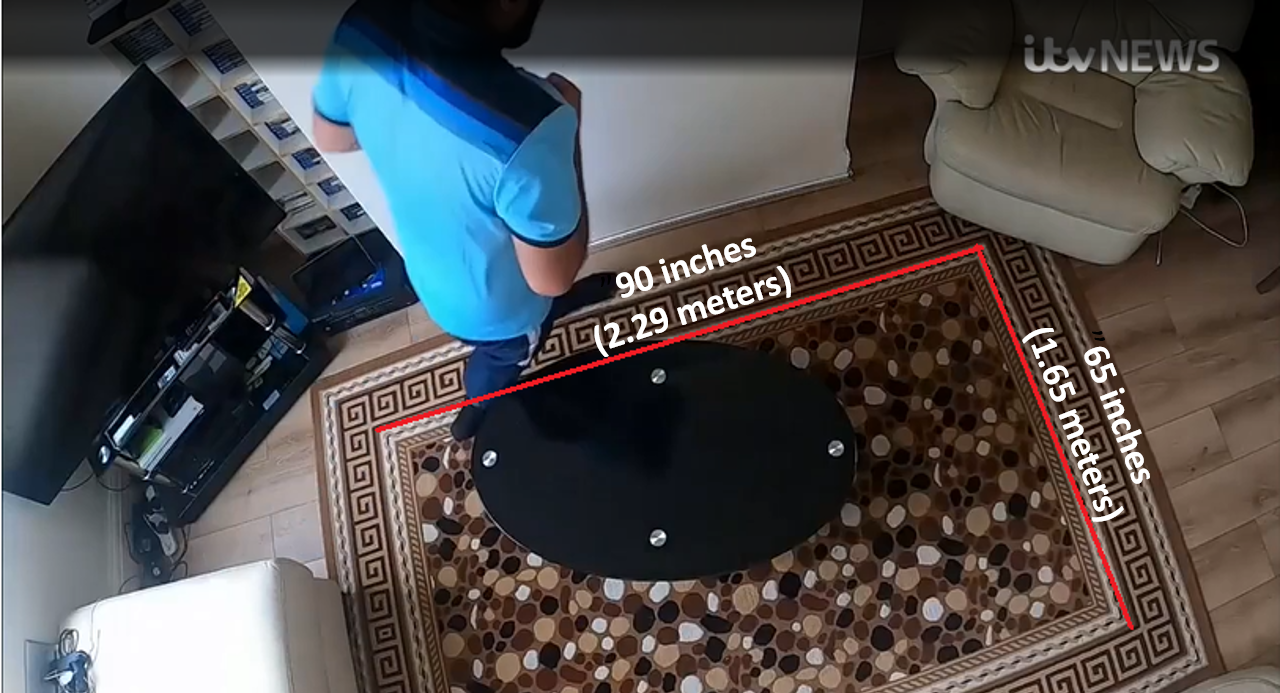 My calculations for the total distance along the inside border is 7.87 meters. Asif measured an estimated lap to be 7.1 meters. I feel Asif's measurement is reasonable.
The last variable left was to determine how many steps per lap. It is easy to estimate this with high confidence. If you watch the videos, there is little variability. The fewest steps it takes him to run a lap is 10, and the most is generally 12 steps. On July 4th, you can fast forward to see this exact progression. For the purposes of my analysis, I will estimate 11 steps per lap.
Here is the data we have to work with for July 4th
154 steps per minute (SPM)
5:39:13 moving time (339 minutes)
52206 steps during this activity (154 SPM X 339 minutes)
4746 laps (52206 steps/11 Steps per lap)
7.1 meters per lap

Total Distance = 20.9 miles =33697 meters (7.1 meters per lap x 4746 laps)
Asif's Gramin showed 31.12 miles. According to my calculations Asif's miles were overestimated by 33%. This was due to the inaccurate stride length.
Assuming 7.1 meters per lap (per Asif's measurement)
At 10 steps per lap, Asif's stride length would be 0.71 meters
At 11 steps per lap, Asif's stride length would be 0.64 meters
At 12 steps per lap, Asif's stride length would be 0.59 meters
For the Garmin stride length of .96 meters to be accurate, it would mean that Asif would have to average less than 7.5 steps per lap. In all of the video I have watched, not once was Asif seen running a lap in less than 10 steps.
I looked at additional runs, and the calculated stride length varied from .87 to about .96 meters (about an average of 3 feet per step). It is clear from looking at his videos that his stride length is not that long.
I presented the above evidence to Asif. Below is his full response.
Edit – 7/25/2020 – a portion of Asif's response was inadvertently omitted in the initial publication of the article
Many thanks for your analysis. I appreciate your views about my indoors runs and thank you for them. However I am sorry to say that I am still going with what my tracker is telling me (Garmin 245 tracking in 'Indoor Track mode'). Your evidence is still not conclusive enough for me to accept. At the end of the day this is an assumption on what you think I might be doing. I cannot accept it as evidence other than this being your assumptions.

There is no way my distances can be disapproved without someone physically being at my house and following every second of my entire marathon run. As previously stated I am using the Garmin 245 to track my indoor runs. It has a special mode called 'Indoor track' mode which is made specifically for people in my scenario who are running indoors. Now this is not running on a treadmill but for scenarios like running around an indoor track or like in my case running around my lounge. Now this 'Indoor track' mode does not use GPS. If this mode is specially made for my scenario and Garmin are best in the business for tracking why would I disapprove what Garmin is telling me.

I spent 250 pounds to buy this device specifically for the reason that it has this 'Indoor tracking mode' and to be told that what garmin has recorded is not accurate makes me quite angry having paid so much for the device. Which is why I would now like Garmin to get involved with this investigation because I want their input on this. It is their device which I am using and their special function which I am using 'Indoor Track' mode for runners in my scenario. So they should have every right to have their say on this matter.

My gripe is if all of these devices have got my distances wrong then does that not put a big question mark on the trackers. I mean some of these trackers (like Garmin 245) have a special indoor track mode which is made for people in my scenario who are running indoors and does not use GPS. I spent over 1000 dollars for several pieces of scrap because if they are not getting my distances correct then they are of no use. I woud feel quite disappointed after having spent so much money on them and then to be told the distances that these devices are telling me are not correct. Does this not put the whole tracker industry into doubt. I mean millions of users globally will be using these devices (apple, Samsung, garmin, fitbit). So now it is just not me but everyone who is running indoors, their distances are incorrect.

This calls for a major investigation by the companies which make these trackers especially the Garmin 245 as it has the indoor track mode. I would like for them to get involved in this investigation because I want their take on this whole issue. Because your investigation will cast doubt on the distances which people believe they are covering because they are going by their trackers when running indoors. So are we saying saying for everyone in the world who is using a Garmin 245 to track a run in 'Indoor Track' mode the distances are incorrect. I believe many of these people would not be happy about this. I am going to call for an investigation by Garmin and see what they say about this because this will shine a bad light on their company and deter people from buying their devices. I am sure Garmin themselves will want to investigate this because they will not want their organisation to be brought into disrepute. This will give their organisation a bad reputation and people will not buy from them if there devices are inaccurate.

Unless there is solid and concrete evidence to prove to me that I have not run the said instances then I am still going with what the trackers are telling me. I do not believe video analysis of me running around a coffee table to determine the distance I am covering is accurate because I don't run at the same speed for each lap. At various points in the run I will be running at different speeds and so there will be times I will be running more steps per lap. Also my stride length won't be the same throughout the race and will vary. At some points it will be longer and shorter. And finally my route around the table won't always be the same throughout the Marathons. For some laps I might be running closer to the circumference of the table and some points I will be running much wider of the table. So at times it will be more than 7.1 meters per lap. The carpet area itself is 2.95 meters by 1.8 Meters. Someone would need to physically measure my stride at every moment because it would vary. Analysis from a video is not adequate. I believe It's very difficult to determine the exact stride length from a video. If my distances are to be disapproved I would need solid concrete evidence. As previously said someone would need to be physically present at my house and monitor/analyse every small detail of my run and I mean every small detail.

Also the video itself can be questioned for example the angle of recording, distance from the coffee table. And the fact that it is a livestream there can be issues with playback and framerate. The video shows me running much slower than I actually am. So all these factors need to be taken into consideration.

Unfortunately I cannot accept assumptions for my indoor runs and I would need a proper and thorough investigation carried out.

So taking all this into account I still stand by what my tracker (Garmin 245 in 'Indoor Track' mode is telling me).

I would be more than happy for Garmin to get involved with this investigation and I would really like to have their input on this. Garmin should have the right to be involved in this investigation because it is their tracker which I am using. I will happily accept Garmins involvement in this investigation.

I feel the evidence presented is conclusive. It is based in part on the distance that Asif provided. The reality is that even if we make the most extreme assumptions, Asif's distance is still short.
Each lap would have to be 10.5 meters long for the data to be accurate. According to Asif, the carpet is 9.5 meters in diameter from the outer edges.
It should be made clear, that despite Asif's reluctance to accept my conclusions, I do not have any evidence to conclude that he intentionally misrepresented his distances during his indoor runs. He did not manipulate his data, and I can't conclude with any level of certainty whether he truly believed he was running the distances indicated by his tracking devices or not.
I have more concerns about his outdoor marathon.
July 11th – Analysis of Asif's Outdoor Marathon
IT WAS MY FIRST OUTDOOR MARATHON IN YEARS AND I HANDLED IT REALLY WELL. I HAD LITTLE DIFFICULTY IN RUNNING THE LONG DISTANCE BECAUSE I HAVE BEEN RUNNING MARATHONS AT HOME ALL ALONG FOR THE PAST 80 DAYS !!!
After Asif unblocked me he agreed to send his Garmin data to me for analysis. I loaded the .GPX file into Strava and pulled his splits.

His total marathon elapsed time was 7:46:48. His moving time was 5:27:00. Asif shared other examples where he paused his watch for long periods of times, even on his indoor runs.
Furthermore, I asked him about the large variance in his total time vs. his elapsed time. His response:
The reason why the elapsed time is quite long is because of a few factors. I finished my marathon after about the 6 hour 15 mins mark and then paused my run. The reason for the long gap after finishing my marathon is because I did not have any data whilst I was outdoors and I wanted to get home before I synced the data. I did not want to finish the run at the 6 hour 15 mins mark because of the fear that the map data would be lost and not be shown as I did not have any data (internet) at the time.
His splits tell a different story.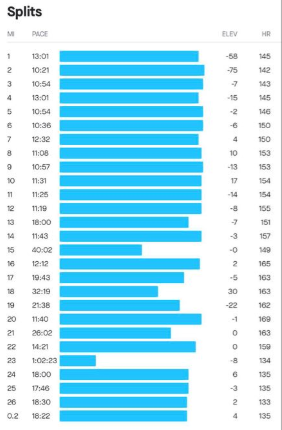 At 6:15:00 of his marathon he was between mile 22 and 23. It took him over an hour to go one mile. Also, the long break in data was precisely the time that his Apple Watch stopped recording data. His Apple Watch stopped recording at 6:09:50 elapsed time, and at 6:09:32 his Garmin watch paused for 23 minutes.
When I mentioned this to him he said that he made a mistake by running in new shoes,.
I think at this stage the pain was getting a little unbearable but I didn't want to give up having come so far
This statement is in direct conflict with his earlier statement on his Strava entry where he claimed to have little difficulty in running.
While I give Asif credit for sharing the raw Garmin data, I feel that he was being less than genuine in regards to his representation of the run. Yes, he completed the marathon distance, but there were many relevant details that he held back. He misrepresented the run as being 'easy'. He said this comment was a shot at the trolls.
Summary
Before the outdoor rum, I felt that if I were to write an article it would be primarily to show that while his data was off, he didn't intentionally misrepresent his distances.

Initially, he had posted that each lap was 4 meters. It is clearly more than that. But this initial distance, along with the tone of his public responses only led to more scrutiny. In addition to those that have genuinely trolled Asif, he blocked nearly anyone that questioned his runs.
The most extreme of claims regarding Asif's run have no merit. He was not editing the video, and he was not faking the Garmin files.
Asif has not run since the outdoor marathon. He says that he is injured as a result of his outdoor marathon.
Support Marathon Investigation
To support the site, please consider making a small contribution.Your contributions help to cover the costs associated with running Marathon Investigation.