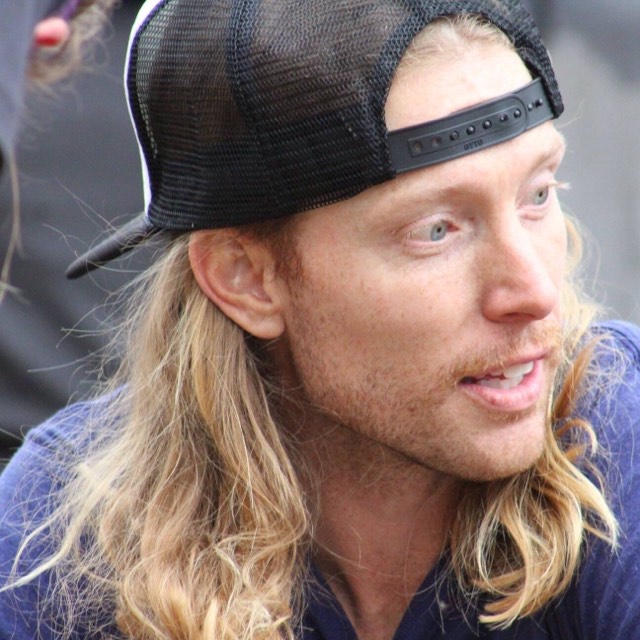 Sean "Run Bum" Blanton is the owner and Race Director of Run Bum Tours. The Run Bum website lists eleven events, including The Georgia Death Race (GDR). On Friday, May 1, Ashley Heclo noticed that her 2016 GDR result was changed to a DNF. She finished the race in a time of 24:05:32. This discovery set off a chain of events over the past week that led to more runners discovering that their results were altered, and brought attention to other claims regarding the behavior of Sean "Run Bum" Blanton.
Criticism of Blanton
Changing the result of a runner for personal issues the race director has with said runner is unconscionable and childish

Craig Thornley, Race Director, Western States

Ashley Heclo was critical of Sean Blanton's marketing of his races. After prior disagreements with Sean, he banned Ashley from his races. Ashley is also a race director, and when Sean attempted to enter one of her races, she removed him from the race. "If I am not allowed to run his race, trust me it's mutual", she wrote.
From Patrick Gallagher:
He brought a race to Florida recently. In the process he made denigrating comments about Florida race directors and how his race was going to be the only truly epic race in Florida. I confronted him about his tone and comments. He blocked me on all social media and banned me from his races.
No worries. I wasn't interested in running any more of his races.
Brooke McClanahan was critical of Sean's use of a trail that she says was decommissioned.
On Friday, May 1, Ashley was the first to notice that her result was changed to DNF, by Saturday, the three runners were listed as disqualified.

Patrick shared this latest development on Facebook, and the post went viral. Sean's response was to remove the runners' results altogether.
Sean posted on The Run Bum Facebook page, initially stating that he would work with the runners to add back in the results if they call him and speak to him.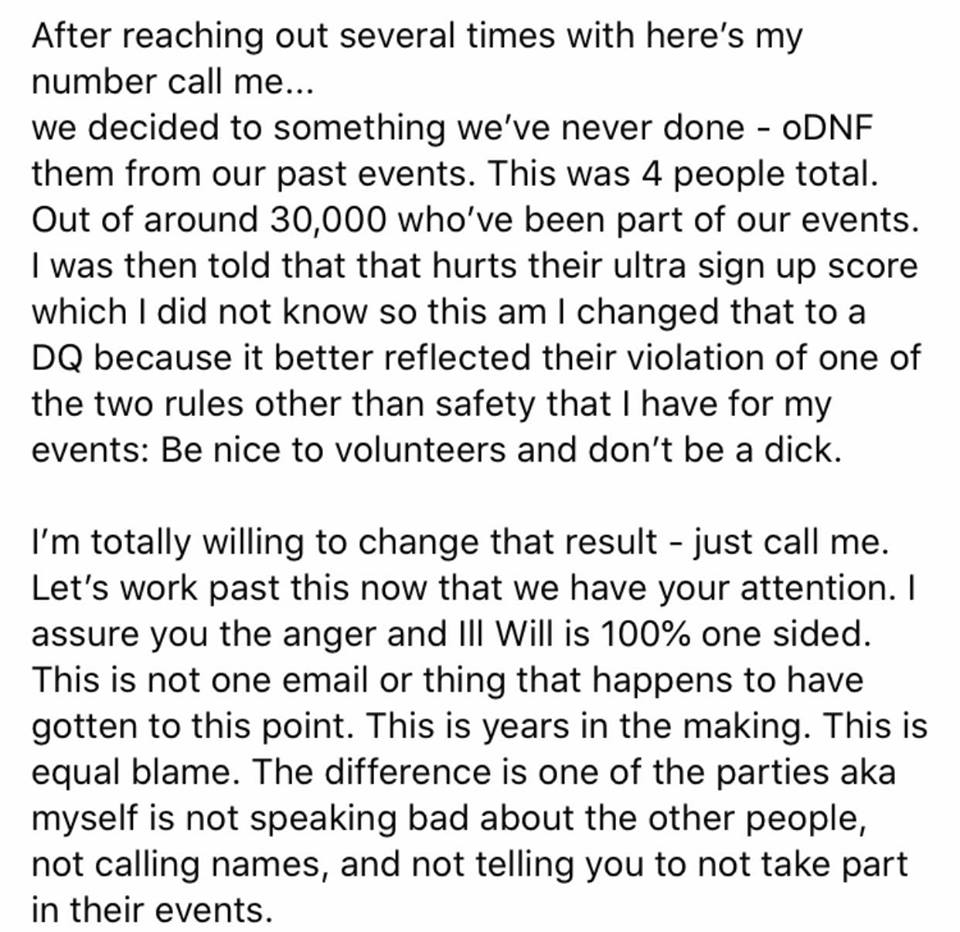 Some commentary regarding the above statement:
He admits to removing the runners for personal reasons
He is justifying DQ's based on his 'Don't Be a Dick' Rule – basically this means that anyone that is critical of Run Bum risks a disqualification.
He used the DQ as a weapon to try to force these runners to speak to him.
Brooke initially DNF'd at The 2016 GDR. He changed her from a DNF to a DQ. This only can be described as vindictive and petty.
Eventually UltraSignup stepped in and worked towards reinstating the results. Sean deleted his initial post, and issued a new apology.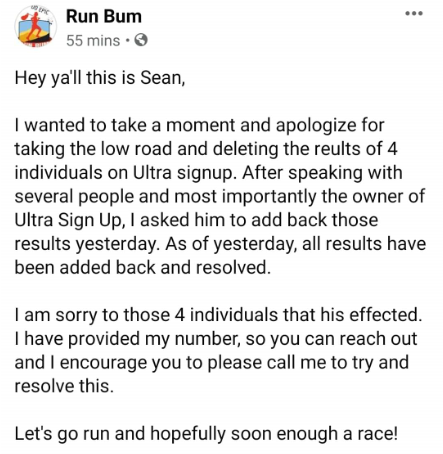 By Sunday evening, in addition to the initial three runners, there were two more runners who discovered they were missing results (a total of 5 runners, not 4).
Tom Moseley was removed from the results of the 2016,2019, and 2020 Cloudland Canyon races after he had spoken to Shawn and posted online about a shuttle issue in the 2020 Chattanooga race.

Another runner, whom Sean apparently confused with Tom, found that 2 of his results were changed as well.
Mark, the owner of Ultrasignup, posted that due to this situation they had to change coding on their site to prevent this from happening in the future.
Pikes Peak – Claim of Harassment
You Slapped My Ass So Hard While I was Running That Marathon I Lost My Breath…After Calling Me a 6

Kim – in a message to Sean Blanton
Sean was a runner at The 2017 Pike's Peak Marathon. He does not have an official finish time. He was disqualified for starting too early. He started out front, but was not qualified to start in that wave. Even worse, is the exchange below and the story that Kim tells.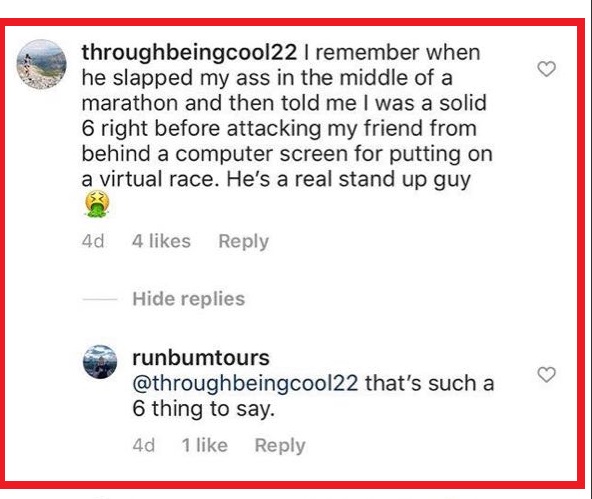 Kim sent Marathon Investigation this statement:
In the mid-summer of 2017, Sean Blanton the owner and race director of Run Bum Tours contacted me via direct message on Instagram. We briefly talked back and forth and followed each other on social media throughout the summer. As August approached, I posted an Instagram story that I would be running the Pikes Peak Marathon in my home state of Colorado (I currently live in Canada). Sean messaged me and asked for my phone number, mentioning he was also running the Pikes Peak Marathon. At this time, I did not know who he was, and I love the ultra-running community, so I thought why not get to know someone with a stoke for running through the mountains. I gave him my phone number. Over the next week or so, I was really taken aback by the amount of texts I received. I was put off by his aggression and incessant bragging about how "epic" he is, so I decided I did not want to meet up in person for dinner the night before the race.

You see, this was a very personal decision. The Pikes Peak Marathon was more than a race for me. It marked six years of sobriety and it was the mountain I would finish the Colorado 14ers on. Colorado has 58 mountains over 14,000 feet and in just under 4 years I climbed them all, leaving only one, Pikes Peak. My intention was to combine my love of running with my love of mountain climbing and run through the turnaround point to the actual summit of Pikes Peak, return to the turnaround point and then finish the race and the 14ers. To understand just how complicated this was to plan: The Pikes Peak Marathon requires running a qualifying marathon within the year, which I did AND I needed to summit Mount Culebra, the only Colorado 14er on private property that requires special privilege and $150 to attempt to summit. I was given permission to climb Culebra the same day as the Pikes Peak marathon registration (which sells out almost immediately). This was a hilarious coincidence and left me on top of a 14,000 foot mountain in the bitter cold winter wind with my credit card shaking between my hands as I pulled just enough cell service from a Verizon tower to complete the registration and assure my spot. So, going into the Pikes Peak marathon was more than a race. It was years of careful planning, a celebration of my strength, independence, and commitment to my health and sobriety.

I did not want to share this with Sean Blanton. I knew exactly what dinner would be like with him. I wanted to sit at Chipotle, alone, and enjoy the silence of my own journey.

When I told Sean that I would pass on dinner he said, "that's fine, I didn't want to have dinner with a six anyway." Meaning – my physical appearance is a 6 out of 10.

This really stung but running and climbing mountains has taught me that my self-worth is not wrapped up in what a man thinks about my outward appearance, so I quickly moved on.

The next morning at the starting line I spotted Sean from a far. I did not want to interact with him, so I ducked into a porta potty and hid until the race started. I was in a wave behind his wave, so I thought I was in the clear. The race started and I felt great. Excitement filled the air as I chugged up, up, up. Once above tree line there is a series of switchbacks until the turnaround point. As I was rounding one of the final switchbacks I heard, "heyyyyyyyy" and I saw Sean coming down the mountain. Before I could say or do anything, he smacked my butt so hard I lost my breath. I was absolutely mortified. How could my special day have escalated to this? Tears filled my eyes as I hit the turnaround point and ran through to summit Pikes Peak and complete the Colorado 14ers.

My friends greeted me at the summit and cheered for me and hugged me as I cried. I knew I had to finish the race and I knew I had to let this go. I knew I was strong enough to remember this day for all the reasons I should. I could not give him the power. I finished the race and Mike Wardian was at the finish line cheering everyone on. He had just run the Leadville 100 the day before. He was all hugs, smiles and support. It was so refreshing and what Sean did began to blend into the background. I placed 4th in my age division and was asked to attend the awards ceremony. At the awards ceremony Sean popped back up and began loudly bragging about the pornography magazines he had in a see-through plastic bag. There were children around. Again, I was mortified and instead of enjoying the party and awards ceremony, I said I was going to the restroom and I left. The texts continued with him insisting he come over to my house. I stopped responding and chose to focus on my accomplishments.

Sadly, this story does not end here. This led to me being blocked on all social media outlets and banned from all his races (which is ironic because I would never feel safe running one of his races). Sadly, this story does not end there. On March 9th of this year, he unblocked me on Instagram in order to aggressively demand I call him so we could talk about what happened. I refused to call or argue with him and he then "apologized" to me through Instagram direct messaging. Several weeks later I was contacted by multiple people explaining to me the severity of the situation and asking if I would speak out. Sean was telling everyone him and I were "good friends." It was obvious he had manipulated me through a fake apology in order to get me on his side because his actions were catching up and he did not want me talking about this. Sean called me unattractive and put his hands on me in the middle of a race, and why? Because I turned down his advances. I do not want to relive this. But I absolutely will if it prevents one more woman from having to go through something similar.

Sean Blanton uses his position of power and stature as a race director to prey on women in this community. I am not the only one who has gone through this with Sean. This is not a mistake he made. This is a dangerous pattern of behavior which he does not recognize as wrong and should not be tolerated in this community or anywhere else.
In an earlier phone conversation, Sean told me that he and Kim were friends, and that this situation was resolved.
Kim shared messages between her and Sean. It was clear that nothing was resolved.
In a message to me, Sean denied touching Kim. He messaged me, "She is lying, I never once touched her".
However in a recent communication with Kim, he acknowledged that maybe it did happen, blaming any actions on the high altitude.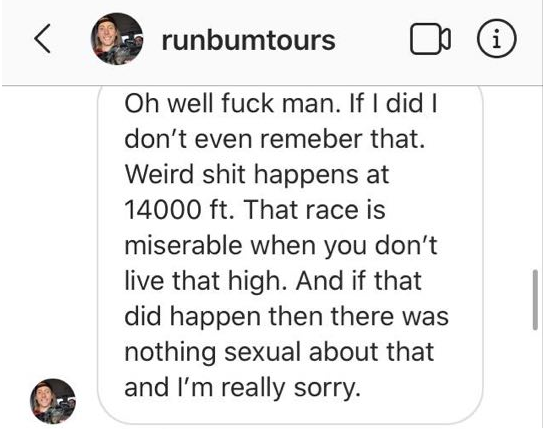 More Questionable Behavior
Tanya Twerdowsky shared her experience with Sean. She says she was banned from any Run Bum races after she repeatedly refused to meet up with Sean. After a mutual friend introduced them online, Tanya described Sean as 'pushy' in his attempts to meet her. The more she objected the more aggressive she says Sean was. When she finally said "enough is enough", she says that Sean banned her from his races, and blocked her on social media.

I asked Sean about this, and he denied ever banning her or blocking her. A few minutes later, I asked Tanya to confirm that she was blocked and she shared her search results which confirmed that his profile was not visible. Moments later, she was unblocked. However, she says that much of their instant messages were deleted.
Sean refutes Tanya's account of their communications. He says that their communications are 100% about running and hanging out for a drink. I offered him the opportunity to share the messages he sent her to back up his assertion, but he refused.
It would be easy to dismiss Tanya's story, but her story is just one of many that have resurfaced over the past week. There are too many complaints to ignore. It should not have taken the altering of results for these stories to be heard and taken seriously. I promised Tanya, and others that if they were brave enough and committed enough to share their stories publicly, that I would do my part by sharing.
2021 GDR Lottery
The below is an excerpt from an email Sean sent regarding the lottery for The 2021 Georgia Death Race (GDR).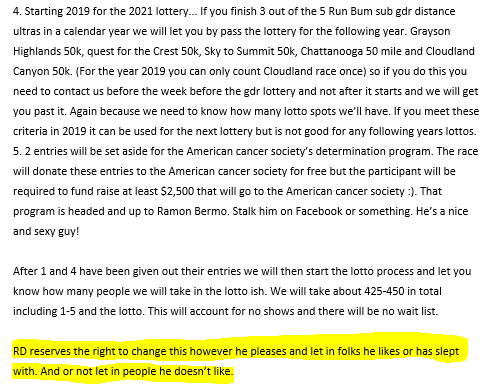 RD reserves the right to change this however he pleases and let in folks he likes or has slept with.
Sean messaged me regarding the policy, stating that it was a joke.
That is a joke. Do you know what the Georgia death race is? We literally tell people they are gonna die. We call them pieces of shit. We have signs along the course that day one mile til aid ststion then it's 3 more miles. The lottery we have to have is a big deal. One year someone bitched becusee I let a long time volunteer in. So I had to make rules for it. You should see the live lottery we do. We sit and drink while I call names and tell each person man and women how they won't finish or they suck.
It would be easier to dismiss this as an (inappropriate) joke if it did not so closely mirror the stories of those like Tanya and the runners that have posted about being banned from Run Bum events over disagreements or criticisms of Sean Blanton.
He posted this photo across his social media, and he sent it to me in a direct message. He has not righted any wrongs, and any 'apologies' have since been deleted.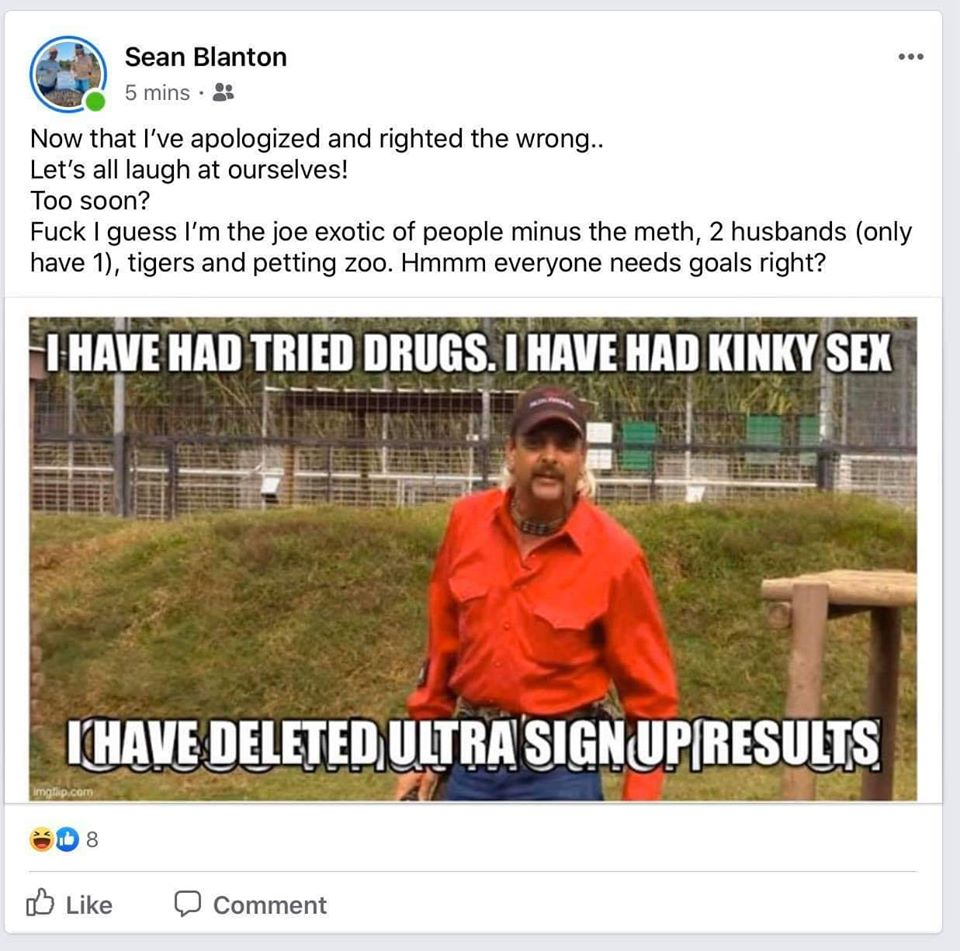 Backlash
Western States
The top two (2) female and top two (2) male finishers in each individual race in the HOKA ONE ONE Golden Ticket Races will automatically qualify for entry into the 2020 Western States 100 event. In the case that the first, or second place participant is already in Western States (or decides to opt out), the automatic bid will slide to third place, fourth place, and subsequently down to fifth place as needed (no places below fifth will be accepted). Winners will receive their invitation via email and have two weeks from the qualifying race to complete the registration, including paying the entry fee.
GDR was listed as a Western States Golden Ticket Race. Before the COVID-19 crisis, there were only 5 races that serve as HOKA ONE ONE Western States Golden Ticket Races:
We just announced our 2021 HOKA ONE ONE Golden Ticket Races and it does not include GDR, and won't in the future.

Craig Thornley, Race Director, Western States in email to Brooke McClanahan
I followed up with Craig and he confirmed that while GDR is no longer a HOKA ONE ONE Golden Ticket race, it still will serve as a Western States qualifier.
East Coast Ultra Podcast
Sean was co-host on The East Coast Ultra Podcast. Late last week, the website for the Podcast went dark. Previous episodes are unavailable on most of the platforms.
Summary
In reading through hundreds of comments, there are some asking what the big deal is about changing results from 4 year old races? "Who checks their Ultrasignup results from that far back?" I went back and forth on whether this article was necessary. Ultimately, as more stories came out, I felt it was important to put this story together. It was important to do my part to make sure the runners and those that feel they were wronged to be heard as loudly as possible.
Integrity – The issues surrounding Run Bum Tours and Sean Blanton are numerous. Integrity – If a race director shows that they will disqualify or remove runners based on issues unrelated to the race itself, it shows a distinct lack of concern over result integrity. What other reasons might he use to justify the altering of results? I also have confirmed that Sean bandited a charity race.
Response to complaints or concerns – Sean's standard response to complaints is to attack the person complaining and delete the criticisms. He says he is removing the negativity. There are many examples I just could not fit into the article. He has shared private criticisms publicly relating to at least two of the runners that were affected by the altering of results.

Claims of Inappropriate Behavior – I only provided two examples of inappropriate behavior that were voiced against Sean. There were other specific allegations brought forward through social media
Support Marathon Investigation
To support the site, please consider making a small contribution.Your contributions help to cover the costs associated with running Marathon Investigation.