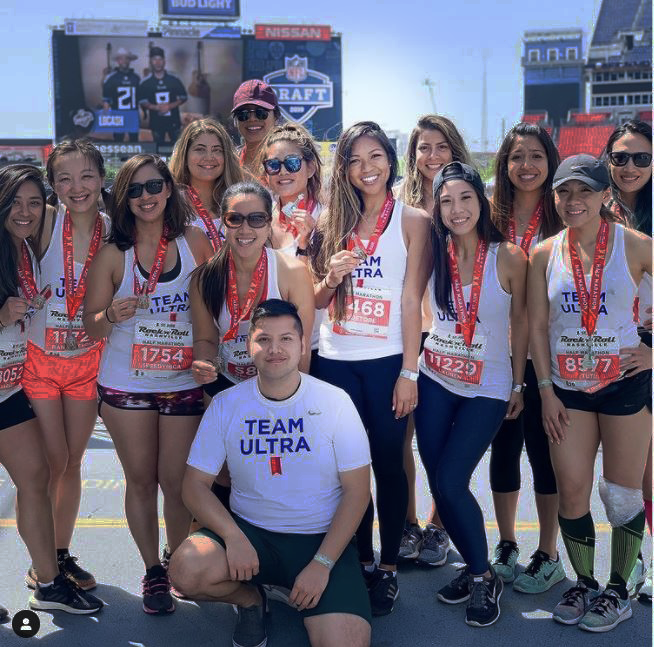 To support Marathon Investigation, you can make a contribution by clicking on the bottom of the page, or by going to Paypal.me/marathonsleuth or Venmo:@MarathonInvestigation. Everyone's support is appreciated!
In 2019, I received a tip regarding a potential bib swap of a Boston Marathon charity/sponsor bib. I didn't think much of it, giving the runner the benefit of the doubt. She was injured. It was quite possible that the transfer of the bib didn't get processed
I receive a lot of emails. One step I always take when I receive a new tip is search for the name to see if there were any previous tips regarding the runner. Early this week, I received another email regarding the same runner.
The runner's finish times are not lightning fast, and won't qualify her for Boston, but she is an "influencer" and self-described wellness enthusiast who claims 13 Marathons and 31 half Marathons on her Instagram Bio. She boasts 125k Instagram Followers.
This time I dug deeper, and found additional instances of missed timing mats, and improbable splits.
The most recent tip I received was referencing the 2021 NYC Marathon.
2021 NYC Marathon
Melissa posted on Instagram, promoting her affiliation with Michelob Ultra and @TeamUltra. She says she ran this for her son, and her dad.
"I'm officially a mama marathoner!!"

I have listed her split times above. By the 10k point, she was slowing to a 15 minute per mile pace, but she managed to run the final 20 miles in a 9:20 minute per mile pace. This seems unlikely, especially given the fact that she missed all 8 intermediate checkpoints before crossing the finish line and collecting her medal. The only photos of her on course are on The Verrazzano Bridge, and near the finish, which only confirm the conclusion that she did not run the entire race.
Historical Results
2020 Los Angeles Marathon –
For the 2020 LA Marathon there is a similar pattern as we see at NYC. Significant negative split with her fastest pace corresponding with missed timing mats. I will note that I did not see any posts from her claiming to have run the full marathon. Her focus was on being a part of Adidas Team 26 and helping coach others across the finish line. She is in the final results. I do not know if she took a medal.
2019 RnR Nashville Half Marathon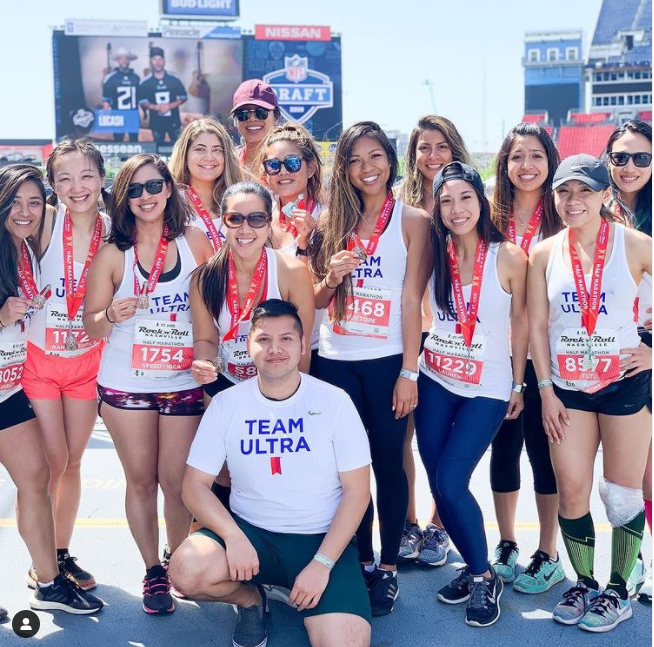 In Nashville, Melissa again ran as an Ambassador for Michelob. She did not register a split until the 10 mile checkpoint. She completed the final 5k in 21:30 – a 6:55/mile pace. Based on all of her confirmed times, it seems unlikely that Melissa ran that pace, even if she only ran the 5k. The course map shows that there would be ample opportunity to cut off distance in the final 5k.The purple and blue markings show the half marathon course.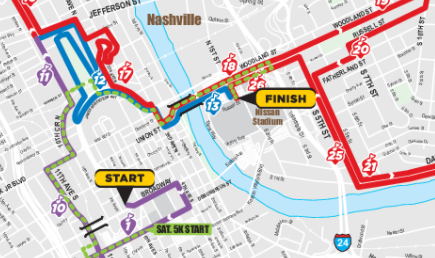 2019 Boston Marathon
Melissa was registered for the 2019 Boston Marathon with a sponsor's bib (Adidas). She posted on Instagram that she could not run the race due to a sprained ankle. She does, however, appear in the results. As referenced above, without additional information, I am willing to accept that Adidas allowed another runner to use that bib, and that there was possibly an administrative error. The actual runner did not have a time that could be used as a qualifier.
In Conclusion
Prior to 2019, nothing jumps out as suspicious. Melissa has run The LA Marathon, and The NYC Marathon multiple times. I was willing to look the other way regarding her Boston in 2019 and LA 2020.

The Nashville Half Marathon was just two weeks after Boston. Melissa was possibly still nursing her injured ankle. Nashville looked to be Melissa's Bachelorette Party. So, it would make sense that she still wanted to make the trip. The map shows that it is likely she hung around near the start finish the entire time.

Collecting a medal at an RnR race that she didn't complete wouldn't put her in exclusive company, but she almost claimed a top age group spot, finishing as the 6th overall female, and 4th in her age group.

At NYC, she clearly claimed to run the full marathon, when it is clear that was not the case. She is not in the official results, and the evidence presented above confirms that she ran about 10 kilometers before leaving the course, only to return about 4 hours later at the finish line.
Melissa is an influencer. One look at her social media shows multiple sponsorships and promotions over the past few years. As an ambassador, she has received benefits from Michelob and others. As such, I feel it is appropriate to call out cheating, even if the times didn't (quite) land her on the podium.
One other note of interest. When doing my research, I could not find a Facebook account for Melissa. I found this a little unusual, and found out that she does have an account, but I was blocked. This is a red flag. I never asked anyone about her, and I didn't even respond to the initial message I received regarding her 2019 Boston entry. She pre-emptively blocked me before I ever tried to reach out to her. By blocking me, she is clearly indicating that she did not want me to contact her.
Support Marathon Investigation
To support the site, please consider making a small contribution.Your contributions help to cover the costs associated with running Marathon Investigation.