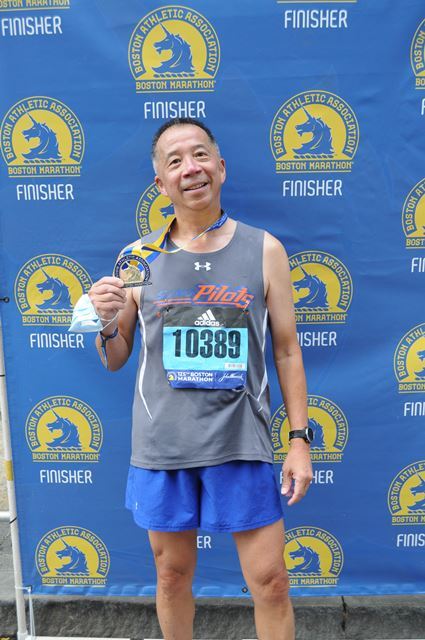 To support Marathon Investigation, you can make a contribution by clicking on the bottom of the page, or by going to Paypal.me/marathonsleuth or Venmo:@MarathonInvestigation. Everyone's support is appreciated!
In 2019, Tony Fong was awarded The NCS Honor Coach distinction for his work at St. Joseph Notre Dame High School where he has coached for over 20 years.
The Honor Coach award is the highest honor a coach can receive in our section and "represents the best of high school education and athletics," per NCS.

https://blog.sjnd.org/news-and-events/news/post/coach-tony-fong-named-ncs-honor-coach
Tony Fong also volunteers as a running coach with Team Asha. From their website:
Asha for Education is a non-profit organization on a mission to catalyze socio-economic change in India through education of under-privileged children. Over the years, Asha has succeeded in touching the lives of tens of thousands of children through its various educational initiatives and projects.

Fong has dedicated many hours to coaching and volunteering. He had many strong marathon results. While I could not find the 2:37:00 result referenced in his biography above, I did find a result of 2:38:26 at The 1997 Grandma's Marathon.
Tony participated in The 2021 Boston Marathon. There are red flags regarding Tony's Qualifying result, and there is a clear issue with Tony's Boston Marathon result. Looking into those results led to other questions going back well over a decade. These questions only deepen suspicion regarding his recent Boston Qualifying races.
2021 Boston Marathon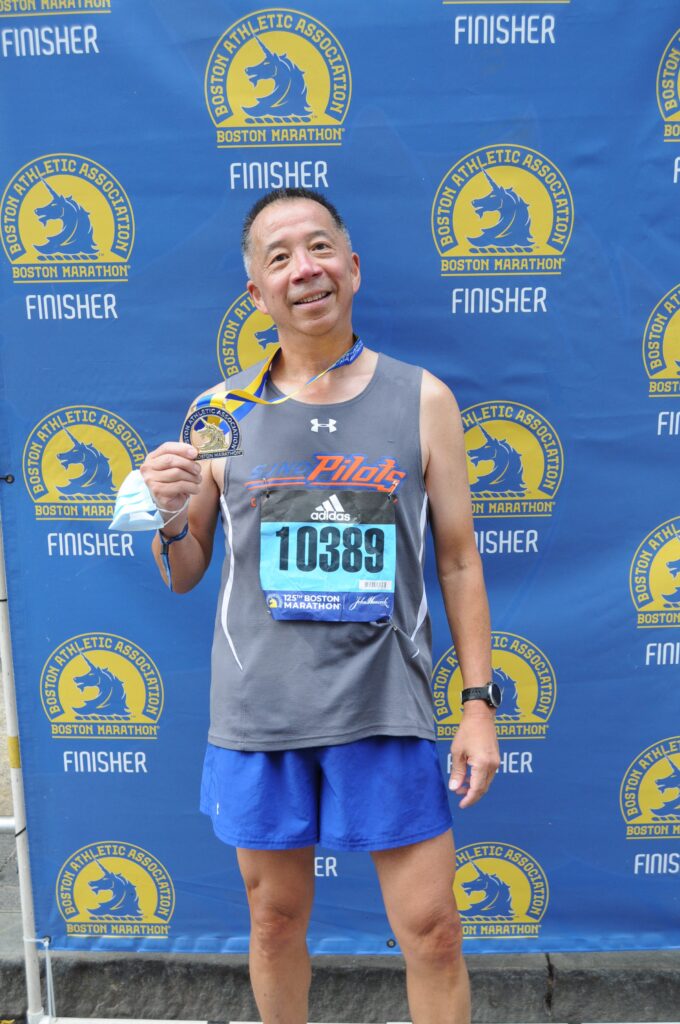 Tony did not register at the start line. He did cross the 10k timing mat at 9:36:01. Since he did not cross the start mat, his chip time is calculated as the same as the gun time. This is important. Based on his bib #, he would not have started the race until around 9:45 AM.
His gun and chip time for 10k are 0:35:59. A time of 35:59 for 10k calculates to a pace of 5:47 minutes per mile based on his gun time. For reference, the record 10k time for a 60 year old male is 32:48. Even if Fong had started with the wave 1 runners, his time is very unlikely.
Based on these times, I can rule out a technical issue at the start. It would have been impossible for Tony to have been in the start corral with his assigned wave at 9:45 am or anywhere near that time.
Tony was only captured by race photographers on the portion of the course that corresponds with the timing data.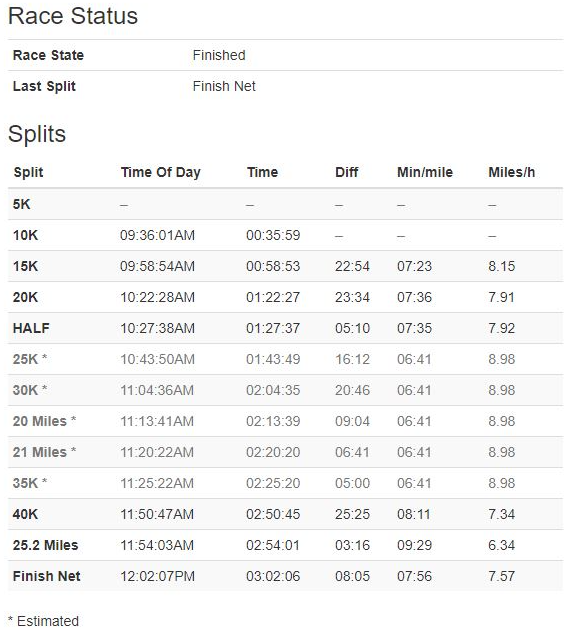 Tony's splits show that while he was on the course, he was averaging an impressive pace of around 7:30 minutes per mile. After hitting the halfway point, Tony missed all splits until 40k. His pace over the missing section was an average of 7:04 minutes per mile. The 61 year old Fong was initially credited with a time of 3:02:06 before being removed from the results.
Qualifying for Boston
Tony ran 3 Boston Qualifying times within the qualifying window for The 2021 Boston Marathon. There are potential issues with each result.
Fong first recorded BQ time at Vancouver in 2019.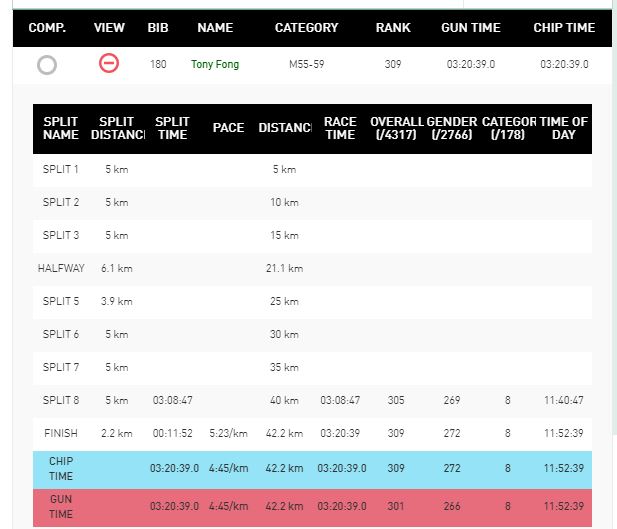 Fong did not hit any timing mats until the 40k point.
His second qualifying time was The 2019 Santa Rosa Marathon. His finish time was a bit slower than his Vancouver time, however he used this one for his Boston Marathon entry.
He ran the first half in a time of 1:41:48. He did not hit the 20 mile mat, and finished in a time of 3:25:25.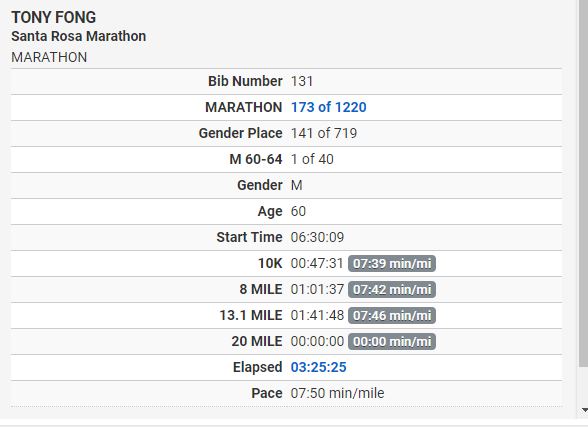 Unfortunately there are no photos available for this race. Normally, this result in of itself would not be highly suspicious. But the missed mat fits a common pattern which becomes even more apparent when looking at his next result.
Tony also ran a Boston Qualifying time in 2020 at Napa Valley. His split pattern is nearly identical to The 2019 Santa Rosa Marathon. After crossing the half mat, he missed the 20 mile mat. This time he did record a 10 minute negative split.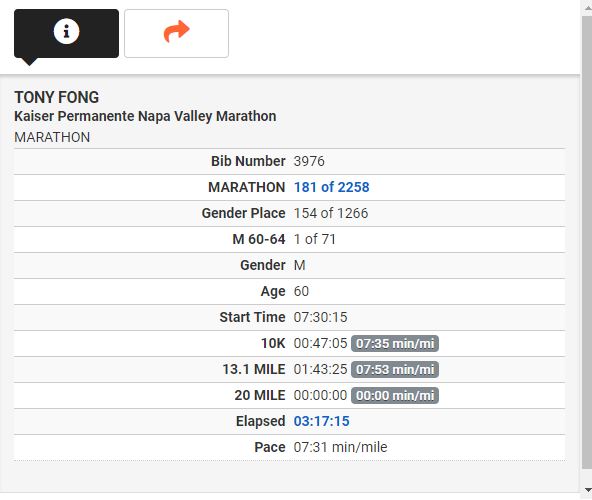 As it stands now, his Napa Valley Marathon time is eligible as a Boston Qualifier for 2022.
Digging Deeper – A Pattern Becomes Clear
Prior to 2019, Tony took a break from marathon racing. He has no results on Marathonguide from 2012 through 2018. Tony had 3 results in 2011.
2011
Marine Corps Marathon 3:17:06 – Hit 5k,15k,40k and finish mat. Missed 10k,half,20k,30k,35k,40k.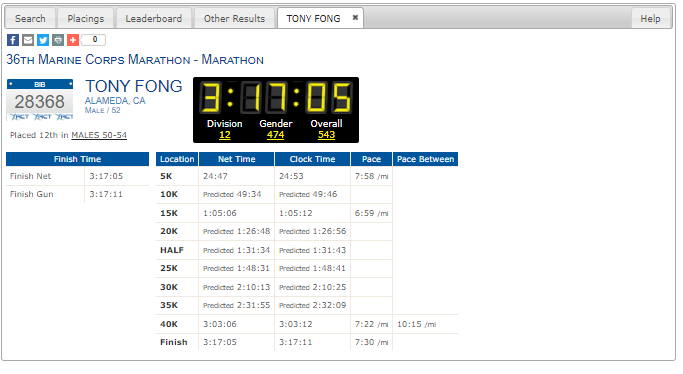 Medtronic Twin Cities Marathon: 3:37:11 – missed 30k and 20M mats.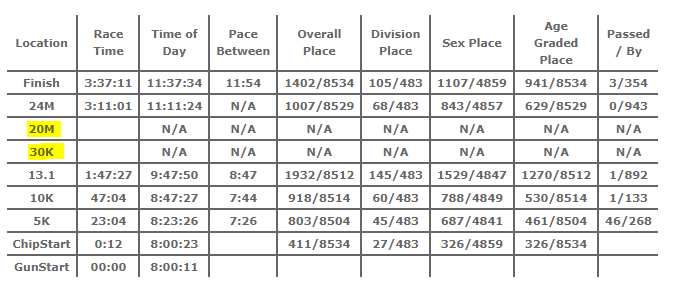 He missed the two splits after the halfway point. He reappeared at 24 mile and his last confirmed split was run at 11:54minutes per mile, after recording a pace of 7:40 per mile over the portion of the course where he missed all the timing mats.
Oakland Running Festival – 3:09:56 – only hit the 19 mile mark and the finish. He finished 2nd in his age group.

2010
San Francisco Marathon – 3:09:51. Tony only registered a split time at the half timing mat. Photos do show that he had a pacer bib. I will give the benefit of the doubt here. I checked other bibs and there were a lot of runners with missing splits.
Oakland Running Festival -3:00:34 – No splits available for any participant
2009
San Francisco – 3:08:55 Missed two splits. Photos again show he paced the race. It appears that he just ran a middle stretch of the course while pacing. Again, I will give the benefit of the doubt here.
Twin Cities Marathon – 3:11:46 – Tony no longer appears in the official results.
2008
Portland 3:18:47 – missed all splits after 10k.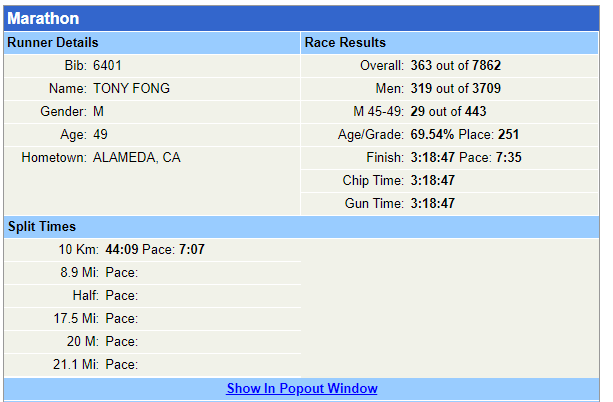 2007
Tony has 6 marathon finishes in 2007. Of the races that had split data available, Tony's results don't raise flags (No split data available from Silicon Valley, Big Sur, Boston, or Disney).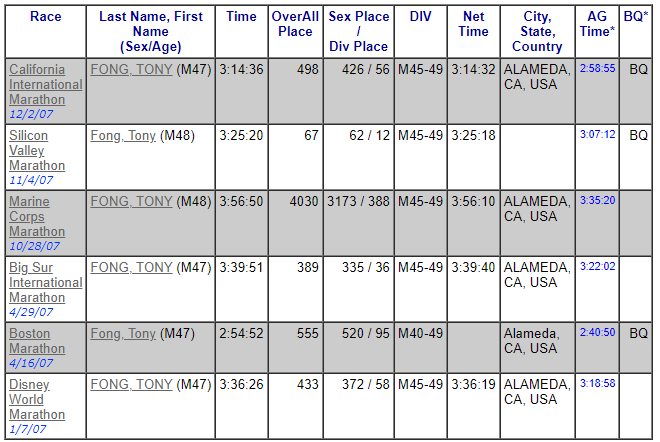 2006
Tony has 6 results from 2006. Splits are only available for Chicago. Tony hit all the mats.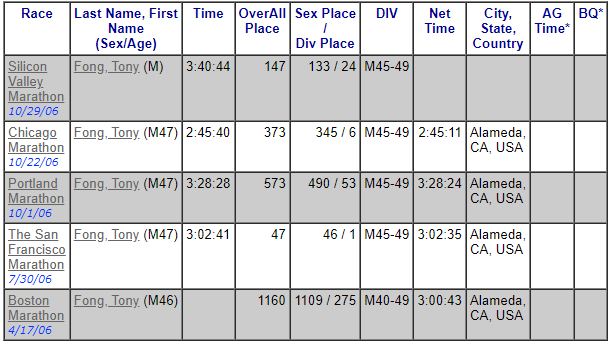 2005
Tony appears in 5 results in 2005. The only splits available are for Chicago. This time he missed the 35k and 40k checkpoints.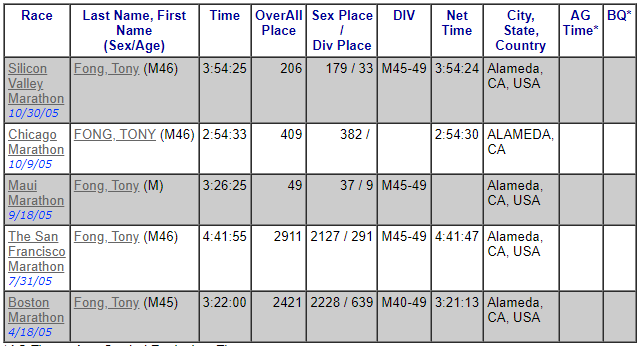 There is very little data available prior to this point.
Summary
In 10 races from 2007 to 2021 (Including 2021 Boston) that have currently published split data, Tony missed checkpoints in every single one. In another race, he was removed from the results.
Tony was, and it appears, still is a very good runner. The splits where it appears he ran legitimately are respectable. But is difficult to justify or explain how he missed timing mats in every single verifiable race for over 14 years. It is impossible to justify The 2021 Boston Marathon result where he missed the start line, appeared on the course for a few miles, only to again disappear just in time to collect his medal.
I first attempted to contact Tony a few weeks ago. He denied a request to connect on social media, and no longer is accepting friend requests on Facebook. I also attempted to co fact him through Team Asha but was unsuccessful.
Support Marathon Investigation
To support the site, please consider making a small contribution.Your contributions help to cover the costs associated with running Marathon Investigation.