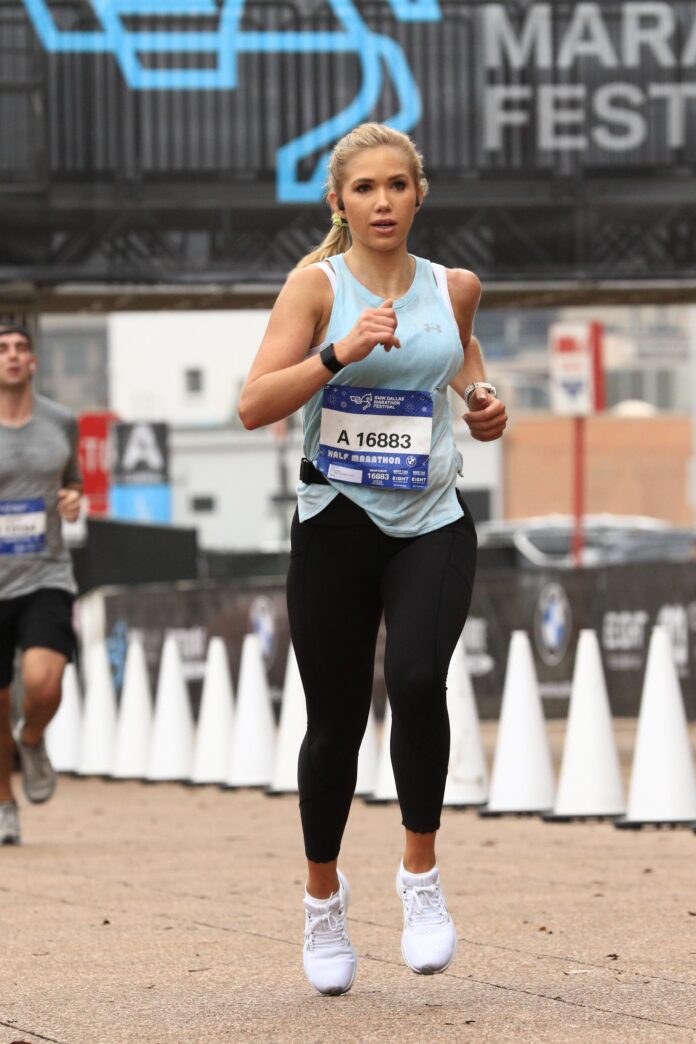 Those quotes were in response to this snippet from a New York Post article profiling Gracie Hunt, a former Miss Kansas, and the daughter of Clark Hunt, Kansas City Chief's Chairman and CEO. Gracie ran the 2022 Aspen Valley Marathon in a time of 3:45:04 .
"I signed up for my first marathon about 13 hours before the race started," said Hunt, who had stumbled upon a sign for the event after hiking with her mom.
"I had never run in a registered race before this point and had never run more than 13 miles consecutively, and that was on treadmill several years before… [I] took a chance, registered at about 5 p.m. that evening, and ran it at 6 a.m. the next day, and finished it in three hours and 45 minutes, and that is what started my marathon career."
As pointed out on Barstool Sports, shockingly acting as the voice of reason on this story, the updated version of The NY Post article removed the above excerpt. it was presumably removed due to the backlash that unfairly ensued.
Outkick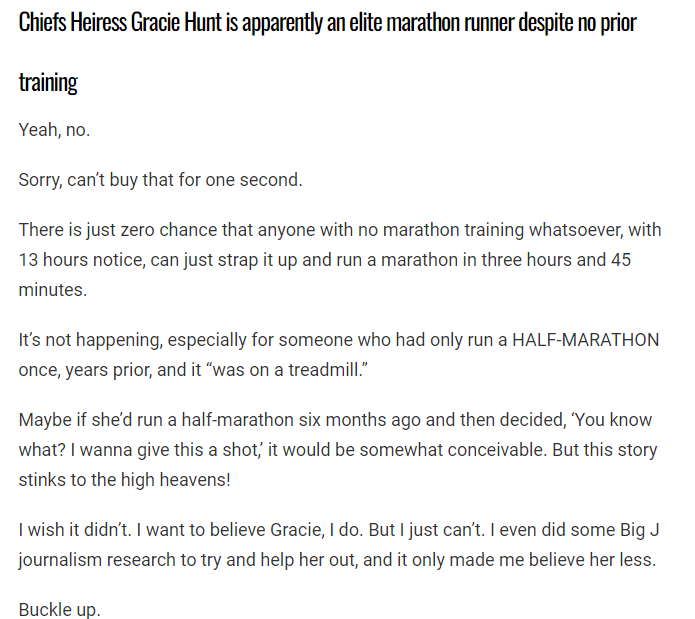 Outkick.com referenced an article claiming that 3:19:09 is the average elite time for a 20-30 year old female to back up their claim that Gracie's time was impossible.
Their "Big J Journalism" consisted of looking up the flawed statistics on Elite marathon times.
Flawed Research
The definition of " came from a blog post from marathoreference.com.

First, they defined what is an Elite:

Elite runners are defined as faster than 95% of other runners and have over five years of running experience, and have dedicated themselves to competing in the sport professionally.
OK, assuming we accept that definition, they somehow came to the determination that 3:19:09 is an elite time for a 22 year old female. The same chart also claims that 2:49:13 is an elite male time. No one that has dedicated themselves to competing professionally is averaging those times.
For reference, in The 2022 Boston Marathon, 3:19:09 would have been good for 1300th place among female athletes.
Either of these times is impressive, but hardly Elite, and well slower than the Olympic Qualifying times of 2:18:00 for men and 2:37:00 for women. Even these times aren't typically considered as Elite.
BroBible
BroBible curiously found the same obscure source that Outkick.com used in defining an elite marathoner.
If she just rolled up to a marathon on a lark and ran a 3:45 then her time at that event, after months of training, that ought to firmly place her dead center in the elite category in her next race.

So without a lick of training, other than running 13 miles on a treadmill years before the event, Gracie Hunt says she ran a marathon less than 26 minutes short of being elite?
Buried at the bottom article they included video of her finishing the race.
UPDATE: There is video of Gracie Hunt finishing her marathon in 3:45, so it's true. Something is missing from the story though. To go from never having "run more than 13 miles consecutively… on treadmill several years before" to running 26 miles straight on roads is quite a jump. Perhaps she was training in other ways, but it was left out of the story?
Three things.
Do your own research. I will share my research in the next section. 5 Minutes of Googling would have made it clear that Gracie was capable of this performance.
Don't bury your update at the bottom of the page – most readers of BroBible probably stopped after some of the photos in the article.
While I am glad they reached the proper conclusion that Gracie ran the full race. – the finish line video isn't proof. Since she had an official time, she had to have crossed the finish line (or at least her bib had to cross).
Research – Gracie Was Clearly Capable of This Time
Aspen Valley Marathon

The Aspen Valley Marathon is a downhill course. Downhill courses generally result in faster times. A 3:45:00 time on a downhill course, may be comparable to a 4:00:00 marathon on a flatter course. This course advertises a total elevation drop of 1418 feet, and claims to be one of the 50 fastest marathons in North America.
I think I have made the point that Gracie ran a fast, but not elite time on a fast course. Her time at The Aspen Valley Marathon was not fast enough to qualify for Boston. She would need a time of 3:30:00 to qualify for Boston.
Other Races
Gracie has run two more races of interest after her debut Marathon.
October 9th 2022 – Boulderthon Marathon – 3:47:27

The Boulderthon Marathon is another net downhill course. Gracie hit all the checkpoints and finished with a similar time as she did in Aspen. She went out fast and crashed a bit at the end. She appears in plenty of photos on the course. There is no doubt this time is legitimate.
December 9th 2022 – Dallas Half Marathon – 1:33:06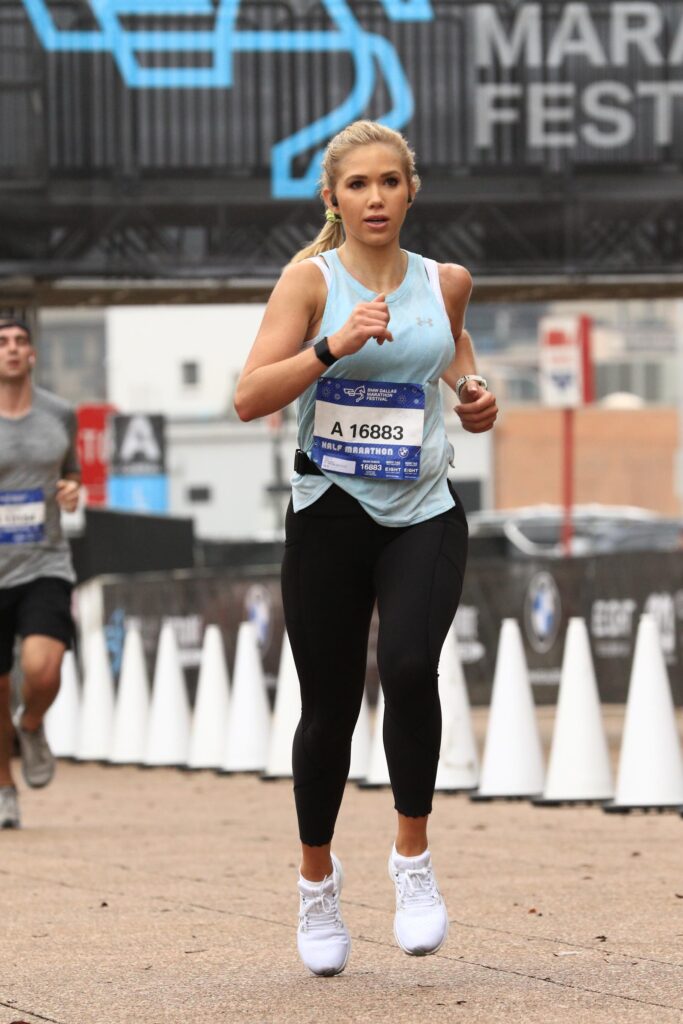 Her time of 1:33:06 is slightly faster than her half split at Boulderthon. Again, she appears in plenty of on course photos. There is no doubt this result is legitimate, and is further evidence of her running ability.
Boston 2023
While Gracie has not qualified for The Boston Marathon, she is reportedly running it with a charity bib. The New York Post article stated that she is raising money for The Special Olympics.

Hopefully the evidence presented here is definitive enough that people won't be looking to Boston to validate her previous results. Boston is a difficult course, and often run in difficult weather.

It's possible she will run a new Personal Record, but it is just as likely that she will run over 4 hours. Regardless of the result, there is no doubt that her results have been legitimate, and quite impressive for a new runner.
Summary
It should have been clear to anyone that Gracie was not getting off the sofa to run a race. She was clearly in good condition. Her definition of not training is likely very different than most of our definitions. She didn't go from couch to marathon. Whatever workouts she was doing obviously translated well to marathoning.
If you want an example of a truly outrageous claim, think back to when Brie Tiesi claimed to run 4 min ute miles for the final 6 miles of a half marathon.
BroBible and Outkick clearly owe Gracie an apology, not some half hearted disclaimer at the end of an article.
Support Marathon Investigation
To support the site, please consider making a small contribution.Your contributions help to cover the costs associated with running Marathon Investigation.