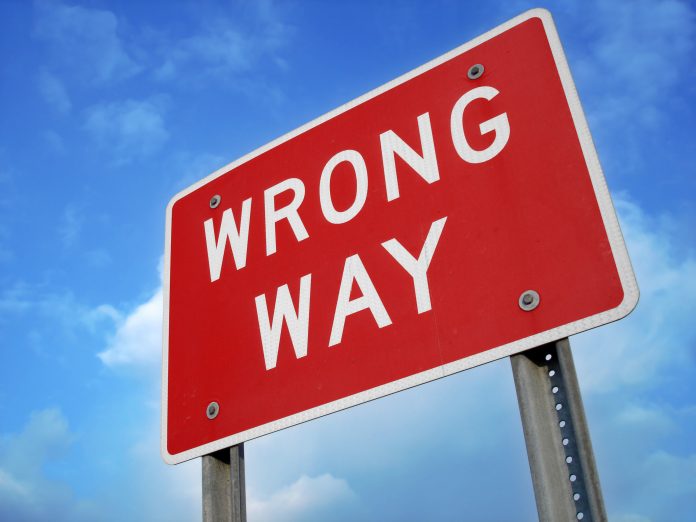 The Woodlands Marathon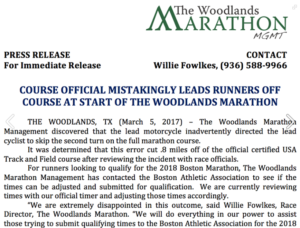 As spelled out in the letter from race officials, the lead motorcycle took a wrong turn, resulting in runners cutting 0.8 miles off of the course.
One runner that I spoke with had the following to say:
"I couldn't see the first mile marker anywhere but there, about a quarter mile ahead, was #2. That made no sense. Well, maybe it was one random misplaced sign. Nope. GPS said we were at about 2.25 when we hit marker 3 and 3.25 at 4. Looked like that was going to hold. Three-quarters of a mile off at the beginning of a marathon. Biggest discrepancy I've ever seen."
"Someone in our group was local and mentioned he thought we'd missed a turn in the first mile because he had trained on the course. By the 10k mat, volunteers were talking about how we (not my group but the entire participant field) had missed a turn."
"That explained not seeing the first mile marker. We never passed it!"
"The race acted like it was business as usual afterwards; it wasn't until a lot later they started to acknowledge it was short. I doubt it will affect that many people going for a 50 States certified finish, unlike when this happens in Alaska or Hawaii. But the Boston hopefuls… man."
 Marathon of The Treasure Coast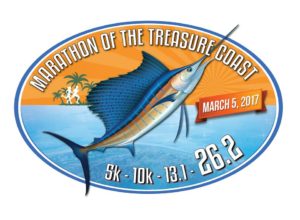 "We had a little mix-up in the beginning, so I made it up on the back half and ran a little extra to make up for the shortcoming at the beginning." Matt Treat – Overall Marathon Winner
I received reports last night that many runners were mis-directed. This was confirmed in an article on TCPalm.com this morning. According to the article a police officer misdirected runners. An unknown number of participants were affected.
"Most people went the correct direction and we had signs there, but they were in a pack and (when) we have a couple of people go in the wrong direction, others will follow. "What's really important as a runner is to make sure you know your course. We don't have course marshals at every single intersection, so people should study the course before they come out to run it."  

-Marathon of The Treasure Coast RD Jeanne Brower
If a police officer points me in a direction, I'm going to follow his instructions unless I am 100% certain he is wrong. I think it is inappropriate for Ms. Brower to put this on the runners.  When you are running a race, you are going to follow the flow. She so much as says that, while at the same time blaming the runners.
It was reported in the TCPalm article that many runners ran the extra distance and were given "accurate" times utilizing their GPS
Conclusion
In both these cases, the main issue is with Boston Qualifying Times. There have been some instances where Boston has allowed time adjustments to be recognized for qualifying purposes. I was at The Flying Pig in 2008 when a fire forced a re-route. Boston allowed the adjusted times to count. It is ultimately the decision of the B.A.A. on how to handle these results. If someone beat their BQ by 30 minutes should they be allowed? Or if they show they made up the distance? No matter what Boston does, there will be criticism. I will wait and see. I do think it's a slippery slope if they don't make an all or none decision regarding the Boston qualifiers.
To support the blog, and my efforts to keep race results clean, please consider a small contribution. These donations go towards purchasing race photos, compensating those that work to pull data, and general expenses associated with the site.