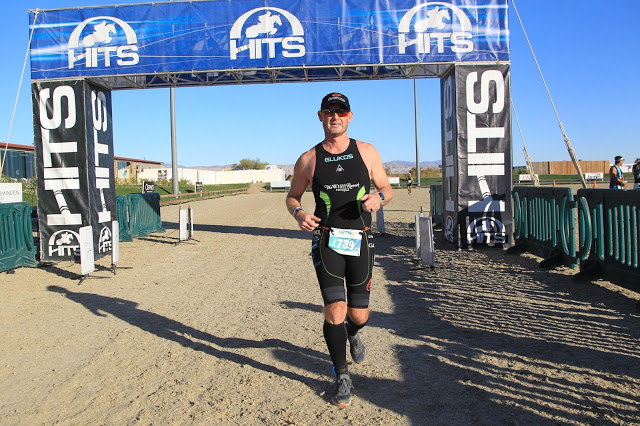 The man who calls himself  "The Wish Runner" is attempting a World Record. His request was officially accepted by Guinness in January of this year. He is attempting to beak the record for most Ironman 70.3 races completed in a year. The current record is 23 set by Robert Verhelst in 2015.
I was asked to review his results, and I passed this on to a friend who has helped me investigate runners in the past. This friend primarily participates in triathlons – I relied on him to help me with the many questions I had regarding cutoff times, transitiuons, etc…
A DAUNTING TASK
His Athlinks profile shows one Ironman 70.3 race in his history.
He finished  965th out of 978 overall. It would be a challenge for Jason to get this record if this performance is indicative of what to expect going forward. According to cutoff standards that I found, similar times would result in him missing the cutoff.
His goal, as posted on Facebook is to complete 30 Half Ironmans in 12 months. He completed his first attempt in December.
A marked improvement from his first effort. Let's look at the splits.
Had HITS enforced the cutoffs, Jason would have been done after the bike portion. The cutoff would typically be 5 hours and 10 minutes. Jason finished just shy of 6 hours.
What stood out was the run. He completed the run in 1:32:18. Looking at his Athlinks history, all of his standalone half marathons are over 2 hours. Also, it would appear that he was struggling. His swim and bike portions were slower than in his October 1/2 Triathlon.
For (nearly?) 13.1 miles, after a swimming for over 1 hour, and biking for over 4-1/2 hours, he ran at a pace faster than his 5K personal record. If the course was accurately measured at 13.1 miles, he ran at a 7:03 minute per mile pace. His 5k P.R. equates to a 7:54 minute/mile pace.
One important note: Looking at 
Strava FlyBy Data
  from race day, (Jason's Strava account appears to be private) it appears the course may actually only measure approximately 12.6 miles. If this is the case, his pace equates to a 7:20 minutes/mile pace – still beating his 5k P.R. by over 30 seconds per mile.
There were no timing mats on the course, and the course seemed a little convoluted. It would be possible for a runner to get lost, but they surely would realize when they made a mistake. According to at least one poster on
slowtwitch.com
, there was cheating witnessed.
slowtwitch.com
slowtwitch.com
Does Jason have a G.P.S. record of his run? It would appear not…
Facebook
Whether it was intentional or not, I am firmly of the opinion that he did not complete the 1/2 Ironman in the time he is credited with. I have reached out to Jason, and have yet to receive a response. I reached out to the race, and received a canned response that they were forwarding my concerns to the timer who will review the splits and thanking me for my participation in the race.
Sponsorships
He has 19 sponsors listed on the site. He has posted that he receives equipment and product from some of the sponsors. I don't know if any are contributing financially to help cover his expenses of traveling around the country doing these races.
The Wish Runner Project
The stated goal of the record attempt is to raise money for The Make A Wish Foundation. In fact, Jason hopes to raise enough money to make 100 wishes come true. According to the Make A Wish website, the average cost of granting a wish is $10,130. If this is the figure Jason is using, that would mean that he would need to donate over $1,000,000 to meet his goal.
Jason explains that the regional average is lower, so the donation goal would be $600,000 for Make-A-Wish (6,000 per child).
At about 1:10 of this video he mentions some details regarding The Wish Runner Project and the proceeds.
"All the proceeds go to The Wish Runner Project, and

Ten Percent

of that goes directly to Make A Wish."
Update:


Jason explained via Facebook after this was posted that 10% of donations from the direct link go to  go to Make a Wish, 5% to Children's Tumor Foundation  and the rest to support the run. 


There are direct links to Make A Wish and The Children's Tumor Foundation on his site.
My personal recommendation is that if you want to support The Make A Wish Foundation, that you do so directly.
As always, I will communicate all updates through Facebook and Twitter whenever I make a new post or have an update.
To support the blog, and my efforts to keep race results clean, please consider a small contribution. These donations go towards purchasing race photos, compensating those that work to pull data, and general expenses associated with the site.

One Time Contribution