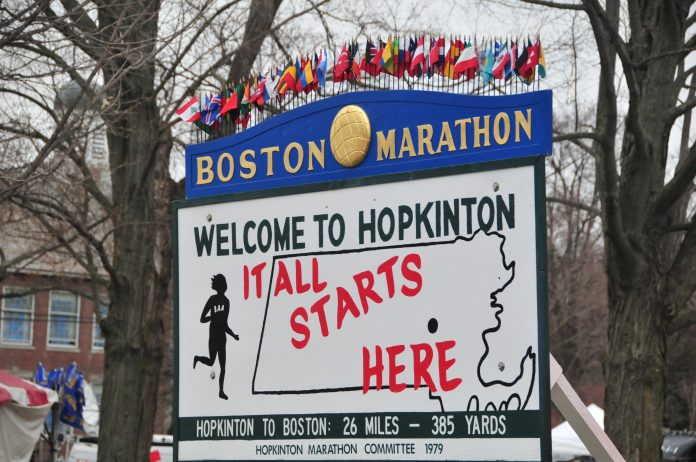 I've never really examined the Boston Marathon results to identify course cutting at The Boston Marathon itself. I've come across a few runners that I've written about over the past year or so. I just wrote about a runner who apparently has taken shortcuts over multiple years. I looked a little more closely for missed mats and odd splits.
Taking The Train
15 runners that missed both the 30k and 35k splits (Some missed additional splits as well). A handful of these runners earned Boston Qualifying times as well. Most require additional investigation. The only evidence on many is just the missed mats – paces look fine and the historical results don't raise any suspicions. I will wait for the B.A.A. to make a determination  on those runners.
I received an email from a runner who had this story to tell about one runner:
He got on the train at Woodlands (mile 16.8). He looked like he was in pain so I thought maybe he was just DNF-ing and wanted to get home…he happened to have his country's flag tattooed to his face so I noticed him. He had his shirt off while on the train and wrapped around his waist so as to obscure his bib number but since it was hot, I didn't really think much of it at the time.

I got off at Fenway and hustled to see my guy hit the 25 mile mark when a few minutes later the dude from the train runs by! He jumped back in the race!!!
The person that emailed this did some very good sleuthing. She filtered on German runners (from seeing the flag tattoo on his cheeks) abd was able to narrow down the culprit based on the missed mats. She confirmed the identity through the race photos online.  His time would qualify him for Boston '18. For what it's worth, his qualifying marathon at London '16 looks legitimate. He upgraded his coral with a time at the 2016 Chicago Marathon. This time also looks to be legitimate. However, cheating at Boston should be grounds for a ban from future races.
Edit: I received an email from another person who witnessed this runner on the train,  – follow up post coming.
Heartbreak Hill
Who do you think has the fastest time between the 30k and 35k timing mats? Geoffrey Kurui? Galen Rupp?  Nope.
Stephen, a 57 year old charity runner who finished the race in over 4:30:00 managed to put together a 13:48 5k on the stretch that included Heartbreak Hill. Compare that to Rupp's and Kurui's time of 15:18.
Others
There are a number of other runners with multiple missed splits. Some earned Boston Qualifying times. I will be watching for BAA to take action.
Most of these runners had no other flags besides the missed mats – there may have been legitimate mat or chip issues. With a race the size of Boston, that will be the case.
For example, there is a runner with a split between the 25k and 35k of less than 2 minutes. That 100% has to be a timing error.
I am now turning towards analyzing the results to look at those that cheated in their qualifiers, or sold their bibs. I have many tips to go through as well as my prioritized list.
Thank you to all of those that have already contributed to the site. Contributions go towards site expenses, and to compensate those that help gather the data. Please consider making a small contribution to support the site.