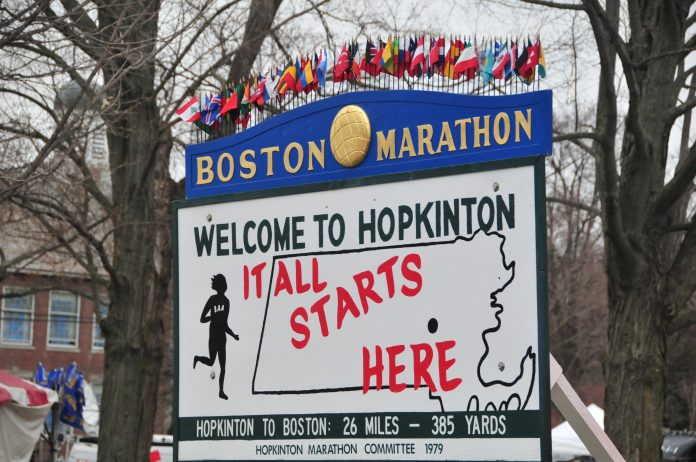 More information has come to light in regards to Alexander Schwarz, the German runner that allegedly took the train en route to a 2:59:28 Boston Marathon finish. I received an email last Tuesday from someone that spotted him on the train, and later on the course.
I posted this quote in the previous article:
HE GOT ON THE TRAIN AT WOODLANDS (MILE 16.8). HE LOOKED LIKE HE WAS IN PAIN SO I THOUGHT MAYBE HE WAS JUST DNF-ING AND WANTED TO GET HOME…HE HAPPENED TO HAVE HIS COUNTRY'S FLAG TATTOOED TO HIS FACE SO I NOTICED HIM. HE HAD HIS SHIRT OFF WHILE ON THE TRAIN AND WRAPPED AROUND HIS WAIST SO AS TO OBSCURE HIS BIB NUMBER BUT SINCE IT WAS HOT, I DIDN'T REALLY THINK MUCH OF IT AT THE TIME.

I GOT OFF AT FENWAY AND HUSTLED TO SEE MY GUY HIT THE 25 MILE MARK WHEN A FEW MINUTES LATER THE DUDE FROM THE TRAIN RUNS BY! HE JUMPED BACK IN THE RACE!!!
After the article was posted, a another reader came forward that claims to have seen this runner:
I can certainly corroborate the individual who had previously emailed you.  I had gotten on the Green line (D line train) on Monday at the Longwood T stop a little after 12:20 or so on my way to the finish line to see my brother run.  As I got on the T, I saw this individual exactly as was described by the other person (shirt off, German flags on face, red bib which was obscured by a shirt and him facing the outer wall of the train).  I had thought he was someone who had dropped out of the race, but then noticed he was kind of evasive on the train and jamming GU in his mouth.   I tried to take a picture, but when the train pulled up to the next stop (Fenway), he immediately ran off the train, and I thought he might be cheating the course.
Fenway Station is approximately 1.5 miles from the Finish line. The time that this person says she saw him falls in line with Alexander's times and missing splits. If Alexander got off the train at this point, he would have hit the 40k mat.
Motivation/Splits
| | | | | | | | | | | |
| --- | --- | --- | --- | --- | --- | --- | --- | --- | --- | --- |
| Mile | 3.1 | 6.2 | 9.3 | 12.4 | 13.1 | 15.5 | 18.6 | 21.7 | 24.8 | 26.2 |
| Elapsed | 00:20:16 | 00:40:52 | 01:01:49 | 01:23:37 | 01:28:27 | 01:45:42 | missed | missed | 02:48:54 | 02:59:28 |
| split pace | 0:06:32 | 0:06:39 | 0:06:45 | 0:07:02 | 0:06:54 | 0:07:11 | | | 0:06:48 | 0:07:27 |
| overall pace | 0:06:32 | 0:06:35 | 0:06:39 | 0:06:45 | 0:06:45 | 0:06:49 | | | 0:06:49 | 0:06:51 |
| projected | 2:51:25 | 2:52:49 | 2:54:17 | 2:56:48 | 2:57:02 | 2:58:48 | | | 2:58:34 | 2:59:28 |
I included projected pace based on the overall split times. With the section of Heartbreak Hill still to come, it would appear that he was heading for a time slower than 3:00:00. Had he continued at his pace that he was running  after the 15k mat, he would not have achieved a sub 3:00:00 marathon.
Why would a sub 3:00:00 marathon have been important to Alexander?
A commentor on the initial article pointed out his blog: 42komma2.de. If you translate it, you can see that he intends to run all of The World Marathon Majors (Tokyo, Boston, London, Berlin, New York, Chicago) in under 3 hours. Boston would have been his 5th finish of under 3 hours.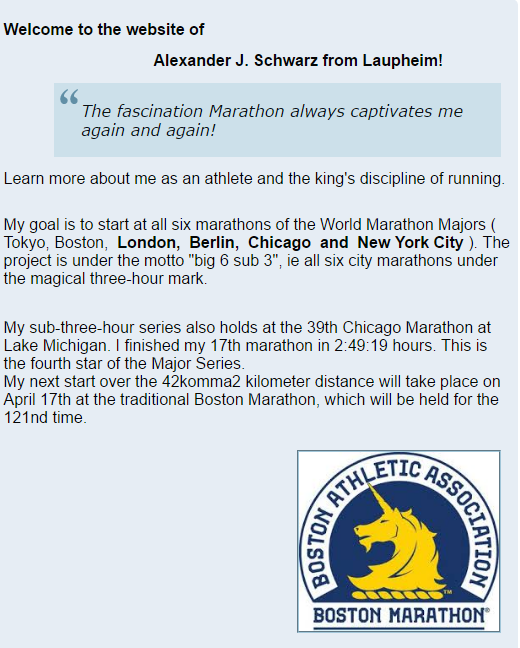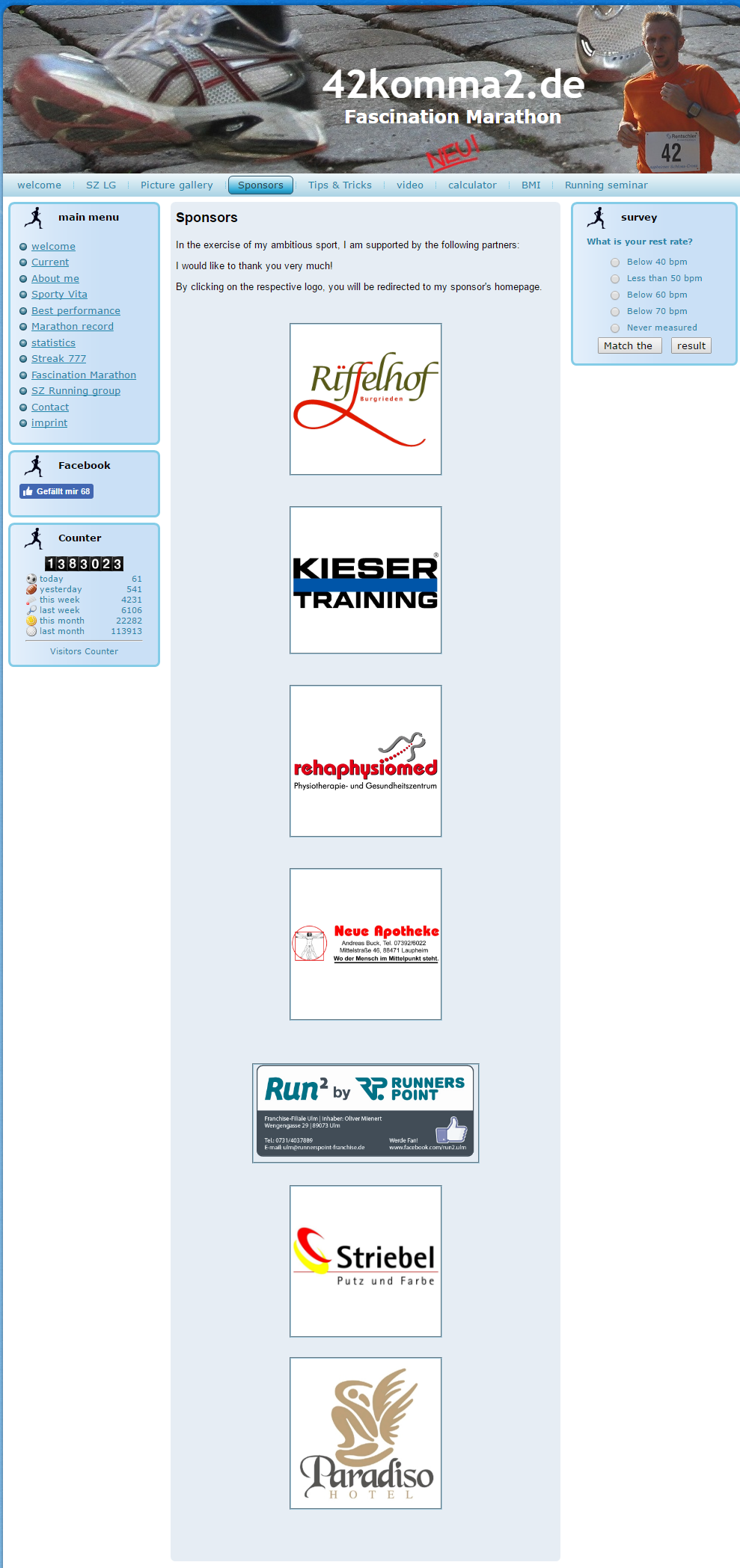 The motivation would have been high for him to complete Boston in under 3 hours.
On his site there is a video page. In New York, he actually wore a helmet with a video camera mounted to it for the race.  His photos from Boston don't indicate that he ran with a camera.
Alexander emailed me last night. He did not comment on his performance or the eyewitness account. I replied and asked for a map of his run. He is wearing a GPS watch. I also asked if he was disputing the witnesses. So far he has not replied.
Thank you to all of those that have already contributed to the site. Contributions go towards site expenses, and to compensate those that help gather the data. Please consider making a small contribution to support the site.