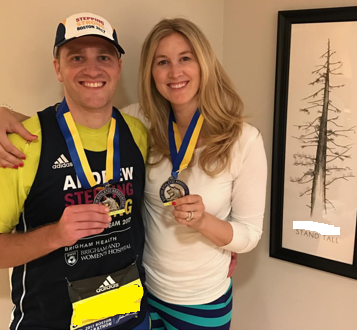 There were a couple of things that I've seen regarding The Boston Marathon that struck me other than the reports of alleged cheating.
Red Rover
On Monday, I came across the a picture and a  Facebook post I made that generated a surprising amount of interest and controversy. There were over 100  comments and more than 100,000 people have seen the post.
I posted the the picture with this comment:
As I sit here waiting for finisher data to come in late tonight, I saw this picture posted. Not cool at any marathon, let alone Boston.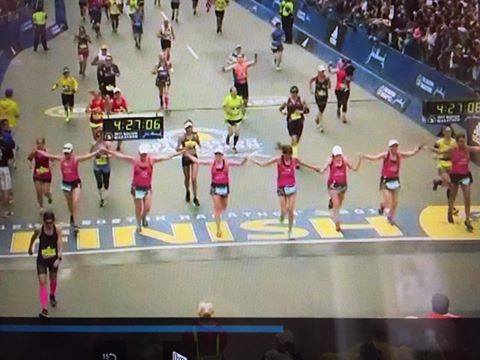 I expected that some people would see the post, and that runners would generally agree with me that it is "not cool" to form a human chain stretching across the finish line.
The first post simply said "I disagree", and then "Why do you care?" Eventually, the majority were in agreement that this is in poor form.
Why is this "Not Cool"?
Safety.
Generally runners running more than two abreast is discouraged.  This was one of the comments to the post:
Having lost 6 weeks of training due to injury because people pulled this stunt at the finishline. Impeding fellow runners can be a DQ.
Common Courtesy.
There were a few runners that may or may not have been impeded. These runners could have had their Boston Qualifying Times affected. Yes, the clock time was over 4 hours, but adjusting for actual start time, and depending on the age/gender of those behind them, it portentially could affect a BQ time, or a personal record.
They didn't spontaneously decide to form the human chain across the finish. It had to take some time to set up. At the least, some runners had  to have been affected to some level. Some runners had their finish line photos affected by what I view as a selfish act.
Other Points
These were NOT charity runners. They all qualified to run Boston. Most qualified at St. George Marathon. Some of the initial defenders of these runners assumed that they were with a common charity.
I looked at some course photos. It does appear they all ran together the entire way. I cannot make judgement as to whether they were impeding runners throughout the race, as some have assumed.
My Wife Deserves a Medal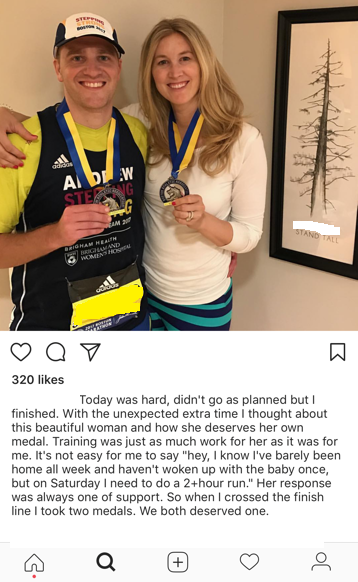 So when I crossed the finish line I took two medals. We both deserved one.
This is decidedly "not cool".
I posted this in a private FB group with the names redacted, and even that didn't stop the picture from spreading. After a few negative comments followed the 300+ likes he got from his followers, his Instagram account went private.
I felt obligated to post on this. After all, I have been openly critical of  the "everyone gets a medal" mentality.
He ran as a charity entrant. He was supporting a charity that raises money to help a bombing victim. It's bad enough to take a medal that you didn't earn. Maybe you aren't thinking clearly and thought this was a good idea. But he did this while representing a very worthwhile charity. He thought it was a gesture worthy of sharing. He gave a stolen medal to his wife for putting up with his training schedule. I was going to say that he should have just bought one off of EBay. But those medals were likely stolen as well.
As someone in that Facebook succinctly put it, "This would be like Tom Brady giving a Super Bowl ring to Gisele.
OK, off my soapbox. I am continuing my Boston analysis. I did notice that on the BAA results link they added a
form to report suspected cheaters
. By all means use that form, but feel free to give me a heads up too, if you'd like.
Thank you to all of those that have already contributed to the site. Contributions go towards site expenses, and to compensate those that help gather the data. Please consider making a small contribution to support the site.