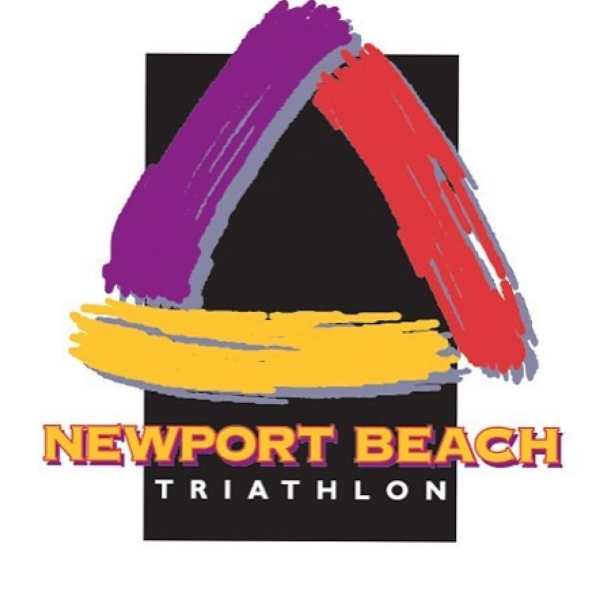 UPDATE: The Newport Beach Triathlon has been postponed. No decision on refunds 'until appeals process plays out'.
Active.com Is inexplicably still accepting registrations.
The Newport Beach Triathlon was denied permits by the City of Newport. The race organizer is blaming the city.
Visitors to Newportbeachtriathlon.com were met with this announcement: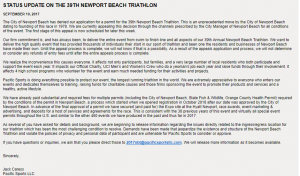 "Selling Entries Under False Pretenses"
RACE ORGANIZER ACCUSED OF SELLING NEWPORT BEACH TRIATHLON ENTRIES UNDER "FALSE PRETENSES"
After it was initially revealed that Pacific Sports, LLC did not have a contract in place with The Pacific Dunes, they denied there were issues: As reported on CaliforniaTriathlon.org
you should question the source of your information. We apply for permits, as we have for 39 years, and they are approved in typically around 10 days prior to the event. This is entirely typical. We have sanctioned the event as long as there has been the existence of USA Triathlon. ~ Pacific Sports
They then cancelled the swim portion, which was scheduled to take place at The California Dunes.
Laying Blame
As previously reported, this is just the latest of a series of cancellations and disputes between Pacific Sports, LLC and venues.
2013 Brooklyn Triathlon – postponed to 2014
2014 Brooklyn Triathlon – cancelled 6 days prior to the event due to dispute over police fees
2016 LA Triathlon – cancelled 4 days prior to the event over the supposed lack of an itemized bill
2017 Newport Beach Triathlon – Swim portion cancelled after failure to obtain agreement with venue. Permits later denied by the City of Newport.
In each instance, Jack Caress and Pacific Sports blames others for the cancellations.
Brooklyn Triathlon
"We did expect a fee assessment, but we thought it would about one-fifth of this," said Jack Caress of Pacific Sports. "What's really troubling is there was no transparency, no detail — I've asked for months to see the deployment. Well, $127,000 for two miles — I cant fathom what they would need, and they wont disclose it."
Los Angeles Triathlon
According to the Los Angeles economic development manager, Caress cancelled the 2016 LA Triathlon primarily over the lack of an itemized bill and a $7,200 bill that he received to be paid to a neighboring city – which was to cover costs relating to signage communicating road closures.
[Caress] was fully aware of what the breakdown was," and "did know what the billing was for," says Fran Fulton, the city's economic development manager. Fulton says that her office and Caress had had monthly meetings leading up to the event and that "if he had disputes, he had several months to bring it up." She says the prepayment policy had been in place for the past two years, and nothing about it changed in 2016.
Newport Beach Triathlon
Once again, Caress is blaming the city:
Demands have been made that jeopardize the existence and structure of the Newport Beach Triathlon and violate the policies of privacy and personal data of participant and are untenable for Pacific Sports to consider or approve.
As far as refunds:
Until the appeal process is complete, we will not know if that is a possibility. As a result of the appeals application and process, we will not determine or consider any refunds of entry fees until after the entire appeals process is complete. 
They are not issuing refunds despite the fact that most of the registered participants signed up expecting a real triathlon. They are claiming the transition is a stage.
They still refer to this event as 'the longest running triathlon in the world'.
Active.com
Entries are still being accepted on Active.com.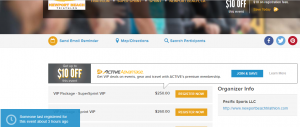 They are refusing to issue refunds, but 24 hours after announcing that they were denied permits, they are still collecting money. In fact, according to Active.com, someone registered 2 hours before I grabbed the above screenshot (I visited the site at 8:55 PM Eastern on 9/20.
Please consider a contribution to help support the site. Contributions help to offset costs associated with running the site and help to enable me to compensate those that assist in data collection, etc.
Thanks to all of you that that support Marathon Investigation!