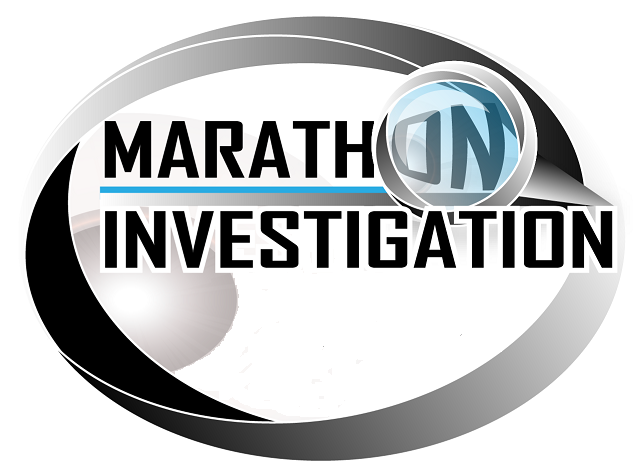 On the evening of July 4th, like most, I was enjoying time with my family. Shortly before the fireworks were set to commence, I checked my phone and saw a post on letsrun.com that Frank had died. Shortly after seeing that post, the emails started to come in, and I knew it was true. The rest of that night was a blur as I tried to process what had happened.
I felt it was most appropriate if I remained mostly silent for a period of time, both to allow Frank's family and friends the time and space that they needed, and to be able to rationally gather my thoughts and decide on how I, and Marathon Investigation would go forward.
I will address my process as it relates to Meza, I will address the criticisms, and I will address the future of Marathon Investigation.
Background
The first email I ever received regarding Frank was in January of 2017. The emailer referenced Frank's CIM disqualifications and noted some other performances that seemed suspicious. Later in 2017, I heard from a race official, who was also suspicious of Frank's results. I did some digging, and while I also was suspicious of Frank's times, I didn't have anything that I felt was actionable.
I had looked at his results through 2017 and 2018, but didn't find any evidence that I could present to any races to advocate for a disqualification. After Frank's 2019 LA Marathon finish, suspicions were made public on letsrun.com. In the past, letsrun has gained notoriety for outing Kip Littton, Rob Young, and Mike Rossi. It was within the Mike Rossi thread where the idea for Marathon Investigation was hatched.
I saw the thread and responded on March 27th.
The letsrun thread had caught the attention of Amby Burfoot. Amby had emailed me about a month later regarding his own look into Frank's results. At the time, he decided not to write his own piece. Later, he would write about his investigation.
I had spent some time off and on looking back at everything I had. But, it wasn't until the first photo of Frank on the side of the course was uncovered by a letsrun poster that I felt there was enough to move forward.
My next post on that thread was on May 22nd, 42 pages and almost two months after my first post.
I wrote my first article, 6 days later on May 28th.
The Marathon Investigation Articles
I wrote 8 articles about Frank Meza. The main purpose of each article was to present significant new information, or to respond to comments by Frank or those in Frank's camp who were questioning the information that I published.
May 28th – Initial article focusing on 2019 LA Marathon
May 29th – Article focusing on Phoenix. The video that was the focus of the article was uncovered by a M.I. reader. I was unaware of the video when I published the initial article.
June 3rd – Reported LA Marathon statement that they would not DQ Frank unless more information came to light. 2nd sequence of photos presented.
June 7th – An article was published the previous day by Canadian Running. Frank spoke to the magazine. I defended the evidence that I presented. Additional evidence was presented.
June 25th – The LA Times had reported that disqualification was imminent. I felt obligated to defend my investigation as coaches, and even the Deputy District Attorney questioned the evidence.
July 1st – Reported that LA Disqualified Meza. Additional evidence was presented relating to other races.
July 3rd – Published evidence regarding prior year's LA Marathon results. After I had written the article, the photo that purported to show Frank on a bike at The 2014 SF Marathon was uncovered. I added a section relating to that photo.
July 4th – After some had questioned the identity of the bike rider, I analyzed the photo further.
Also, my work was being called into question. It was being called into question to an audience that was much larger than mine. The Deputy LA District Attorney, a friend of Frank's, publicly questioned the evidence and claimed that accusations were false and referred to the "libel" posted by internet trolls. Frank and others had also talked of obtaining legal counsel, . At the time, I felt forced to defend my articles and conclusions. I felt compelled to defend the evidence and present any additional evidence to remove any possible doubt.
What got lost by posting the evidence across multiple articles was the scope of the story. The story of Frank Meza covers many races over many years. Many casual readers do not realize that this story began well before The 2019 LA Marathon.
Some have wondered why the articles are still published.
It would be unethical to delete them. It would also be assumed that the articles were removed because they were inaccurate or seen as an admission that I did something wrong.
To erase history, would be to ignore it. I have left the articles, the Facebook posts, the tweets and the responses.
I am not a journalist, and have never claimed to be one. But I do try to act ethically in my writing. In the immediate aftermath, I reached out to journalists and other professionals that I respect. I researched policies on taking down articles. The standard policy is to never remove articles unless there is an inaccuracy, or if leaving an article up would put someone at risk of immediate harm.
Going Viral
The story hit the mainstream media and went viral beginning on July 2nd. The story was covered on Inside Edition, Good Morning America, The Dan Patrick show, and many mainstream websites, newspapers, and local TV. A story was planned for The ABC Nightly News, but it never aired.
The national coverage dwarfed any attention generated by my stories as illustrated by the chart above from Google Trends.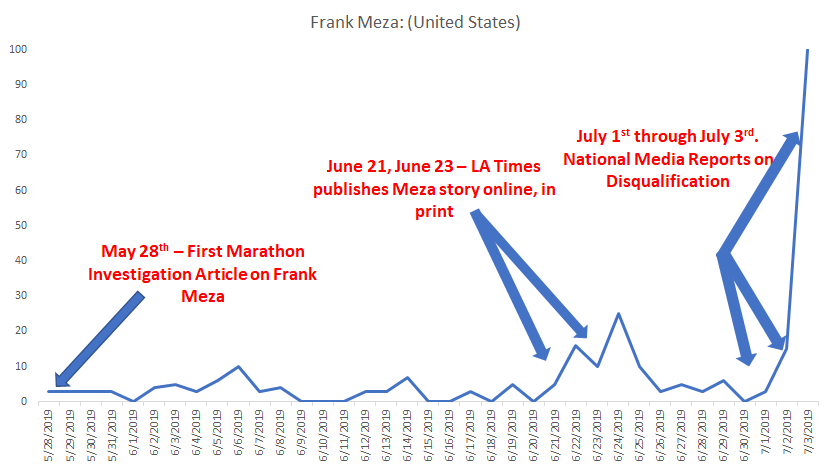 The chart shows the popularity of the search term 'Frank Meza. The chart begins with my first article and ends on July 3rd. The chart shows the popularity of the search term relative to the highest point over the chosen time frame.
I did not reach out to any media outlets to try to further promote the story. The LA Times reached out to me on June 10th. They were first made aware of the story by a letsrun.com reader. I never actively promote my stories beyond sometimes sharing my posts to other running groups on Facebook. I did grant two interviews after Meza's disqualification, one with ABC News and one with Inside Edition. ABC News never aired the story, although clips were aired on local news and Good Morning America (I was not included in the GMA story).
I point all this out as a point of reference. While many of the media stories after Frank's death focused on claims of bullying, and my 'accusations', what seems to be lost is that Frank took his life just days after the disqualification was public and the story went viral.
Bullying Claims
Meza's family says that he was harassed and bullied. They say that they knew that this was taking a toll on Frank.
I feel that the reporting of his disqualifications and course cutting is being characterized in the same way as online trolling, contacting employers, or leaving negative reviews on Vitals.com
One argument is that Marathon Investigation has created this community of bullies. I have always spoken out loudly and consistently against personal harassment. No one is allowed to post employment information, personal Facebook pages, or even advocate contacting sponsors.
Marathon Investigation articles get shared across Facebook. The comments on those other pages are out of my control.
Outside Magazine wrote an article, Frank Meza's Death and the Running Internet Mob.
I strive to be fair and complete in my reporting. I don't embellish or sensationalize. I didn't show up at Frank's door. Writing factual articles is not harassment or cyber bullying by even the most liberal of definitions.
There will always be people that go too far in their reactions. I have strict rules on my pages, and will have stricter rules going forward. Speaking out and criticizing runners for cheating is not harassment or bullying. I think those that cross into harassment and bullying are a very small percentage of the community, and not accurately characterized as a mob. Those that cross the line are not welcome to comment on my pages. I will address the policies on my pages below.
Legally, as outlined in Section 230 of the Communications Decency Act, I am not responsible for what users post in the comments of my articles. But I strive to do better than that, and will continue to do everything possible to make sure the discussion remains respectful. It should be noted that I do not delete criticism of Marathon Investigation.
The Future of Marathon Investigation
Integrity Matters. It matters as much now as it did on July 3rd. The tragic story of Frank Meza does not change that. Marathon Investigation is not shutting down. I believe that my reporting on Frank Meza was appropriate. I've spoken to journalists that I respect, and they agree. That said, there are some changes that will be instituted.
Social Media
Zero Tolerance Policy – Rules are already in place against posting personal information, posting employer's information, or advocating any contact against individuals. Users that are found to violate those rules will be banned. Personal attacks will be forbidden.
I will no longer share my own articles outside of The Marathon Investigation platforms.
I will not participate in any 'cheater threads'. I will not share information or publicly enlist others to do their own sleuthing. This is not a criticism of letsrun or any other forum. While the 'crowdsourcing' of investigations on letsrun has turned up information that may have never been found otherwise, many lines of investigation on these forums are dead ends, and it is impossible to ensure that all comments are made responsibly.
Articles
I had previously made the decision to step away from writing about individual bandits. All rules should be followed, but I will limit my focus to those infractions that clearly and directly affect the results. I will focus on 'cheating' and leave it for the races to deal with 'stealing'. I may write general stories on banditing as there are many reasons why it should not be tolerated. I may write on particularly egregious instances of banditing, but will not seek out these stories.
With developing stories, I will do everything possible to limit the number of articles. When appropriate, I will try to let the 'dust settle' if it appears that more information is likely to surface.
I will continue to make every effort to work with races prior to publishing articles. While I never ask readers to contact marathons directly, it definitely happens when I publish my opinions that a runner should be DQ'd.
A Personal Message
Let me preface this by saying that what I have gone through in the aftermath of Frank's death in no way compares to what his family and friends have and continue to go through. However, I am not exaggerating when I say that the day of Frank's suicide and the weeks following were the worst days of my life.
I feel intense and, at times overwhelming, guilt and sadness. Intellectually, I know that I only wrote the truth, and that this story was newsworthy. While we may never know for certain how or why Frank made that tragic decision July 4th, I have learned in the days since that this is not a simple answer. No single person or event is responsible for such a decision.
Fortunately, I have family that quickly recognized the pain I was in, and they were there to offer support. I strongly encourage anyone that is struggling with trauma, loss, or depression to seek help from family, friends, or a professional.
In a future article I will write about the media's reporting of this tragedy and the public response.