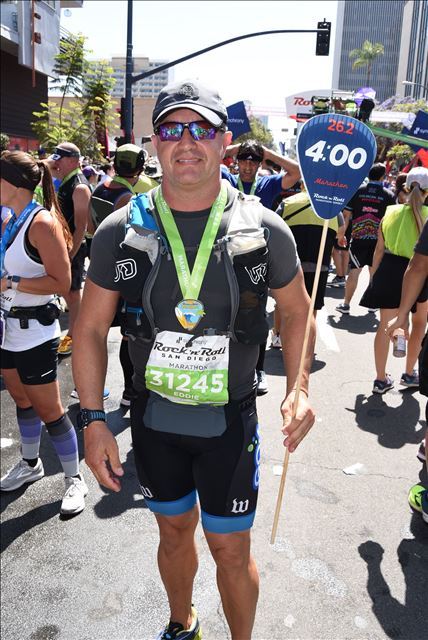 To support Marathon Investigation, you can make a contribution by clicking on the bottom of the page, or by going to Paypal.me/marathonsleuth or Venmo:@MarathonInvestigation. Everyone's support is appreciated!
I wrote about Ed in July of 2018. Ed was removed from The 2016 and 2018 RnR San Diego results. The original article and follow up are linked below.
Ed contacted me after the initial article. Following multiple messages and emails, I wrote a follow up article and included a statement from Ed.
I had heard from Ed after the follow up. He initially messaged me thanking me.
Great article. A couple of corrections. I did the Grand Canyon hike/run (47 miles) 13 days prior to the race (May 20), not a month. Also, I gave back the medals for both 2016 and 2018.
Ed previously had shared with me that he had a hip replacement, and, as referenced in the follow up article, states that he would remove himself rom The 2019 Boston Marathon entry list.
A couple months after the follow up, Ed emailed me stating that he was flagged by the BAA for a disqualification and removed from the entry list. His assumption was that he was flagged as a result of my articles and for his removal from San Diego results. However, Ed had used The Phoenix Marathon for his Boston 2019 qualifier. It is my experience that the BAA would only remove Ed from the field if the qualifying race refused to validate his result.

Apparently, despite the hip replacement, and his previous vow to remove himself from the Boston Marathon, he had still planned to participate.
July 2020
Once again, I heard from Ed. He wanted me to remove the articles. I did not initially see the messages. Over a few days, his messages became more threatening.
"If that libel on me is not removed, there will be litigation…As always, there are consequences to actions and you are not excluded".
Those threats are not new. But the next accusation was a new one.
Stalking Accusations
black.mail –
the action, treated as a criminal offense, of demanding payment or another benefit from someone in return for not revealing compromising or damaging information about them.
"I also was told from the PHX Mesa marathon that you were actually stalking me during my marathon. They showed me a picture of you there (I am friends with the race directors). That is very creepy and low class. I'll keep that in my hip pocket. But should be circulated that you stalk athletes."
"They saw you and took pictures. 2019. What is your email? I can send you the pictures."
I was not there. Initially Ed claimed it was during the 2019 race. When I pointed out that he did not run the 2019 race, Ed said it was during the 2018 race. He never sent any photos.
Throughout our conversation, Ed was pushing me to have Triathlon Magazine Canada remove their article on him, all the while holding this alleged evidence of stalking over my head.
"If you say you weren't there, I'll have to believe you. But as God as My witness, Jaimie said you were there in Mesa AZ to specifically try to catch me in the 2018 race cheating. I can get her to write something up. I'll let it go if you do."
After saying he would share these alleged photos of me multiple times, he always backtracked. I initially took down the articles as a courtesy to Ed. Honestly, at the time, I did not have the energy or will to fight this. Also, I was curious if he would send the supposed pictures of me stalking him.
"No blackmail. Jaime saw you there. I will follow up with her. Or you can if you want. Either way, I have testimony you were there as a stalker. These people don't like you disrupting their races."

Last word: these are not my pictures to give. But if I have to use them, I can gain permission.
Summary
I re-published the articles months ago. After reflecting on the situation, and re-reading the articles, I am comfortable with what I wrote. Giving in to his threats was a mistake. I shared his side of the story in the follow up. His response was that it was a 'great article'.

Ed's full name never appeared in the body of either article. The Google search results that he complained about linked to a Triathlon Magazine Canada article, and the aforementioned blog.
Regarding the accusations of 'stalking'. These are absurd. But a part of me does question whether Ed was really told that I was at the race. If Ed was just making up that story, how would he think that the threats of outing me would be successful?
I've sent emails to Jamie at The Mesa-Phoenix Marathon in an effort to get answers, but have not received a response.

I would never attend a race uninvited, or do anything that might disrupt a race. Ed is stating otherwise. I feel compelled to do as I always have in the past and address these types of situations publicly. Ignoring these situations is easily perceived as an admission of guilt.
With races opening up, I have been working hard as of late to cultivate positive, mutually beneficial relationships with timers and race directors. If there are rumors or false perceptions that I have disrupted or that I am willing to disrupt races to catch a single cheater, I need to put those to rest.
Support Marathon Investigation
To support the site, please consider making a small contribution.Your contributions help to cover the costs associated with running Marathon Investigation.