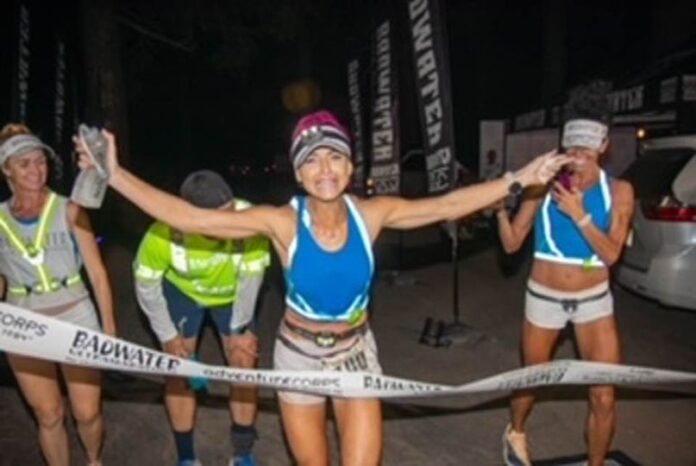 To support Marathon Investigation, you can make a contribution by clicking on the bottom of the page, or by going to Paypal.me/marathonsleuth or Venmo:@MarathonInvestigation. Everyone's support is appreciated!
Background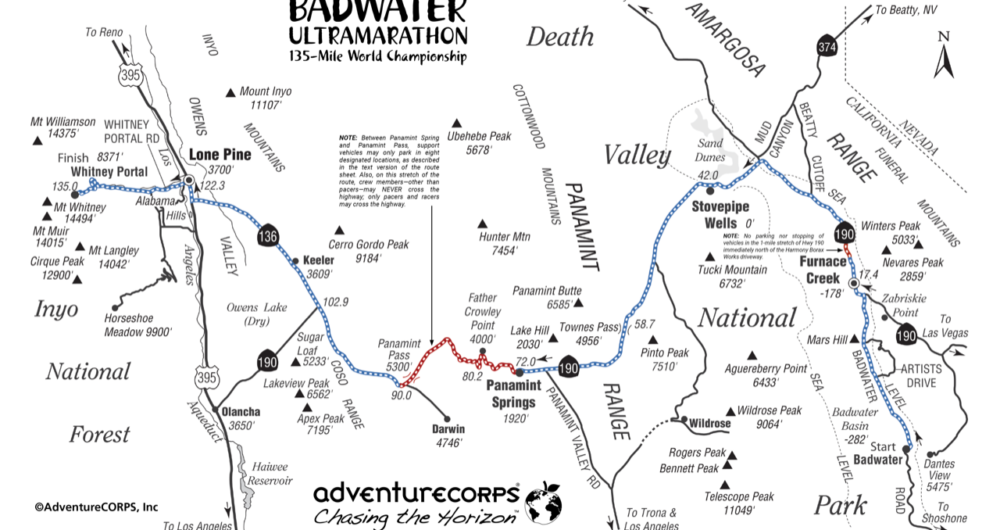 Ashley Paulson set the women's record with a time of 24:09:34 at Badwater 135. This was Ashley's first race over 100 miles, and was an incredible performance for a first timer, and when compared to her prior times.
Her result was generating controversy almost immediately. There is a letsrun thread. Canadian Running Magazine referenced Ashley's past issues and characterized the results as 'raising a few eyebrows' where they mentioned her 2016 ban from triathlon competition. There were replies questioning her result on The Badwater Facebook page, and at least two well known female ultrarunners runners started their own threads on Facebook where doubts were voiced on Ashley's performance.
Harvey Lewis finished behind Amber, in 4th place. Harvey was already aware of the controversy. Harvey ran into Amber, a crew member for Ashley while hiking on Thursday (The day before the initial Marathon Investigation article was published).
"I told Amber that based on my experience of going for the FKT on the Appalachian Trail and also the FKT of the Badwater 146, the best way to solidify Ashley's results in the face of questions would be for Ashley to release her data." – Harvey Lewis
I wrote the initial article in an effort to ultimately try to resolve these questions, not to accuse Ashley. If ran legitimately, it would ultimately be in Ashley's, and the community's interest to debunk as many of these allegations as publicly as possible. Conversely, if she did not run the race fairly, that needed to come out as well to preserve integrity of the race and sport.
While she has won all the ultras that she entered, her times were not predictive of this result. There has been no evidence presented indicating that there was anything questionable with those results. She set the woman's course record at The Pony Express Trail 100 and Race Director Davy Crockett posted that when he drove the course, he saw her running and nothing raised any suspicions.
Since she won all those races, she may not have pushed as hard as she is capable,. If she had been pushed, her final times may have been closer to what many would have expected for someone capable of running Badwater in just over 24 hours.
What This Article Will Address
I will present the analysis relating specifically to her data. I will address the concerns that were initially raised with that data. Ashley's Husband shared her .GPX file which allowed for a more detailed analysis, and made it easier to track her on the course relative to other runners to evaluate reports from on the course.
I will address the questions that were being raised by others on the course. As part of my research, I spoke to her crew member Amber Green and exchanged multiple emails with Ashley's husband, Matt. Both were very cooperative given the questions that were asked, as many probably seemed irrelevant, or outright absurd.
Was Ashley's Result Really That Unbelievable
I posted tables put together by Camille Herron in the first article. While the data was accurate, it is not the only way to compare results. It is certainly not the only way to evaluate her performance. There are many ways to look at the data, and there are many variables when comparing results, especially results under different conditions over different years.
The below chart compares the top 4 runners from this year and shows their total times and final two splits. These are the sections that jumped out to many as unbelievable.

Looking at the top 4 runners, Yoshi was not being pushed at the end and he ran a slower final 2 splits much slower than Ivan or Ashley. Similarly, Harvey had his position locked in and may not have had the motivation to push as hard on the final climbs.
Ashley's time over the last two splits was 8 minutes faster than Ivan's, that calculates to roughly 5% faster than him. Ashley was pushing Ivan. They knew she was closing at Portal Road. Ashley was chasing the record. That variance, in most circumstances, wouldn't raise eyebrows in a competitive final push.
I will be the first to admit that there are many ways to present the data and to frame the significance of Ashley's last two splits. This table is not to downplay her result, but to show that when compared to a runner in the most similar circumstance, the splits are extremely impressive, but maybe not the outlier to the extent as was previously presented. I think most runners will tell you that competition is needed to push you to your best performance.
Matt, Ashley's husband, commented to me that he planted that bug in her ear.
You're going to hate me for saying this right now, but you'll also be mad at me tomorrow if I don't tell you this… but if you can maintain 'x' pace (I think it was around a 13:30 average) then you have a chance at breaking the course record." I continued to say, "you have nothing to prove, just finishing will give you the win at this point, but if you can dig just a bit deeper, you can chase the record. I know it will hurt more but I know you can do it. It's your call" At that point, she had no idea how close she really was to the record and basically said, "what do I got to lose? I'm going for it" The fire was relit, she got an extra surge of energy and went for it. Matt Paulson's retelling of his conversation with Ashley
Ashley's GPS Data
Ashley publicly shared her Garmin Connect data Friday evening, after my initial article.
Immediately some questions arose regarding the links. I addressed those issues on my Facebook page as they came up.
Summary Data: Edited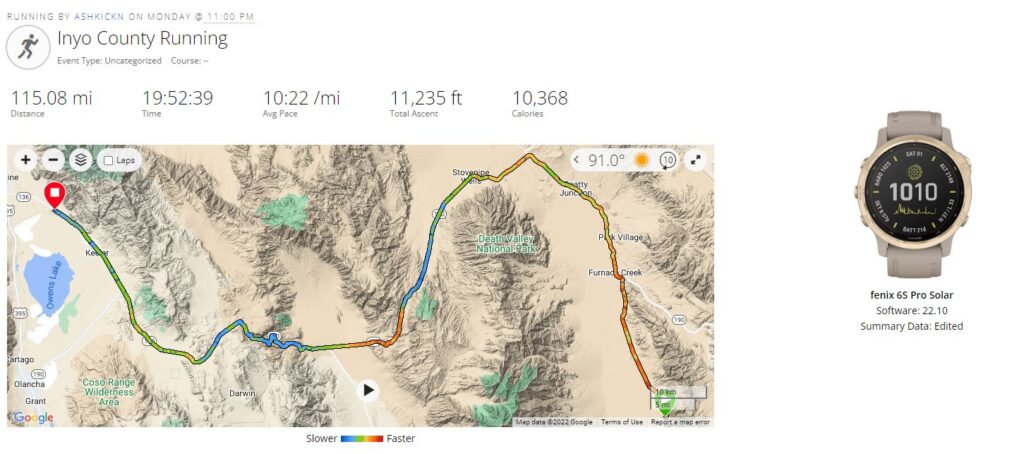 The summary data on both files indicates that there was an edit. Online there were accusations that she somehow modified the data. Shortly after seeing her files, I asked another runner to send me their Garmin Connect link, it also came across as Summary Data: Edited

The only edit the other runner made was to change his privacy settings. On the Garmin Connect Mobile App, you change privacy through the edit function. I confirmed this will trigger the message. We know that Ashley did change the settings, which would have triggered the message.
Stride Length
The summary page shows a large variance between her average stride length between the two files. The second file shows a much longer average stride length than the first file. The second file also includes the long uphill stretch. This average includes the 5 minutes + when Ashley finished her run to when she stopped her watch. The GPS signal jumped around while she wasn't really moving. This calculated an average stride length of 24.26 for this section which inflated the average stride length for the entire entry. Throwing out that final reading, her stride length looks reasonable.
Charging Watch/2 Files

Why 2 entries? Her model of GPS shows that it will last up to 25/28 hours in full GPS mode. We know she had heart monitor on which also limits battery life. It is reasonable that it would have needed a short boost. Matt indicated that she was concerned that her watch may die and would rather have the gap on that stretch than crossing the finish. I will also note that one of the runner's data that I used as a comparison was split into 6 files. Having two files is not reason for suspicion in itself.
Extracted .GPX File
If you have a Garmin and sync your watch through Garmin Connect, you can also export the raw data file. But you can only export the file if the run was logged under your account. So, only Ashley could export her raw data.
On Thursday morning I woke up to a message from an individual that was able to extract .GPX files from Garmin Connect. She shared the files with me, and on the surface they looked unusual. For the first file, the paces for early miles were less than a minute per mile, further on the data showed over 40 minutes per mile, and then settled to more believable paces. There were also less data points that would be expected. She walked me through the method she used, and I attempted to replicate it using another runner's Badwater entry from Garmin Connect. The 2nd runner's file showed nearly identical anomalies.
The file extracted was generated with the purpose of mapping the course. We determined quickly that the pace data and lack of data points was meaningless.
GPX File
I wanted to fully address all theories related to her GPS files. At this point, I was fairly confident that the GPS data was clean. However, I wanted to make sure. I was receiving messages questioning her path as shown on the map, and more. I wanted to more thoroughly examine the data. Through a mutual contact, I contacted someone associated with GPX verification professionals. I am not naming the service because those that helped me were doing so in an unofficial capacity. They reviewed the Garmin Connect link and didn't see anything to indicate any wrongdoing. They recommend that I obtain a .GPX or .Fit file for a more thorough analysis.
I emailed Mark, and he shared Ashley's two .GPX files. These were reviewed independently for any anomalies. Key points from their analysis.
Regarding the theory that she was handing the watch to a pacer for portions of the course:
if she was handing off the watch to a pacer, you'd think there'd be a big discoupling of heart rate and elevation/pace, as a new fresh person takes over. The runner is tired, has a high heart rate, hands the watch over to a fresh person, heart rate would suddenly drop even if pace stayed the same or sped up, along with other metrics like cadence changing too. I don't see really obvious trends of that..
There are 2 places on the 2nd track where her pace briefly goes to 0, and they are both before Lone Pine. If her pacer handed the watch back to her on the Portal road they did it without stopping.
I received messages regarding her track on Lone Pine. The map shows her track moving erradically and generally on the right side of the road.
What's clear is that the other guy's Coros gives better GPS data than her Garmin. Which doesn't surprise me. But anyway, I would be confident in saying that the "wandering" you observe in her track after Lone Pine is GPS error. Note she seems to wander well off the road. If you were creating a fake track you wouldn't do that. You can't tell which side of the road she ran on because her GPS simply isn't that good. Except she definitely ran on the right side for the US395 section. I think either side would be equally reasonable through there, and I would rather cross the busy highway where she did than where the other runner did.
Additionally they reviewed the initial file and felt that generally her stats aligned with what would be expected on the course relative to cadence, heart rate and pace. Here are her charts, isolating each metric.



The charts are presented separately since it is shows the trends much better, particularly the heart rate which was the metric that most questioned. I also reviewed cadences for any unexplained variances, and did not find anything unexpected.

As analyzed by myself, and by a third party, the data is clean and would indicate that Ashley ran the race legitimately.
In conjunction with the analysis of the data, I analyzed and reviewed a number of concerns, and alleged inconsistencies from various people that were at the course.
On Course Observations
There were quite a few reports sent to me, and observations from on the course that I evaluated. I am sharing my analysis, evidence from a crew member and possible explanations.
The Mystery Van
I spoke to a race official who reported on an incident 6-8 miles past The Panamint checkpoint. I cannot report the details, as the incident is being investigated. Related to the incident is a second van that the official reported as being near the crew van. If this second van were assisting, that would be a rules violation. He described this van as a Sprinter van. When the official was able to turn around and head back up the course, he did not see Ashley's van or the sprinter van.
The van came up in multiple communications with runners, crew and the race official. The race official reported seeing the van again on Portal Road, and saw a man in the driver's seat wearing sunglasses. Other runners, including Lewis, reported seeing the same unmarked van, "parked like a speed trap" and the man inside. He stuck out because he was wearing sunglasses late at night.
After shown a photo, the race official later indicated that the man looked like Matt, the husband of crew member, Amber Green.
Was The Van Tied to The Crew?
I had two long conversations with Amber. Amber kept detailed notes for the first part of the run (which she shared). In the first conversation I asked about her husband, and the van. She confirmed that her husband and friends drove a sprinter van, but did not arrive until after Ashley's race was over. Within probably 15 minutes of our conversation she sent me a mountain of evidence indicating that the van, and Matt arrived later. This evidence includes a fuel receipt, and group chats showing Matt was leaving Friday morning, cabin reservations, and a locksmith receipt corroborating the messages in the chat indicating that the keys got locked in the van.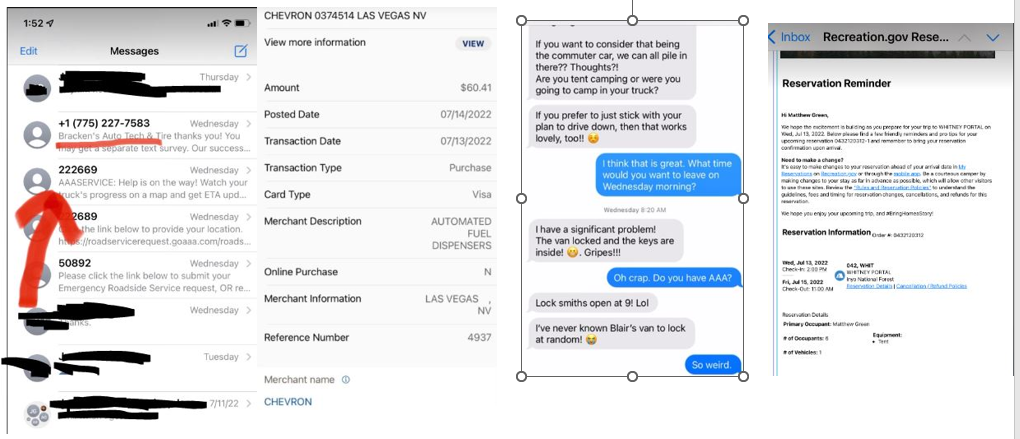 This evidence aligns with what Amber told Harvey.
"There was question of a second vehicle. Amber's husband Matt, sister, friend Ian and his wife came down from the mountain. I spoke to them at the trail head and we had a nice conversation. Amber told me that her husband Matt had to work and didn't come during the race. Also, her sister and friend Ian as well as his wife all arrived at the end of the race when Bob Becker was finishing. All of them were unable to attend the award ceremony because they arrived after the event." – Harvey Lewis
As I told Amber, to believe that Matt was there in that van during the race, you would have to believe that days before the race that they scripted conversation on the off chance Matt was identified in the van during the race and forged or otherwise involved the locksmith in order to get the receipt for the lock out. This would be the type of cover up you would expect during a murder trial, not a Badwater rules violation.
Frazil-Gate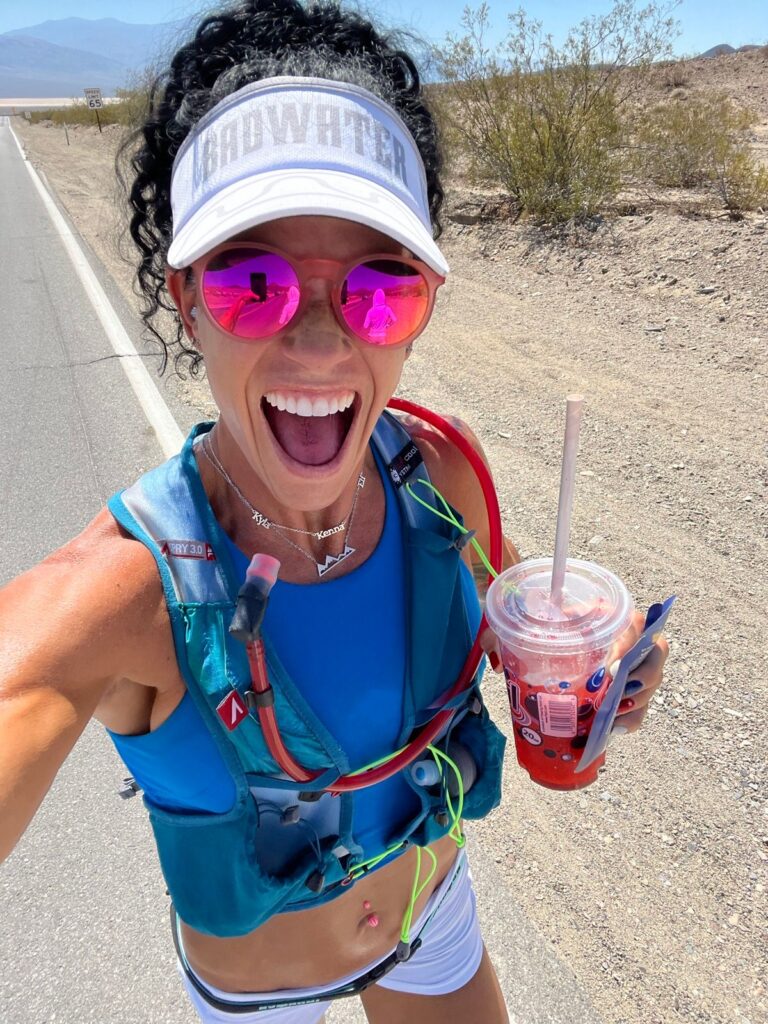 There was a photo of Ashley and a photo of Sarah, drink outside Panamint. This was presented as possible evidence that the crew left Ashley for an extended period of time to be able to have a cold drink at this point. It was reported that the soda machine was broken at Stovepipe Wells. The mystery was solved by simply asking Amber. Amber reported that yes, the soda machine was broken, but the Frazil machine was working. The drink in question is a Tiger's Blood Frazil purchased from Stovepipe Wells, likely kept in the cooler until just prior to this photo, taken outside Panamount. I post this section just to show the level I went to in order to address every single concern.

Spotting Ashley on the Course
There were multiple reports of runners or crews not spotting Ashley on the course in spots where they felt she would be visible. For these claims, I uploaded her run (I combined her files) and the runs of other runners to compare relative placements.

I reviewed the areas in question, and often the data would show that the gap between the runners was larger than was estimated. The runner or crew would confirm it was possible they just couldn't see her given the actual distance or that visibility may have been less than assumed. The GPX file, and visibility of runners' relative positions I gained through utilizing the Strava Flyby was critical in allowing me to quickly visualize the gaps and run through any questions sections that were questions.

I did not find any sections that could not be reasonably explained through the data or verified sightings of Ashley running.
Summary
It is my strong belief that Ashley's result is legitimate. There is nothing in the data to indicate otherwise, based on my review, and the review by the GPX verification professionals. All reports and claims from those on the course have been explained or otherwise dismissed.
I stand by my initial assertion that the scrutiny was justified. Record breaking results should be validated, and doubts should be alleviated as much as possible when questions are raised.
Finally, I hope that the community will fully accept that Ashley ran legitimately and recognize her achievement. It was my goal, that at the end of the process, that the community would have more confidence in the final results, had it been left for debate solely on message boards and social media.
I want to thank everyone who cooperated, especially Ashley, her husband and Amber for cooperating even when they may have felt that the questions were irrelevant. Also I appreciate the openness and willingness of runners, crew, and all others who shared their experiences.
It is my hope that all involved feel I treated them fairly and are satisfied that this article reflects the truth and that they know my intentions were always in the best interest of fairness and accuracy.
Support Marathon Investigation
To support the site, please consider making a small contribution.Your contributions help to cover the costs associated with running Marathon Investigation.