To support Marathon Investigation, you can make a contribution by clicking on the bottom of the page, or by going to Paypal.me/marathonsleuth or Venmo:@MarathonInvestigation. Everyone's support is appreciated!
I first did a thorough review of The Boston Marathon results in 2015.
The initial 'Boston Project' led to the realization that there was a significant number of runners using questionable methods to enter The Boston Marathon. I spent a lot of time scouring 2015 and 2016 Boston Marathon results to catch runners who cheated to gain entry. After 2016, I spent more time working to prevent those runners from entering Boston in the first place. 15 runners were banned ahead of The 2017 Boston Marathon based on work I did leading up to the race.
The review slowed in 2018 – the rain led to many anomalous results – and timing mat errors. I did not to as thorough a review of Boston results since 2017. I did find that there were fewer cheats – the serial cheats that I found in the first few years apparently retired, and I had to dig deeper into the results to find instances of cheating. So maybe my work was having an impact.
However, I have decided to review the 2022 results with similar scrutiny as the 2015 results. I am curious if I can make any sort of determination regarding how pervasive cheating is to get into Boston 8 years after I started Marathon Investigation. The review is ongoing. Unfortunately, it didn't take long to find the first clear instance of cheating. Before I publish that story, I thought it would be worthwhile to once again post a summary of the process and the types of cheating I typically come across.
Overview of The Process
The logic is basically unchanged since 2015. Boston assigns bibs based on qualifying times. Generally, the lower the bib #, the faster the qualifying time. There are exceptions – there is always a chunk of bibs that are 'non-qualifying bibs' usually in the 7000 series of bibs. Ignoring these exceptions, and charity runners, the general trend is that runners with lower bib #s can be expected to run faster than runners with higher bib #s. I've charted this out nearly every year, and the chart always looks the same.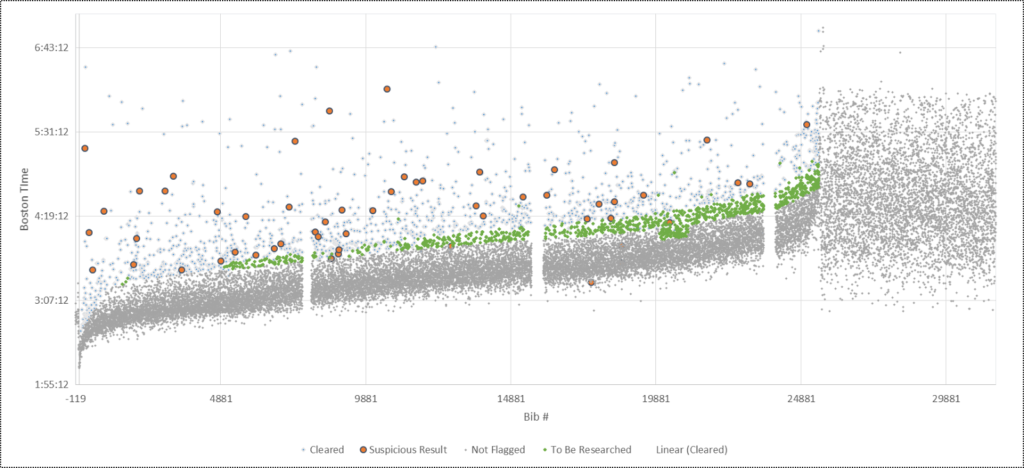 The above chart appeared in the Runner's World Article and on the website. The red dots represented runners that were 'suspicious' and it was ultimately concluded that they either cheated to gain entry to Boston, or gained entry legitimately, but sold or gave their bibs away to non qualified runners.
I prioritize my review my sorting the runners who run Boston in the slowest time compared to their expected finish time – the outliers in the above graph. The assumption is that those runners that cheat in their qualifier are not capable of running the same time that they used to qualify. Starting with the slowest runners relative to their qualifying times is as good a place to start as any.
Disclaimer
I always receive emails and posts on social media from runners that ran a slow Boston Marathon. They were worried I'd think they cheated. Even with my logic, the vast majority of runners I review are not suspicious.
There are plenty of legitimate reasons that runners may have a slow Boston Marathon. For many Boston is a victory lap, it's a reward for the hard work they put into qualifying. Some run it with slower friends. Some qualifying courses are significantly downhill, leading to faster times than would be expected at Boston.
While most runners that run slower than the algorithm would predict didn't cheat, I do believe the vast majority of those that do cheat to enter Boston are prioritized using my methodology.
How Do Runners Cheat for Boston?
Course Cutting – Instead of running the full course, they only run a portion of the course. Some courses are easier to cut than others, but I've seen confirmed instances of course cutting at all types of courses – whether the course is point to point or out to back. With point to point courses, runners have to get more creative and rely on alternate forms of transportation, but there are plenty of examples of cutting on point to point courses and loop courses. Courses with no electronic timing, or limited intermediate timing mats are particularly vulnerable.

Bib Mules – Using someone else to run a qualifying time. This happens when someone gives or sells their bib from a qualifying race to a faster runner, and uses that time to enter The Boston Marathon. The first instance I found from the review of The 2022 Boston Marathon was an instance of bib muling.

Bib Swapping – This is when a runner qualifies legitimately, and sells their bib to a non qualifying runner.

Banditing/Bib Forging – Adding this here, because it is an issue – but these runners aren't official entrants, and don't have official results. These runners would not be caught in my standard review of Boston results.
Within the next day or two, I will write about the aforementioned case of bib muling. More articles will be coming. I am hopeful that I will find that there are less runners successfully cheating to enter Boston than I found in 2015. Either way, the review continues, and I will report on my findings.
Support Marathon Investigation
To support the site, please consider making a small contribution.Your contributions help to cover the costs associated with running Marathon Investigation.