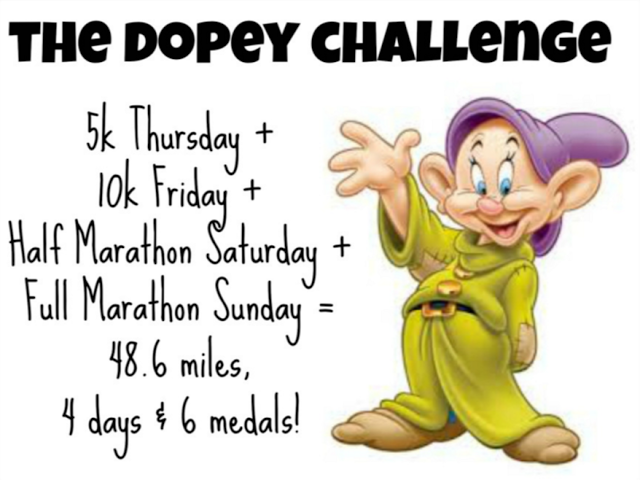 The Walt Disney World Marathon is  a different beast. Not very many people chose this race to qualify for Boston. People run it to go to Disney, experience the parks and the atmosphere.
There are some real challenges like the Dopey Challenge where you get a special medal for completing the 5k, 10k, 1/2 marathon and marathon in the same weekend. If you complete all 4 races you get some cool bling.
1/2 Marathon Canceled
The problem, this year, is that the 1/2 marathon was canceled on Saturday due to rain/lightning. So No one earned Dopey Medals (or Goofy Medals). But that didn't stop Disney from still handing them out. That's their prerogative, I suppose.  It's one way to appease those that signed up for the challenge and could not complete it do to circumstances beyond their control.
However, the culture of 'everybody gets a medal' is no more apparent than on the TeamRunDisney Facebook group. There are numerous posts similar to this.
Many people were seen in the park with their 1/2 marathon medals, and Dopey medals this weekend. Hey, I guess if Disney gives them out, why not wear them?
There were reports of people running on their own, in the park , and even on the interstates to complete the 13.1 miles. Good for them, I admire their motivation. (Except for the idiots that ran on the interstates). But they did not complete the 1/2 marathon or earn a medal. they had a nice training run.
The Marathon
I downloaded the results and have concluded that

at least 200 marathoners cut the course

,

and still crossed the finish line

.

It is worth noting, that only a small handful of these did so in Boston qualifying times, and most of those were disqualified almost immediately.
Most of the likely course cutters registered splits up to 13.1 miles and missed the 20 mile mat. There were more than the 200 runners that missed mats. I have heard from more than 1 runner that the 13.1 mile mat did not cross the entire road. Therefore, it would be reasonable to expect some runners innocently missed the mat.
In my estimate of 200 runners, I excluded those whose only anomaly was missing the 20 mile mat. However if you missed this mat, and ran a 1 hour negative split, it is obvious you cut the course.
In addition to the course cutters, there is a bit of a trend at Disney to collect your medal even if you do not finish the race – whether you drop out or get swept. In this case, the runner is making a claim that they are a marathoner because they put in the training.
There is a long thread relating to this post. Kudos to this runner for running 19.3 miles. That's 19.3 miles more than I  have run in a long time. But if anyone dare to point out the obvious, that she did not complete the marathon, they can expect to be ridiculed themselves before they get booted from the group.
Encouragement is great, but let's stop short at taking credit for being a marathoner before you run the 26.2 miles in a sanctioned race. It diminishes the accomplishments of those that did run the complete marathon.
I'm sure this runner will feel a whole different sense of accomplishment if they run the additional 6.9 miles in their next effort. Then she will understand the difference between attempting a marathon and completing a marathon.
Thanks to all of you that that support Marathon Investigation!