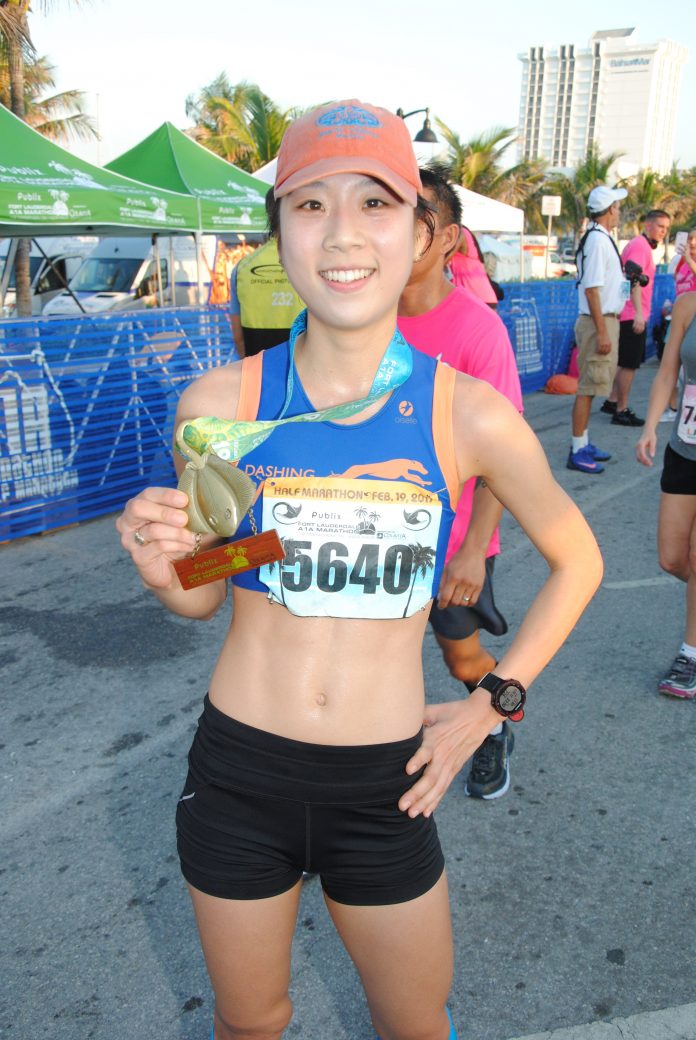 Photo taken approximately 1-1/2 miles from the finish
The initial 2nd place finisher of the Ft. Lauderdale A1A Half Marathon was disqualified Sunday night. She cut the course.
Splits:
10K – 44:22
13.1  – 1:21:46
These results would equate to a 7:09 minute/mile pace for the 1st 10k and a 5:25 minute/mile pace for remaining 11.08 kilometers.
After the race, she denied having cut the course. She approached other runners and race officials to defend her time. She was on the podium to accept the 2nd place award.
Shortly after the race she posted this to her Strava account.
One member commented on the lack of data. This entry was posted manually and was not linked to any GPS data.
Later that afternoon, she made another Strava entry. This one shows that she did indeed travel the entire course.
She had this labeled as a run, and the total time *almost* matches her original time for the 1/2 marathon. The cadence data is more consistent with what you would expect on a bike ride, not a run. Also, through the Flyby screen , I was able to confirm that she actually covered this course in the afternoon – long after the race was complete.
Below is her data from a different run. This run was done at a much slower pace, yet her cadence and heart rate were much higher.
I then looked at her race photos…
I noticed that she was wearing her Garmin 235, and the face was visible. So I purchased the pictures to get a look in high resolution, and zoomed in.
11.65 Total Miles


1:22:07 Total Time
This shows about 1-1/2 miles were cut. Her total time on the watch is 22 seconds longer than her initial finishing time – showing that she did indeed start the watch when she crossed the starting line.
It was warm and humid. This would have affected her running. These were not conditions that were conducive to a P.R.
Piecing together her actual paces, here is a clearer picture of what happened on the course.
10K Split  – 44:22  7:16 per mile pace.
11.6 Miles –  1:21:46 6:58 per mile pace
She cut the course about 3/4 of a mile from the turnaround – cutting a total of 1-1/2 miles.
As anyone that has used GPS technology during a race can attest – typically over a long distance the Garmin data will show a bit longer distance than the actual course distance. This is mainly due to the fact that most don't run perfect lines and tangents. However, it is clear that the 2nd half of her run was faster than the first 10k.
Late last evening, she did post this on Instagram.
While I am glad that she eventually admitted to cutting the course and trying to cover her tracks, she only posted this after information was relayed to her regarding the extent of the evidence against her.
She had the opportunity to come clean after crossing the finish line. Instead, she doubled down with the deceit.
She approached race officials and other runners defending her time. They did not approach her. She proactively went to them.
She did attend the awards ceremony to collect her 2nd place award.
She was disqualified later on Sunday once the additional evidence was presented to race officials.
She says that she was not feeling well, that she was nauseous.  The facts don't support this.
She ran faster in the latter part of her run than she did in the beginning.
She had the energy to bike 13.1 miles that afternoon.
She looks to be in good form in the photo at the top of the article, taken with 1-1/2 miles to go.
She does not look distressed in any way in her finish line or medal photos.
I was impressed by the quick action taken by the race officials and timing company in making the correct decision to disqualify this runner, and in taking steps to make sure the rightful runners receive their awards.

New York Road Runners
What was her motivation? Here is one possibility.
She is a member of The Dashing Whippets – A Member Group of The NYRR.
The Dashing Whippets have a subgroup  – The Performance Team.
Their requirements for membership to The Performance Team include a 1/2 marathon time of 1:24:00. Had her time stood, she would have qualified for The Performance Team.
Update:
She has been removed from the Dashing Whippets. 
Update: Comment From The Timer shortly after the story broke.





Hello Sunny!
She wrote a blog post that read like a tourism commercial for Fort Lauderdale. I have confirmed that her trip was sponsored and that at least a portion of her trip and activities were comped.
Update: 
The blog post has been removed.

Other Runs
All of this led me to look deeper into her other runs. She does seem to be a talented runner. Her only marathon time is just over 3 hours in the 2016 NYC Marathon and appears to be legitimate.
However, there were some other items of interest.
2016 NYC Half marathon
Compared to her 3 hour marathon, nothing about this time stands out…except for the photographs of the runner wearing her bib #.
Not Jane
One other odd entry – This post specifically mentioned that she sped up the last few miles since she had to go to the bathroom. Her cadence and heart rate both decreased while she ran her fastest pace.
I'm not sure what benefit she would have had by misstating the details of this particular run.  It looks like this is a course set up by NYRR for some sort of virtual runs. It does appear that she has scrubbed her Strava account of this run and removed cadence data altogether since I grabbed this data.
In Conclusion
This is yet another case of a runner making bad decisions. Whether the decision was pre-planned or spur of the moment, her actions after she crossed the finish line are what cannot be justified. This wasn't  a case of getting tired and calling it a day. This was an intentional act of deception as evidenced by her admission that she biked the course to try to cover her tracks.
Had she just gone straight back to her hotel, she would have been initially disqualified and the correct runners would have received the awards.
In this day of age, it is nearly possible to get away with cheating at a race – if anyone is looking. It is 100% impossible to get away with it when you resort to circus like attempts to cover it up.
Please consider making a small contribution to help support MarathonInvestigation.com. Reader contributions are the main source of the funds that are needed to pay for servers, photos, data, etc.