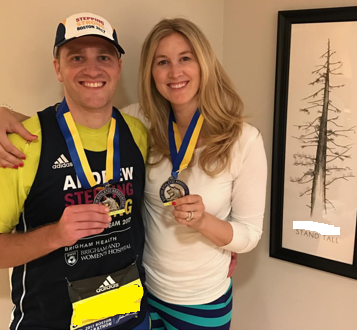 This afternoon, I received an email from the runner that I wrote about late last week that took two medals at the finish.
With his permission, I am posting his apology:
I am the runner from the Boston Marathon who took a 2nd medal and gave it to his wife. I am embarrassed and ashamed at my actions. I have returned the medal to the BAA with a donation to cover any additional costs my selfish actions caused and a letter of apology.
On Monday I had one of the most amazing days running in the Marathon. It was an unbelievable event to be a part of and an incredible day for me and my family. I physically struggled but was emotionally and mentally lifted by the crowd including my wife who recently gave birth to our fourth child.
As I finished the Marathon I was overcome with emotion, mostly gratitude for my wife and her support of this marathon and the hours of training in addition to a job that has kept me very busy during the last 6 months. I was grateful for the incredible Boston running community I felt I had just discovered (This is my 2nd Marathon, 1st Boston and 1st Marathon in 4 years).
I selfishly accepted a 2nd medal when it was presented to me, as I reunited with my twin sons and had given one of them my first medal. In the moment I had the foolish and selfish thought I could use this medal to honor and thank my wife. I was not thinking and am beyond embarrassed that I did this. I certainly did not think through the unintended consequences of what taking a 2nd medal could have. It is against the spirit of the Marathon, the spirit of what I stand for and most devastatingly the spirit of the incredible stepping strong foundation. I have been blown away by the Reny family and inspired by their courage, and efforts to promote healing and recovery for those who suffer trauma in their lives. The very last thing I want is to take away from them and their efforts. I know there has been speculation that I did not hit my fundraising target, I received the remaining $6.5k from private checks and am told it takes a few weeks for the website to be undated. It was an honor to run and fund-raise for such a wonderful cause. 
I  thought I did enough to keep him mostly anonymous when I first posted his Instagram picture. Still, some found his identity and sent him messages. If I go to lengths to try to keep people anonymous, please do not comment with identifying information. If you have information you feel that you need to share that would reveal a runner's identity, please share it with me privately.
Unfortunately, I cannot control what people post outside of my website and the Marathon Investigation Facebook page.
What he did was wrong. Maybe he would not have realized how much the running community in general this if it weren't for the article and social media posts of his photo. But, by contacting and sending potentially inappropriate messages to runners I write about is counter productive to what I am trying to achieve. Please consider the big picture before searching someone out and contacting them.
-Derek

Thank you to all of those that have already contributed to the site. Contributions go towards site expenses, and to compensate those that help gather the data. Please consider making a small contribution to support the site.