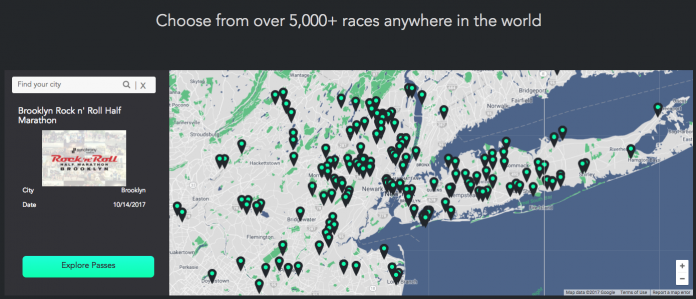 Racepass.com launched this week.
From their press release:
Launching today, Racepass, the first subscription-based membership for distance races, is reshaping racing with a platform that connects runners, race directors and race sponsors to get more people running more races. For a flat annual fee, Racepass membership covers full registration of a pre-set number of races for the year at a discounted cost, helping runners save more the farther they run.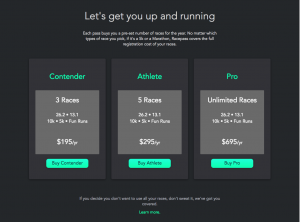 My initial impression as a runner would be that Racepass.com has partnered with races to handle signups, or purchased entries at a discounted rate for resale. This is not the case.  Races are listed on Racepass without the prior knowledge or approval of the races.
As reported on runsignup.com, Chase Rigby of Racepass says:
The coverage has been overwhelming, we have had hundreds of runners signing up every day and more and more outlets are covering it.
I was able to find a half dozen or so articles as of Thursday evening, mostly recapping their press release as well as the aforementioned article from runsignup.com. RSU posted the article after they heard concerns voiced by race officials after competitor.com pulled an article about Racepass.com from their site.
I want to  to lay out some concerns. I have reached out to Racepass through email but have not received a response as of this writing.
Accepting Entries To Races Without Consent
Racepass.com is promoting and accepting entries to races with which they have no official affiliation or partnership. I have heard from and read posts from multiple race officials who have discovered that their races were listed on Racepass.com without their prior consent or knowledge.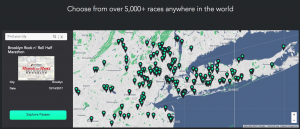 Race officials are taking exception with a third party accepting entries to their races. One race official whose races are on the site said "We wouldn't accept registrations via third party". Another posted in a Facebook group that they will be reviewing the language on their waiver to make sure that it requires that the runner fill out and agree to the waiver themselves. Yet another has already sent a cease and desist letter.
The way it was explained in the  RunSignUp article is that Racepass obtains the runner's information and then manually sign them up on the race website using Racepass's credit card. As it stands now, Racepass is basically posing as the runner, and signing off on the waiver. That raises a major concern regarding liability.
One race official whose races are on the site said "We wouldn't accept registrations via third party". Another posted in a Facebook group that they will be reviewing the language on their registration forms to add language so that they will not have to accept third party registrations.
In the RSU article Racepass does attempt to address this:
We are working hard on building out race director tools so that you can have access to runners data, emails, make bib transfers, special questions, donations, photos, etc. Those will roll out over the next months.
However, this still does not address the fact that they are doing this without the race's prior consent or knowledge. They are in essence forcing the races to jump through hoops and work with RacePass to have access to the information they would normally have obtained at signup.
One comment from an official that contacted Racepass:
When I spoke with them directly, they were extremely dismissive of my concerns and even laughed at me when  I tried to explain to them my concerns.
Now, I want to address some concerns I have in regards to the everyday runner.
Value For The Runner?
Currently there is no advertising on their site. The only apparent revenue stream is from runners signing up for one of the plans. Meaning that to be cash flow positive, the average runner will have to pay more to Racepass than they would have paid had they signed up directly through the race. Racepass have no known partnerships with the races, meaning they are paying the full cost of the entry (no discount) in most or all cases.
They do offer cancellation for ALL races within 14 days of the race. So, I suppose that might be worth paying the premium. But, this could get very costly if they have to eat these entry fees for non transferable entries.
"…at a discounted cost"
Yes, in theory, someone like a member of The Marathon Maniacs that runs 10 or more marathons a year that buys the unlimited package will save quite a bit of money. But with their current model, they would do so at the expense of the majority of their customers who would spend more through Racepass than they would had they signed up directly with the races.
I am skeptical that there will be many runners signing up for Racepass that use it for cheaper  races. If Racepass miscalculated, they could very easily find themselves owing much more in race fees than they are bringing in.
I would not recommend that anyone sign up for this service to use for races that are not officially partnered with Racepass. I have not heard from any race officials that are fine with the Racepass system as it stands today.
In Summary
It is my opinion that Racepass  cannot continue to promote themselves on the backs of the races without the races themselves being on board.
Racepass Does not have buy in with the races that they are promoting and accepting entries for.
Racepass launched without contacting the races they are using to promote their service.
There is question whether many races would knowingly accept entries purchased through Racepass.
Racepass is Marketing itself as offering races at a "discounted cost" yet they are paying full price for the entries. As it stands now, in order to be profitable they need the average runner to pay more to Racepass than they would if they sign up with the races directly. There are no other apparent revenue streams.
If you have concerns or questions, you can attempt to contact Racepass – support@racepass.com
You can visit our Facebook page to follow the discussion. Many races are starting to chime in.

If you would like to support the site, please consider a small contribution. Contributions go towards everyday expenses related to running the site and compensating those that assist in pulling data, etc.