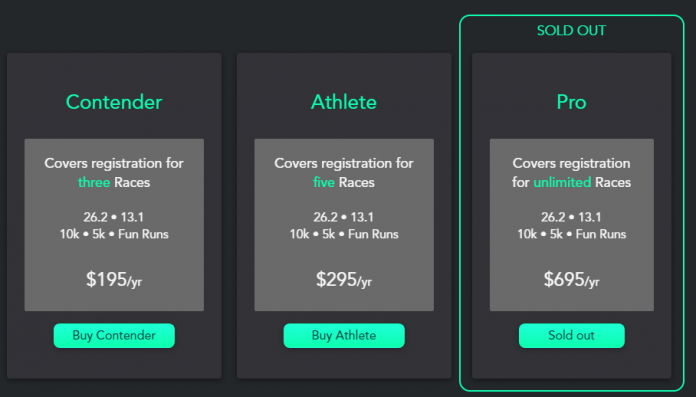 From RRCA.org
The Road Runners Club of America is the oldest and largest national association of running organizations dedicated to growing the sport of running since 1958.  RRCA membership ​includes running clubs, training programs, running events, runners, walkers, coaches, sponsors, and supporters.
The Road Runner's Club of America (RRCA) has made the following statement regarding Racepass: I have bolded the sections in red for emphasis.
RRCA Position Statement on RacePass
You may have read or heard that a new service called RacePass has been launched. Your races might be listed on their site without your knowledge or approval. They claim to offer a race entry subscription service for runners, but this is not an event specific race registration provider. Think of them as being like a travel agent that books an entry on behalf of a participant through your race registration site.
At this time RacePass is not affiliated nor endorsed by any officer, employee or agent of the RRCA.
We have been in contact with Star Insurance to review this new service on behalf of our members. This service presents a violation of the RRCA's insurance program requirement to obtain waivers directly from all event participants. Use of an official online registration provider contracted by an RRCA member is acceptable for the purposes of collecting waivers from event participants. Accepting a waiver for a participant that was agreed to by an unrelated, third-party does not comply with our waiver requirements for the insurance program.
Upon legal review of this service by RRCA legal counsel at Webster, Chamberlain & Bean, concerns have been raised that the RacePass Terms of Service do not explicitly grant a proxy for RacePass to sign waivers on behalf of their subscribers.
To help protect race organizers and to help comply with RRCA insurance requirements, it is recommended that race directors include two option boxes on their online registration forms, one of the boxes must be checked or the entry can be rejected. Option box one would contain a statement that the individual completing the race entry form is completing the entry for himself/herself. The second option box would contain language clearly outlining that a third party is registering a participant.
The following sample language could be included for the second option box, "This entry form is being completed by a third party agent, and the third party agent agrees to indemnify and hold harmless (YOUR RACE SPECIFIC NAME) for any misrepresentations on this form, including failure to have the legal authorization and/or proxy to provide information about the race and to agree to race waivers on behalf of the runner, and for any other liability associated with the runner's participation in the race/race activities and the third party's services on behalf of the runner."
If you do decide to allow for a third-party registration for your event, you will need to develop a mechanism to collect waivers directly from the event participant during the bib assignment/pick-up process to be in compliance with the RRCA's waiver requirement for the liability insurance program.
Please direct any RacePass listing questions to support@racepass.com
UPDATE: See Blog link below for Racepass's response
My Thoughts
I previously posted Racepass's answers to my questions. They steered clear of providing details to most of my questions. There are a couple sections I want to comment on:
As part of our journey to build Racepass, we have spoken to hundreds of runners, running shops, races, bloggers and other companies within the community.  A handful of running enthusiasts and influencers were invited to test out the platform prior to our public launch. We call this a beta test and it gives folks an opportunity to test out a product before it is available to the general public. We incorporated much of their feedback ahead of our public launch
They would not name a single one of these influencers. Nor have I heard from anyone that claims that they were contacted prior to launch. I would hope that if they spoke to 100's of people in the community, that this would include the races. To date, none have stepped forward to say that they have partnered with Racepass and Racepass has not named any partners . I have not heard from a single runner that claims to have purchased a pass.
When I asked how many runners signed up they responded:
We do not disclose sales information publicly. What we can tell you is that immediately following the public launch the number of site visitors to racepass.com  quadrupled which is an strong indication to us of interest. 
I checked their site stats. There are many services out there that I have found provide relatively accurate traffic stats.
According to similarweb.com, their total daily visits peeked at just under 1000 following their launch and corresponding coverage of their press release.

I do not believe that Racepass is a scam. What I do believe is that the founders saw the success of services like ClassPass and thought they could create something similar with Racepass. But,  I believe that they failed to properly research before launching their site. I do not know who they spoke with prior to the launch. But had they spoken with enough races or people at companies like RunSignUp or RRCA they would have immediately realized that they needed to have the races on board through formal partnerships before offering their passes for sale to the public.
Racepass is not affiliated with Classpass.


From their press release
Racepass was founded by Chase Rigby, Tom Hammel and Thomas Hanson, three Googlers and running enthusiasts who were frustrated with how complicated and expensive it was to sign up for distance races and recognized a demand for syndicated sponsorship in the industry. They built Racepass to bring down the barriers to entry and get more people running more races.
I struggled to find much in the way of running history from these running enthusiasts.  I  have never heard a single runner that is frustrated with the entry process. The information that is collected is necessary and varies from race to race. Are some races expensive?  Yes. But, I do not see Racepass fixing that if they are paying full price for entries themselves.
It is my opinion and recommendation that Racepass needs to take down the available passes until they can guarantee that the races will accept entries. I am doubtful that races would ever get on board with Racepass on a large scale.
EDIT: Racepass is still offering the passes, but has suspended accepting registrations.
https://medium.com/racepass/runners-to-sign-their-own-waivers-de986ae639fc
Upon talks with members of the RRCA, it was clear that they could see the value of such an offering but the legal hurdles and insurance risks are just too high. Because of this we decided to change our approach to registration, and ensure every runner signs their own waiver instead of Racepass signing on their behalf.
If you would like to make a contribution to support the site, please choose an amount below and click on the link.
Contributions go towards general site expenses related to running the website and the investigations. They also go towards compensating those that help pull race data, etc.
-Derek