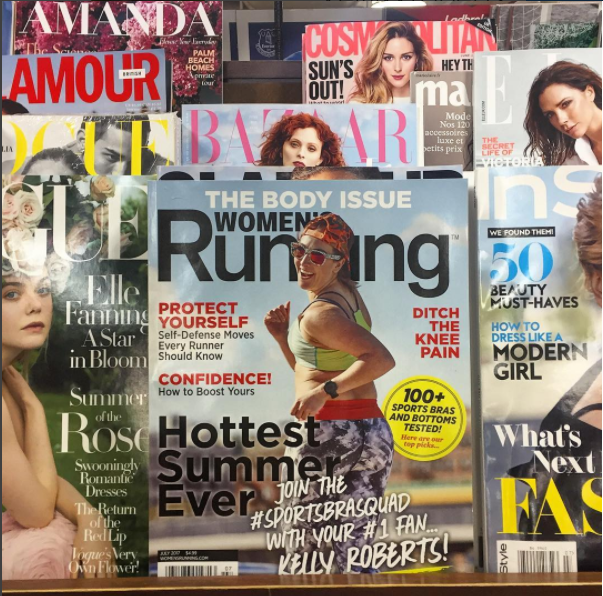 I've seen how dangerous it can be when someone wears a bib that isn't theirs and needs medical attention mid-race. It puts the race organizers and volunteers, the medical professionals and the runner in a dangerous position. Would I ever wear someone else's bib for a race that I really wanted to run now? Hell no. Do I regret doing it back in 2013? Not a single bit.
Because that day, regardless of the fact that I never toed the line with intentions of starting a blog or becoming a voice in the body positivity movement, it was the moment that put me on a path towards finding my voice. It's because I went viral that I was encouraged to start my blog Run, Selfie, Repeat, and in time discovered why it's so important for to share my shame, share my story and learn how to be vulnerable for the first time in my life.
-Kelly Roberts
Women's Running Magazine
"How Running Taught Me The Importance of Vulnerability"
I've rehashed the story a couple of times on here. I've reached out to Kelly on multiple occasions. But in a quick couple sentences for anyone that is unaware:
Kelly went viral after posting selfies of herself "with hot guys" during a half marathon. She wasn't registered for the half marathon. She bought someone's bib off of Craigslist. That attention let to her blog, Instagram, podcast and sponsorships. She has been vocal against shaming and has spoken for body positivity. She has also written against the public outing of race cheaters.
I mentioned Kelly in prior articles pointing out what I perceive to be hypocritical. Posting pictures with crude cations of guys, while being so vocal against shaming.  Obviously, I also was against the banditing of the race that led to her popularity.
"Illegal Participation"
Kelly has gone from running with someone else's bib to simply jumping on courses during her training runs.
In going through Kelly's social media while investigating the story regarding her Oiselle sponsorship, a couple of pictures were discovered of her running in 2 half marathons in Northern California.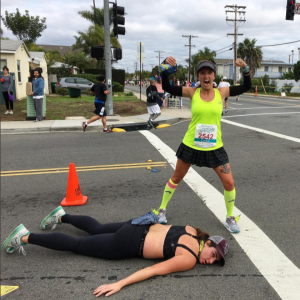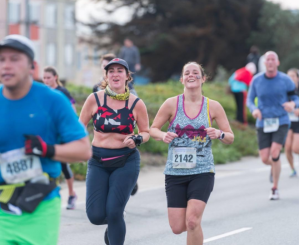 I confirmed that Kelly was not registered for either event, and did not have permission to enter the course for either event. One race said that they have since contacted Kelly regarding her 'illegal participation'.
What makes this worse, in my opinion, is that a comped entry was requested on Kelly's behalf for one of the races. This race offered Kelly the role of an ambassador – in which she could have earned a comped entry by promoting the race and by meeting a requirement by having a minimum amount of runners sign up under her unique promo code. Kelly declined this offer – and then went on to run a portion of this race without a bib.
Would I ever wear someone else's bib for a race that I really wanted to run now? Hell no.
She did not run with someone else's bib. She ran with no bib at all. I would be interested to hear how she justifies this. Did she learn this lesson between banditing a race in February  and March when that article was published? Running with no bib at all vs. someone else's bib does nothing to lessen the impact on medical professionals, race organizers, and volunteers.
In her Instagram posts she even mentions that her friend – who was registered for the race slowed down to stay with Kelly. So, Kelly cannot say that she was there to pace her friend. It was really the other way around.
Maybe she just hopped on the course for photo ops? No. Her Strava shows the details of the run . The handy Flyby feature shows where she hopped on and off the courses.
She ran approximately 11 miles of the course for this race: Strava FlyBy – January 15th
For this race, she ran the course from the opposite direction,  until she caught up to the field, and then she turned around and ran along with the field for approximately 5 miles during the race. Strava FlyBy February 5th
The Strava data once again proved useful in verifying information. Ironically, Kelly is sponsored by Strava. Her promotion relating to an appearence at Boston on a panel hosted by Strava was the source of controversy as well and is addressed in the next section of the article. The next section of the story shifts gears. It focuses on her relationship with Oiselle. The apparent lack of transparency regarding this relationships, and Oiselle's decision to stand stand with Kelly over one paying member that was vocal in questioning Kelly's role and status within Oiselle. I know this may not be of interest to all of my readers. No need need to spend time on the next section if this doesn't interest you.
Oiselle
In the article I did about the 'Shaming Defense' I briefly referenced Kelly's role at Oiselle. It was while researching the Oiselle situation that I came across the recent cases of banditing. The one thing that ties this together is what, in my opinion, is a disregard for rules. FTC has clear guidelines on disclosing partnerships. When questioned on this, Kelly provided rationale that conflicts with the FTC requirements. The other part of the story puts a spotlight on what I feel is a valid criticism of Oiselle's loyalties.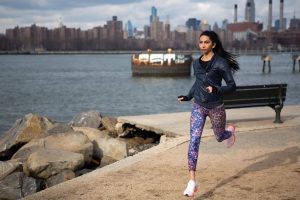 I referenced Aysha Mirza being ousted from The Oiselle Volee team. An Oiselle Volee is a paying member of the team. Part of their fees go towards supporting Oiselle's sponsored athletes. Aysha and others had internally been questioning Kelly's official standing within Oiselle. The Oiselle athletes were told not to question Kelly's role. If they didn't like Kelly being on the team, they could leave. Aysha Mirza recently appeared on Life and Whatever Else's web show and explained the situation. (The discussion on this begins around the 20 minute point).
In this interview Aysha explains why some members felt it was important to clarify and properly define Kelly's relationship with Oiselle. She also discusses her intolerance towards all forms of cheating.
Aysha covers all of these topics in her most recent blog post on Aysha Runs.
The members wanted to know if their fees were going to pay Kelly as opposed to the true elites.
I find it is puzzling that Oiselle will not publicly state the full extent of their relationship with Kelly. Kelly is constantly promoting for Oiselle, the other 'muses' are not nearly as active. If she is being compensated – as Kelly has stated multiple times, it is an FTC requirement to disclose that you are sponsored every time you promote a product or a brand. It is not enough to reference your sponsors on a webpage or a twitter or Instagram profile. Every post promoting the brand needs to include a disclosure that you are sponsored by that brand.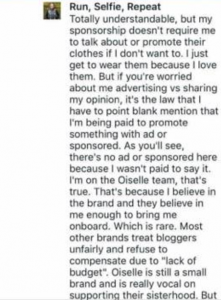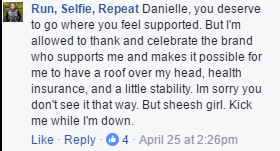 For anyone that is interested, here are a couple FTC articles regarding disclosure requirements. Kelly's statements on what she is required to disclose seem to conflict with what the FTC requires. If the relationship with Oiselle makes it possible for Kelly to "have a roof over her head, insurance and a little stability", it is clear that she is being compensated.
FTC Staff Reminds Influencers and Brands to Clearly Disclose Relationship
Influencers, are your #materialconnection #disclosures #clearandconspicuous?
When Aysha questioned Kelly's role, and pointed out when Kelly was incorrectly designated as an Elite, she was removed as a paying member of Oiselle's Volee team. The same day as this tweet, Oiselle removed Aysha as a  Volee member.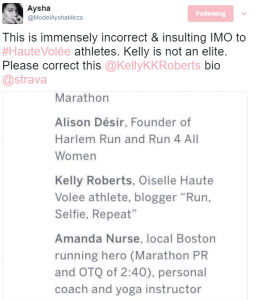 I asked Aysha to comment on the situation.
"I stand by everything I have said on social media because it is the truth. Kelly Roberts is not an elite athlete. I can admit if I've made a mistake or had misinformation, but a 1:42 half marathon on the roads for a non-Paralympic woman under 30 years of age can universally be agreed not to be at elite levels of racing. Oiselle did not comment on the incorrect representation on the Strava panel at Boston, nor did either party correct it or acknowledge the misinformation. But my membership was rescinded within the same day.
At this point, it's disheartening that the value Oiselle placed in honesty, integrity, truth and transparency from the running community is no longer enacted upon. All these years with the CEO publicly calling out Nike, IAAF, IOC, USOC, USATF, amongst others for ethical issues is not at the forefront of what they believe as a company any longer, as evidenced by their actions in supporting an admitted, unremorseful cheater in the same sport that they sponsor elite athletes.
The reason I personally joined Oiselle was because of what they unapologetically stood for – inclusivity and justice for the love of the sport for everyone, no matter their race, pace, size, shape, or fitness level. I also joined because a part of my membership fee went to the elites – to help others pursue their dreams of racing at international levels. Supporting an admitted cheater without confirming her actual role as a paid representative (only confirmed via Kelly's own words in a later interview: "Oiselle is a partner of mine, so they pay my bills") while concurrently advocating to #SpeakOut has spoken volumes of irony to many.
Their actions speak louder than words and they are no longer their elite racing community's advocate, by adding a non-elite member whose selfies are celebrated in lieu of the elite team members winning races across the country. At the end of the day, you cannot advocate for honest racing when you openly support and elevate a woman with no respect for honest racing in multiple situations. All I ask is that you stand by what you say you believe in. Sadly, if you are but a small piece of the puzzle and speak out for the truth to be stated, Oiselle then becomes the bully they've been publicly denouncing."
Aysha reiterates this sentiment in her most recent blog post on Aysha Runs.
Summary
I want to make it clear that I think Kelly's overall message of positivity is a good one. However I don't think that should make her immune to genuine criticism.
If Kelly wants to be truly open with her followers she will address these topics. When someone that has the perceived influence of Kelly does things like bandit races, it sets a bad example. I could almost give a one time pass to someone that didn't consider the issues of buying a bib and banditing a race. Kelly fully understands the potential issues. As an 'influencer' it is irresponsible to continue that behavior.
As I've communicated to Kelly via email, I am more than willing to have an open discussion with her regarding these topics.
Thank you to all of those that have already contributed to the site. Contributions go towards site expenses, and to compensate those that help gather the data. Please consider making a small contribution to support the site.