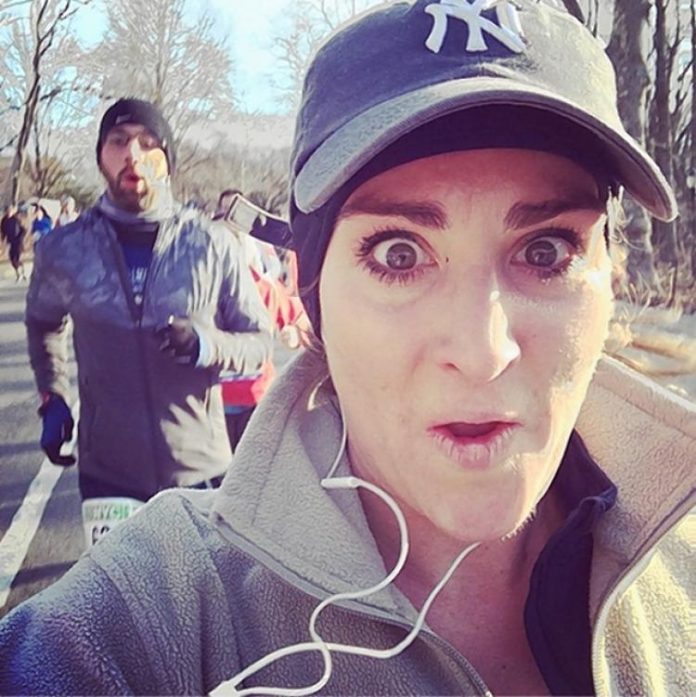 Yesterday's article regarding Kelly Roberts and Oiselle sparked a debate on social media. It led to an apology by Kelly Roberts for banditing the races in question. Representatives of Oiselle commented as well on various platforms.
Kelly's Apology
Kelly posted an apology on Runselfierepeat.com.  I think it is only fair to post her entire statement.
It appears that I've made a mistake. 
Race directors deserve the utmost respect and it appears that I've let some down. Banditting is a term in the running world that refers to someone who runs a race without registering. I wasn't aware that running even a piece of a race– for example, jumping in to pace a friend for a few miles, was also against the rules. 
In San Francisco, I ran an out and back portion of a race a few times with a friend well before a race started. I didn't know it wasn't allowed. No officials ever asked us to leave the course and once the race started, we ran on the grass by the spectators until we found our friend who was going for a personal best. Once we found her, I ran a few miles with her to help her keep fighting. Then, I stopped to cheer with my friends for a few minutes, and then ran off into Golden Gate Park, off the course, to finish my 17 mile long run.
In Carlsbad, the exact situation was reversed. I was planning to run along the ocean and found out that a friend was running along the 101 during a race as well. I ran 10 miles with her and while I didn't pace her, she absolutely dragged me along because I was having a really hard day. I was grateful for her company but I didn't realize that I was making a mistake.  
I've reached out to the race directors to apologize and pay for my participation. I made a mistake and while my rationales don't make it all better, it's my hope that through my embarrassing and unfortunate mistakes, we can all learn from them. It's never my intention to let anyone down, rather the opposite. But I'm human and unfortunately, I made a mistake. I'm grateful it was brought to my attention so that I don't make the same mistakes again. 
The running community is an incredible one. Thank you for always having my back.
After the initial banditing controversy during her "Run Selfie Repeat" race, I would have thought she knew better. She posted previously that she would not do that again. She referenced the strain and risk towards volunteers, race officials, and medical staff. I'm not sure how she would have felt that those issues would not exist if she were only running a portion of the race. Regardless, people will have their own opinions regarding her banditing and apology.
It was over a week ago that I contacted her regarding these two specific races. The apology and her apparent attempts to reach out to the races only came after this was made public.
Oiselle
There have been a variety of responses from Oiselle and employees of Oiselle.
If you're uncomfortable w/ banditing, I'd take a long look at the history of women's running. Disobedience = our tradition. #BobbiWasABandit

— Megan Murray (@MeganMurray360) June 12, 2017
Megan is Director of Marketing at Oiselle. At one point the official Oiselle twitter account re-tweeted this which left the distinct impression that Oiselle was OK with banditing races.
Shortly after that, Oiselle CEO Sally Bergesen tweeted the following.
Proud to sponsor pro athlete @KellyKKRoberts! #sportsbrasquad helping a lot of women find their confidence. 👏👏👏https://t.co/63a66I3E7F

— Sally Bergesen (@oiselle_sally) June 12, 2017
The classification of Kelly as a Pro Athlete led to more questions. Many felt that this characterization of Kelly was insulting to true elites. Sally responded that Kelly is a full time paid athlete – hence the classification. It is my opinion, that she is paid to blog and promote. Pro blogger, definitely. But calling her a professional athlete diminishes the term.  Sports writers and talk show hosts are not pro athletes. They work in the sports industry. Kelly works in the industry, no doubt.
With Sally's response, there was finally a little bit of clarification regarding Kelly's role within Oiselle. Oiselle members, who pay $100 annually for the privilege were told to stop asking about Kelly.
Sally was interviewed on MarioFraioli's Moring Shakeout article
It is worth a read.
Finally, only after a solid day of backlash, and after retweeting a view that seemingly indicated that banditing is acceptable, Oiselle posted an official position against banditing.
FWIW, Oiselle does not condone, support, or think it's a good idea to bandit a race. Run right, run registered! 👍

— oiselle (@oiselle) June 13, 2017
The fact that this statement came over 24 hours after the initial article and after they retweeted their director of marketing defending banditing  does not give the impression that Oiselle  is truly against the practice.
I am open to discuss this topic at any time with Kelly or anyone at Oiselle. I would be more than willing to do a podcast or interview with Kelly  to debate these topics. Or we can just have a private discussion. I am not out to bully Kelly. But I do feel it is important for transparency and honesty in the sport and as it relates to sponsorships.
Thank you to all of those that have already contributed to the site. Contributions go towards site expenses, and to compensate those that help gather the data. Please consider making a small contribution to support the site.