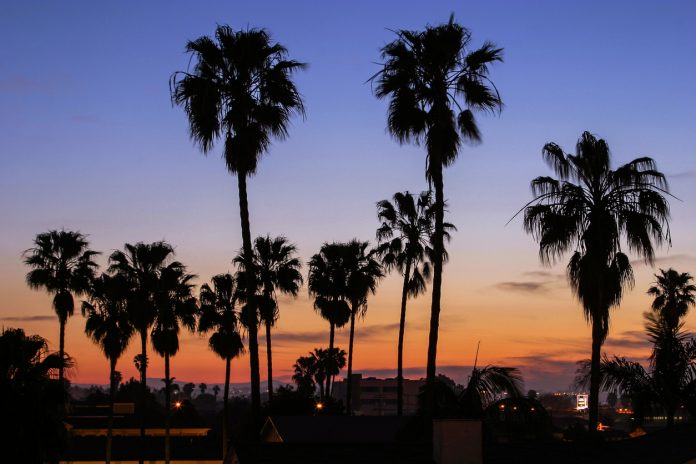 During the initial review of The Rock n Roll Marathon – San Diego I found some questionable results. Some were cleaned up – mostly runners that dropped to the 1/2 Marathon. I will highlight a few instances where bib mules were used and obtained Boston Qualifying times and one case of likely course cutting.
3rd Place Age Group Female – Boston Qualifying Time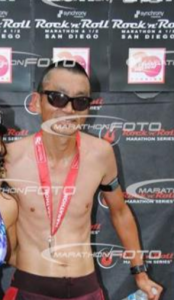 The runner that took third place in her age group is pictured above. An obvious bib mule. It is worth noting that RNR uses the timing chips that affix to your shoes. This runner was identified based on the gun time photos of another runner to confirm that they actually had the shoe chip as well as the bib of the female runner that was registered.
4th Place Age Group Female – Boston Qualifying Time
This is where the shoe chip is relevant.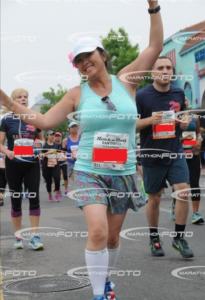 The runners pictured in the photos with this runner had MUCH slower times than the woman in the center that has the Boston Qualifying time.
She had nearly identical splits as this runner (1 second difference) but was not in any photos with him on course. They were in a finish line photo together: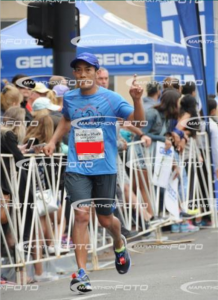 If you look at his feet, you can see that he has two timing chips – one on each shoe. He carried this woman's tag and she has a Boston Qualifying time – for now.
I did notice that the woman also had a shoe tag. But she is pictured with another runner that was registered for the half marathon. That runner has no tag. So, she ran with another runner's tag for the half marathon while her friend ran with both marathon tags while running a BQ time for her. His time was not fast enough to earn a Boston Qualifying  time for himself.
3rd Place Age Group Female – Boston Qualifying Time
This runner had a previous PR of of about 4:15:00 at a Revel Race (significant downhill marathon). Her times on traditional courses have been closer to 5 hours.
She also had a 45 minute chip/gun time differential. Not the largest gap in the field – but she started near the back of the field.
| | | |
| --- | --- | --- |
| Mile | overall time | split pace |
| 3.1 | 0:30:57 | 0:09:59 |
| 6.2 | 1:00:10 | 0:09:25 |
| 13.1 | 2:07:13 | 0:09:43 |
| 20 | 2:43:35 | 0:05:16 |
| 26.2 | 3:58:15 | 0:12:03 |
The split that is most unusual is from 13.1 to 20. Looking at the map below it appears that there is opportunity to cut this portion of the course.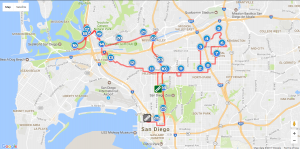 All of these runners and a few others have been reported to the race officials. The other cases may have been timing errors or runners that dropped to the half marathons. I did not see obvious intent to cheat the course with those instances. Some of what I reported appear to be timing issues.
Sag Wagon
I have received reports that when runners miss cutoff times at RnR events that they get bussed to the finish line to receive their medals. While I am not a fan of that particular policy, that is up to the race if they want to give everyone a medal. I am working to confirm that these runners do not receive finish times. This wouldn't be relevant for BQ purposes, but if you don't run the full course you should not receive an official finish time. I have seen separate categories in the results of some RNR events where runners were diverted. I am fairly certain that these runners are not intentionally being granted finishing times, but I am following up with race officials.
Thank you to all of those that have already contributed to the site. Contributions go towards site expenses, and to compensate those that help gather the data. Please consider making a small contribution to support the site.