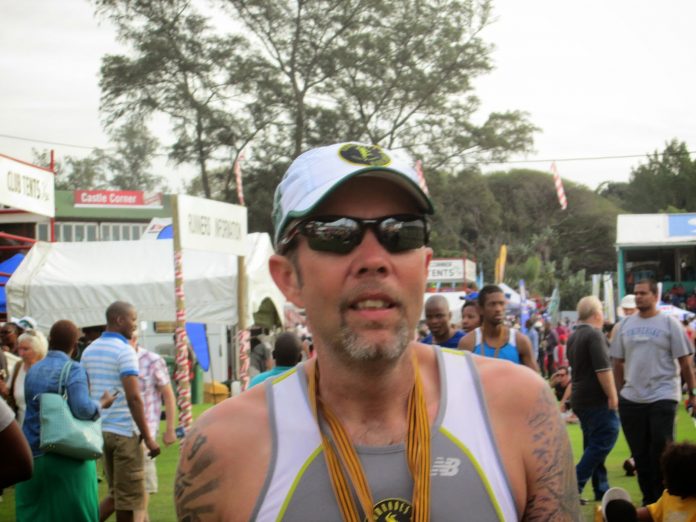 Kelly Agnew first entered the ultra running scene in 2010. He entered the Labor Pain 12 hour race and completed 31 miles. From there he entered a large # of ultras in 2011 and 2012. Ultrasignup.com credits him with 16 races completed in both 2011 and 2012. In addition to his newfound love of ultras, Kelly ran an impressive # of marathons. In addition to the ultras, he completed 11 marathons in 2011 (mostly over 4 hours), and 4 more in 2012 (all over 4 hours).
He finished mostly middle of the pack in races such as Leadville 100, Javelina Jundred, and Rocky Raccoon. He showed promise, finishing 2nd in the inaugural 2013 Adreneline Night Runs in 2013 and The 2013 Pony Express 100 mile Trail Run.
In 2013, Kelly also seemed to have broken through at the marathon distance. He ran 3:12:16 at the 2013 Provo City Marathon, qualifying him for Boston. He did use this time to run The 2014 Boston Marathon. He finished The 2014 Boston Marathon in 3:48:17.
Where Kelly seemed to show real promise was in fixed time events. Fixed timed events are typically run on loop courses. The winner is the runner that can complete the longest distance in a set amount of time. From 2013 through 2017 Kelly claimed first place in 13 races. 11 of these were fixed time races. 8 were 24 hour races and 3 were 48 hour races. His other 2 victories were in 100 milers.
Suspicions of Kelly's results began in 2013 when he won the 2014 ATY with 201 miles. He won the 48 hour race despite stopping after 41 hours. He stopped once he knew he clinched the victory. It's been reported that he has acted suspiciously at other events. Suspicions were confirmed at The 2017-2018 Across The Years (ATY)
Across The Years
From the Race website:
Across The Years is the original fixed-time multiday running event celebrating the New Year! Runners have 24, 48, 72 hours or 6 days to cover as much distance as possible. Each runner is free to walk, stop, eat, and sleep whenever they wish, but the clock is always running!
I spoke with Mike Melton of MCM timing. Mike witnessed Kelly, and below is a summary of what he saw.
Mike was asked to keep an eye on Kelly after race officials were made aware of suspicions regarding Kelly's past races. Mike witnessed Kelly as he finished lap 17. As Kelly completed the lap, he stopped after crossing the mat. He spent time looking at the monitor located at the timing mat, and went off to the port-o-john. Mike was in the tents near the timing mat where he was able to observe Kelly. Mike observed Kelly for 10 full minutes.
He witnessed Kelly as he spent 7 full minutes in the port-o-john. Kelly emerged from the port-o-john and proceeded to cross the timing mat, registering a lap that he did not complete, and proceeded to run the next lap.
Mike pulled the timing data, and a pattern emerged. This year, ATY added a timing mat mid loop. Mike quickly saw a pattern emerge.
Laps 1- 10 – legitimate
Lap 11 – missed far mat
Lap 12 – legitimate
Lap 13 – legitimate
Lap 14 – missed far mat
Lap 15 – legitimate
Lap 16 – legitimate
Lap 17 – missed far mat
When Kelly was confronted, he said that if he missed a mat, it was accidental. When told that Mike witnessed what happened, and that they determined it was intentional and that he would be DQ'd, Kelly turned in his timing chip and left without much of an argument.
It's important to note that I kept my eyes on him the whole time – I did not look away or get distracted at all during the 10 minutes I watched. Also, I thought it was significant that he clearly glanced down at his watch as he entered the portable toilet – as if he was marking the time he stepped in. He spent just over 7 minutes in the toilet.

-Mike Melton – MCM Timing
Kelly was retroactively disqualified from the 2014 through 2016 ATY events as well. He had won the 2014 48 hour event by over 55 miles – while stopping with 7 hours left.
In addition to his ATY wins, Kelly's victories have come at the following events:
Jackpot Ultra Running Festival 24 Hours, Las Vegas Nevada – 2015,2016
Lemming Loop 24 Hours, Manitoba NB, 2015,2016,2017
Pulse Endurance Runs 24 Hours, Eagle ID, 2014,2015,2016
Pulse Endurance Runs 100 Miler Eagle ID, 2016
Beyond Limits Ultra, Mountain Center CA – 48 Hours 2017
Cajun Coyote 100 miler, Ville Platte, LA – 2013
I have contacted, or am in the process of contacting these races. For most of the fixed time races, there is not a lot of data available to analyze. But based on what was uncovered at ATY, all of these results are suspicious.
Fastest Known Times (FKT)
On his blog Kelly claimed to have set 3 FKTs. As I am writing this article, he has deleted all of those posts (as well as reports for all his races that seem suspicious). As I am writing this it seems as though Kelly is busy deleting blog posts.
White Rim Trail
Kelly claims 2 FKTs for this 100 mile loop – He claimed the supported and unsupported records.
For the supported run, Kelly's wife followed him: He claims to have finished the 100 miles in 17:47:25, beating the previous record by nearly an hour.
The archived version of his page only had some photos survive. There is a picture of him behind the wheel of his car and his odometer which showed exactly 100 miles – which he posted in contrast to his GPS watch – which showed 101.7 miles.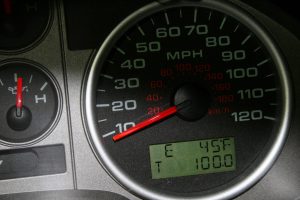 I did take a screen shot of his Garmin before the post was archived.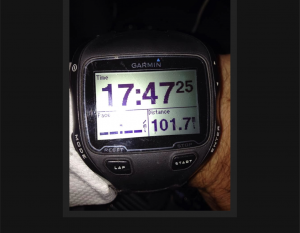 I emailed Kelly on Saturday asking if he had the backup data that could be used to corroborate the photo on the Garmin. He never did respond (I cannot be certain that the email I have for him is current). But I did attempt to connect with him on Facebook and reached out through a mutual acquaintance, but was unable to make contact with him.

I found this post by Kelly on runningahead.com. Kelly posted about his FKT and was responding to someone who asked about the requirements of making a FKT official:
The only information I found was the picture of his watch face.
Kelly also claims to have run the White Rim Trail unsupported in a time of 21:52:12. The previous record was 27 hours. He claimed to have beaten John Stamstad's mark by over 5 hours.
Suffice it to say that I have no reason to believe these FKT's are legitimate. Someone that would openly cut the course at a 24 hour race while running side by side with other runners, would have zero issue cheating when going for a record when absolutely no one is watching.
Below are links to the archived race reports: You can search for the links to his other deleted reports through the wayback machine as well.
https://web.archive.org/web/20170504052557/http://www.slippingslowlyintopain.com/2014/03/white-rim-trail-fkt.html
https://web.archive.org/web/20160809005205/http://www.slippingslowlyintopain.com:80/2014/10/white-rim-trail-unsupported-fkt-alone.html
Additionally he claimed to have set the FKT for The Ingalis Trail Creek. That blog post has also been removed.
Other Races
Kelly has completed The Leadville 100 6 times. From 2014 through 2017 he missed multiple checkpoints. I checked various other runners and all of them registered all the proper splits.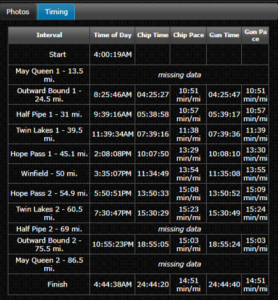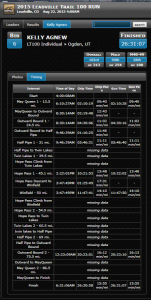 His Boston qualifying time was a significant PR, and he ran a significant negative split. No photos and only the half split are available. So there is nothing definitive with the 2013 Provo City Marathon.
It is also suspicious that he has deleted blog posts documenting many other races that are not mentioned here. Why delete race reports of legitimate races? The only post from one of his victories was from The 2013 Cajun Coyote 100. Maybe that was legitimate? It was his first win, and maybe it set the bar too high?
Sponsorships
Hammer Nutrition, upon learning of the scandal regarding Kelly quickly reacted. In an email they notified me that "effective immediately Kelly Agnew has no affiliation with Hammer". I did not contact Hammer or his other sponsors requesting this action. I appreciate Hammer being proactive. I do know that the other sponsors are aware and are doing their own investigations.
Kelly has removed the sponsorship information from his blog.
Conclusion
I could go on for pages. I barely touched on his Boston Qualifying race (He ran a significant negative split – questionable).
I suspect more will develop as people read this, I expect more rnners will come forward and share their experiences.
Many runners left races that Kelly competed thinking that Kelly defeated them. Kelly took the victories from them for whatever reasons he had – sponsorships, status, who knows? If Kelly would respond, that's what I'd want to know. What was the end game? What was the benefit? Did he think about the runners that he cheated? What's next?
The interesting thing to me is that this went on for so long before it blew up in Kelly's face.  I think in the fixed timed races, most runners do run against themselves more than in any format. There is a sense of camaraderie at 24, 48,  or 72 hour races. When you run in loops with the same people for hours or days, you develop a bond. For many (most) they are shooting for a personal target. They weren't competing for the victory. That may be why this went widely unnoticed for so long.
Support Marathon Investigation
Thank you to all that have contributed to Marathon Investigation. Your contributions are what enables me to continue the work of Marathon Investigation. To support the site, please consider making a small contribution.