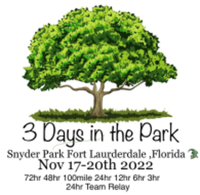 To support Marathon Investigation, you can make a contribution by clicking on the bottom of the page, or by going to Paypal.me/marathonsleuth or Venmo:@MarathonInvestigation. Everyone's support is appreciated!
3 Days in The Park was scheduled to take place November 17-20th in Ft. Lauderdale Florida. In total there were 12 fixed time events planned to run throughout the weekend. Events range from a 72 hour race all the way down to a 3 hour race.
On November 14th, registrants received this email: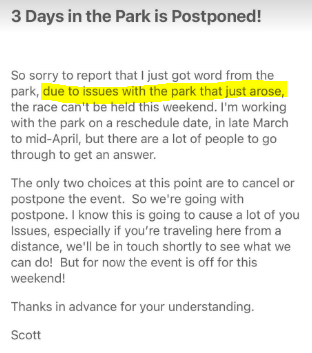 The city did not cancel. The applicant (Scott Richard) requested that it be rescheduled.

Mark Almy, Park Operations Superintendent, City of Ft Lauderdale
Follow up From Race Director Scott Richards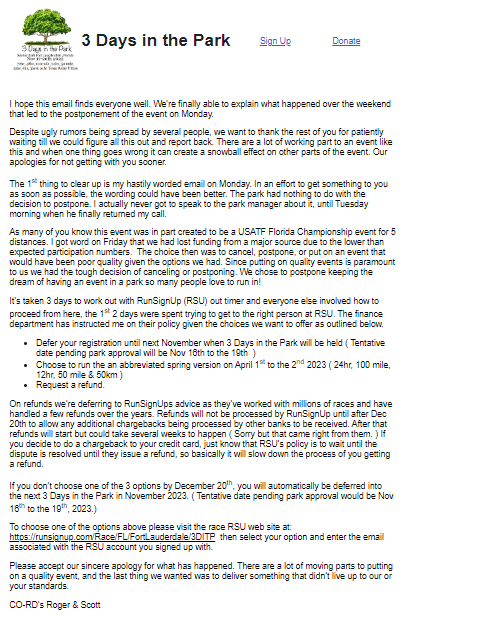 Scott apologized for the 'hastily worded email'. In fact saying there was an issue with the park, was not something that seems hastily worded in my opinion. It seems like a statement that was intended to deflect blame.
Now, the cause of the postponement is being shifted to a 'major source of funding'. When I asked Scott to confirm this source, he stated that 'Its complicated and politically a nightmare'. What is clear is that, for whatever the reason, Scott did not have the funds in place to put on this event as promised.
Concern from Registrants Regarding Refunds
I messaged with a couple of registrants over the past week.
Chris Stephens spoke with Scott on Wednesday, November 16th regarding a refund. According to Chris, Scott told him "Any refund would have to wait until he had money coming back in", and "There are a lot of people in front of you. you will have to wait awhile".
I also messaged Joey Lichter who was similarly told that "It would take several weeks for reimbursement".
2019 Palm100 Ultras Cancelation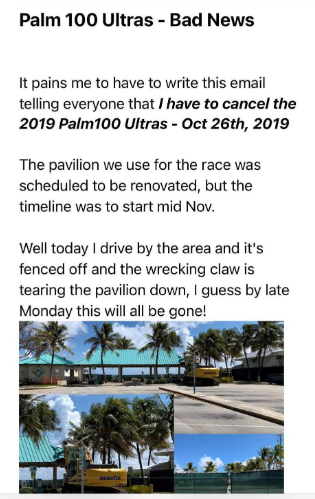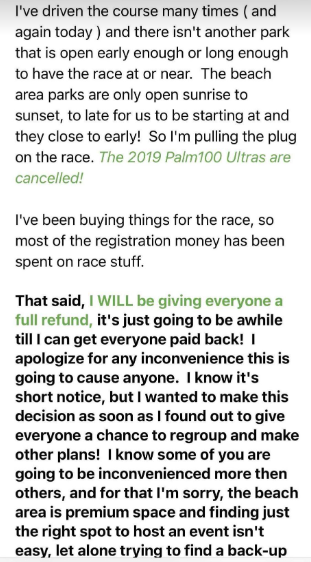 Joey, and at least one other runner that I am aware of have yet to receive their refunds for the 2019 race cancellation despite the promise that everyone will receive a full refund.
Since this race, was pulled from RunSignUp, I have been unable to contact additional participants to confirm if anyone has been refunded. An email to Scott asking about the 2019 refunds was not answered.
Summary
Unfortunate circumstances sometimes force races to cancel or postpone for reasons beyond anyone's control. I can give the benefit of the doubt that the 2019 cancellation was unavoidable – but I am not certain that a lack of a pavilion would truly be a deal breaker – but if it limited power supply, etc. maybe it was. However, in that case Scott did not follow up on his promise to refund all participants.
His communications with registrants for 3 Days in The Park also raise flags regarding his ability to issue refunds for this race as well.
Support Marathon Investigation
To support the site, please consider making a small contribution.Your contributions help to cover the costs associated with running Marathon Investigation.