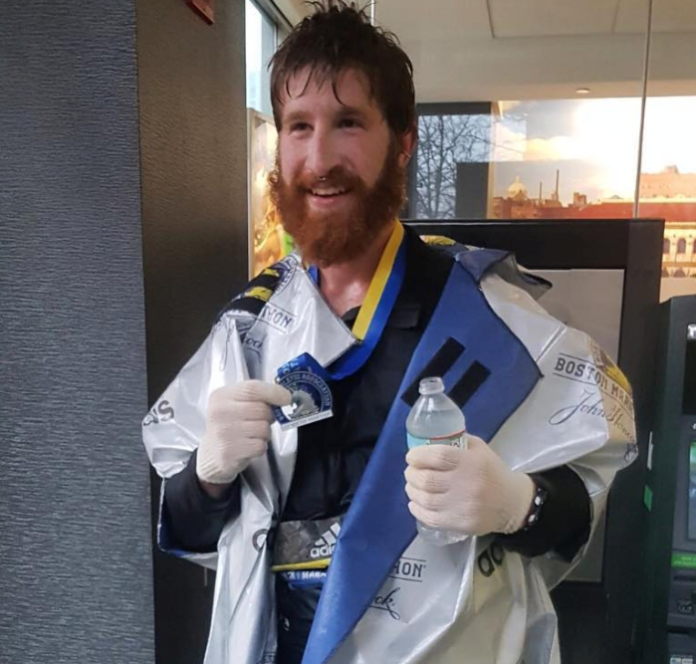 The runner pictured above appears in the Official 2017 Boston Marathon results. He ran the race in just under 4 hours. Here he is after the 2017 race: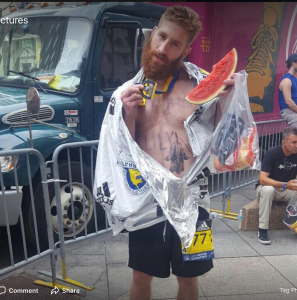 #bostonbandit
His time was not fast enough to qualify for the 2018 Boston Marathon. But that did not stop him:

After announcing his intention to run as a bandit, he provided information for his friends to track him on the course. Live tracking through the BAA site obviously would not work.

The 2018 Boston Marathon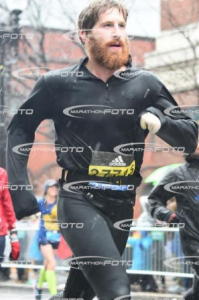 He wore his 2017 bib to sneak onto the course this year. His 2017 bib was a charity bib. He has never ran a qualifying time.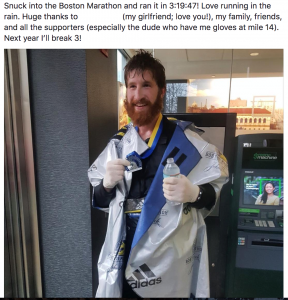 "Snuck into The Boston Marathon and ran it in 3:19:47! Love Running in the rain…"
The bandit goes on to thank his family and a guy that gave him gloves. He is pictured with his medal, water bottle, and the mylar blanket. I'd be willing to bet that he took additional support on the course beyond the gloves.
Another example where changing the bib design might be a good idea. Change the design, and start pulling runners from the course. Or do like The Miami Marathon does, and have security setup to pull runners before they can collect their medal.
Quick Update on The 'Retro Bandit'
There has been a theory that had picked up steam that the runner seen wearing a 1996 bib may have had a legitimate bib and was displaying the old bib for sentimental reasons. This was not the case. I analyzed the 2016 photos in detail and was able to determine the precise time he crossed the finish line. I then identified runners that crossed immediately before and immediately after him. All runners were accounted for. This runner did not have a legitimate bib. Additionally all photos over the three years that he used this bib are within the last 2 miles or so. It seems he just hopped on the course late, collected his medal, and got his picture taken.
Please consider making a small contribution to help support MarathonInvestigation.com. Reader contributions are the main source of the funds that are needed to pay for servers, photos, data, etc.