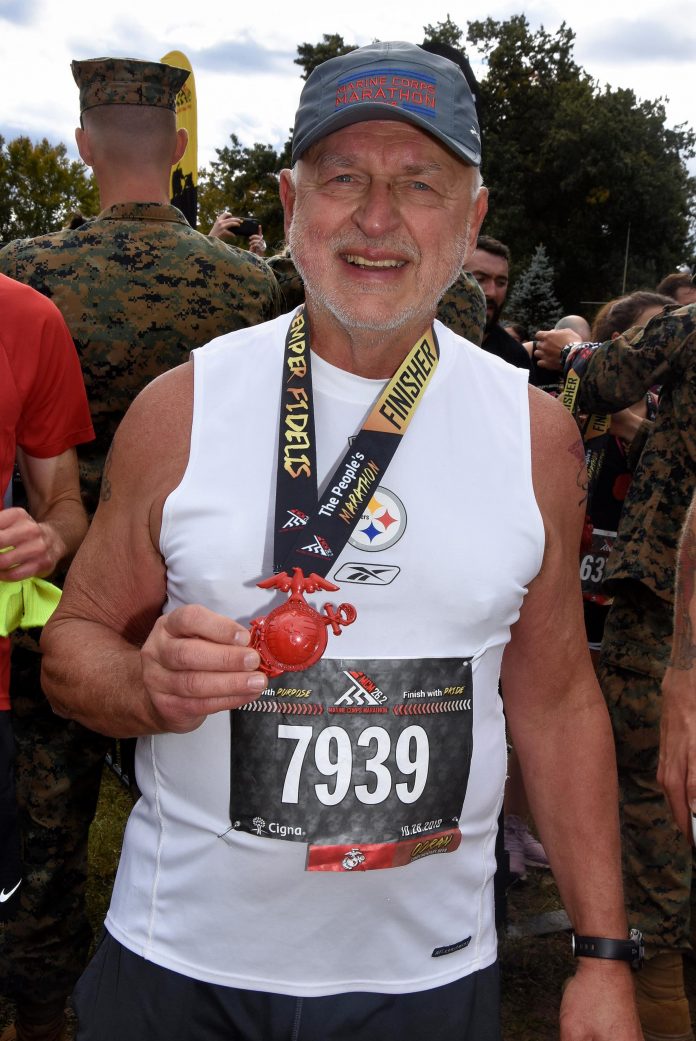 I am mostly complete with my analysis of The Marine Corps Marathon Results. I already wrote about Brandy's course cutting. She has since been disqualified. During the deeper analysis more instances of apparent course cutting has been detected.
In re-running the still preliminary results, just over 100 runners have been disqualified. A handful of these runners were Boston qualifiers. There are still more runners that I have identified as having suspicious splits that have yet to have been removed.
I will take a look at some Boston Qualifiers.
The first to stand out was Robert Debski.
2018 Marine Corps Marathon – 3:53:43 – 7th In Age Group

Robert has multiple missed splits. He is missing the 1/2 split, 20k, 25k and 30k.
Further analysis shows that his pacing is highly unlikely.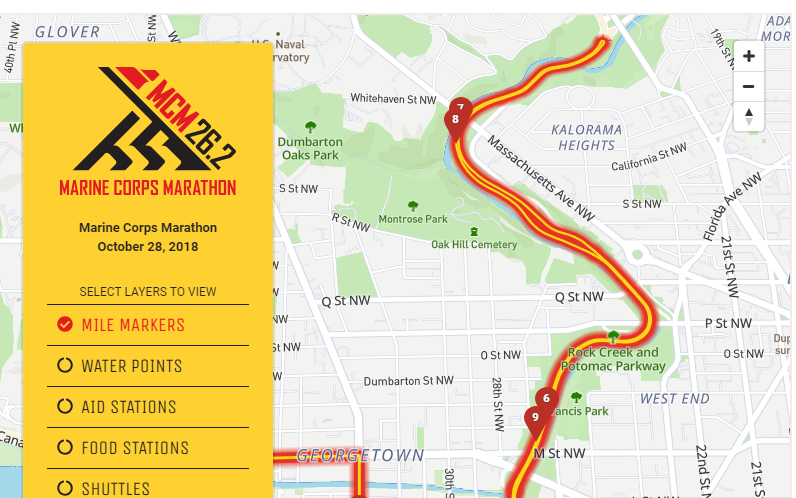 Robert's covered the distance from 10k to 15k in a time of 16:20. That is a 5:16 minute per mile pace. The map above shows that this is along an out and back stretch of the course. (Between miles 6.2 and 9.3). He did not miss any published mats on this section, but the clear conclusion is that he turned around early. In comparison his first 5k was run in 36:30, a roughly 12 minute per mile pace.
The pace between his other missed splits also raises suspicion: Between 15k and 35k, he averaged a 7:33 minute per mile pace.
Whenever I discover cheating, I look at past results. Robert has run the Marine Corps Marathon before.
2017 – 3:56:02 – Disqualified
2016 – 3:35:20 – Disqualified
2015 – 4:37:26 – Missed 20k and half splits
2014 – 4:22:57 – Missed 20k, half, 25k and 30k splits
2013 – 5:06:52 – No Missed Splits
2011 – 3:51:35 – Missed 20k, half and 30k splits
2010 – 4:11:00 – Missed 20k, half and 30k splits
2009 – 5:13:33 – Missed 20k and half splits
2008 – 4:48:26 – Missed 20k and half splits
2009 – 4:58:20 – No missed splits
To summarize, Robert has run The Marine Corps Marathon 11 times in the past 12 years. He has suspicious results in 9 of those years, being disqualified in 2016 and 2017.
I also want to reiterate that the 2018 results are unofficial. I will report Robert to MCM, and fully expect that he will be disqualified. I also question why he is allowed to continue running the race after consecutive disqualifications with times that would qualify him for Boston.
Please Support Marathon Investigation
Every contribution helps. I am currently working full-time on Marathon Investigation. The only way to sustain this level of effort long-term and maximize my efforts to catch and act on all known cases of cheating is through your support. Please consider a small contribution. If you represent a race, feel free to reach out for partnership opportunities.
Don't want to use PayPal? Click below to contribute without going through PayPal.