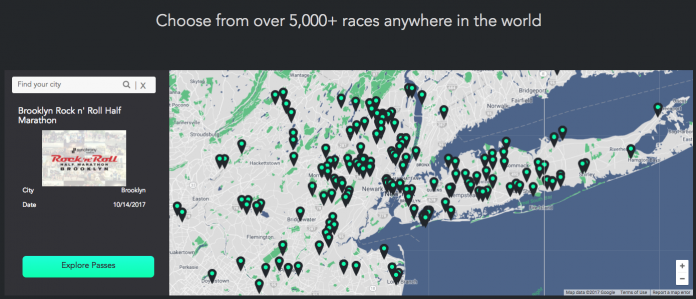 Prior to posting my article on Racepass on Friday, I had reached out to them with some questions.  They responded with a link to a blog post. They also posted this link on my thread on Facebook.
Racepass is attempting to centralize the race registration process. The biggest issue is that this was done without the races' knowledge and without their approval. This has led to criticism, races contacting Racepass to have their races removed, and others saying they will refuse runners entry that enter through Racepass.
https://medium.com/racepass/for-race-directors-453332990ac2
On the blog,They did attempt to address the issue of liability. In part, they state:
In regards to liability, we worked hard with our attorneys to ensure we properly protect our users, events and their organizers in the event of any dispute. First, we made sure to place coverage for the event organizers in our terms of service which is agreed to by every Racepass user. See highlighted language below:
"To the fullest extent allowed by law, you agree to WAIVE, DISCHARGE CLAIMS, AND RELEASE FROM LIABILITY Racepass, its officers, directors, employees, agents, and all Organizers from any and all liability on account of, or in any way resulting from Injuries and Damages, even if caused by negligence of Racepass, any Organizer, or their respective officers, directors, employees, agents, and leaders, in any way connected with any Event. "
I have yet to see the above statement change any opinions from race officials. Racepass, as a third party is jumping into the registration mix, uninvited. From all the feedback I've seen, the races do not seem motivated to let them in. They cannot force the races to accept their service. Their biggest initial hurdle is cooperation from the races.
After they emailed with a link to the blog post, I pressed and received responses to my direct questions.
Racepass Co-Founder Chase Rigby responded to the direct questions unless otherwise noted:
Can you tell me how many races you have partnered with directly? And can you give me specific races?

Racepass will be making a formal partnerships announcement very soon and will share those details at that time.

They did state the following (from Racepass Co-Founders Chase Rigby, Thomas Hammel and Thomas Hansen):
"After a successful site preview with influencers throughout the running community participating and providing feedback to the platform, we unveiled the first phase of Racepass last week."
Who are the influencers that were consulted prior to launch?
Racepass did not 'consult' with influencers as you frame it in the question. As part of our journey to build Racepass, we have spoken to hundreds of runners, running shops, races, bloggers and other companies within the community.  A handful of running enthusiasts and influencers were invited to test out the platform prior to our public launch. We call this a beta test and it gives folks an opportunity to test out a product before it is available to the general public. We incorporated much of their feedback ahead of our public launch
And, what is the reason that you are not selling the ProPass any more (Sold out)? (response from Racepass Co-Founders Chase Rigby, Thomas Hammel and Thomas Hansen):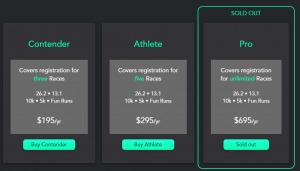 Again, the response from runners has been overwhelmingly supportive – we are currently sold out of our Pro Pass which offers unlimited registrations to races for $695 year. As our site continues to evolve and grow we will bring this offering back but we believe this is a clear indication that there is tremendous demand for a product like Racepass in the running community. We work with runners in three ways:
      Eliminate administrative headaches of finding, registering and inviting friends to races
      Allow runners to form teams, work towards a shared goal and compete
      Track training and racing times and offer free training plans to improve results
This statement didn't really answer the question. I again asked specifically how many Propasses were sold. This is the one product that I identified in the previous article that could really prove to be a liability. Runners could use this to sign up for 20 or more races, resulting in significant losses to Racepass (even assuming races cooperated and accepted entries).
How many Propasses have been sold? Or how many total passes have been sold?
We do not disclose sales information publicly. What we can tell you is that immediately following the public launch the number of site visitors to racepass.com  quadrupled which is an strong indication to us of interest. 
How do you justify offering entries for free races or sold out races?
This question is not accurate. Racepass does not offer registrations for sold out races.  If the race is sold out on an organizer's platform it will not be available for sale via Racepass either.  In the event that a race is free or sold out, it will still appear on the calendar for informational purposes, but registration will not be processed. If a particular race is free or is sold out, the platform will suggest similar races.
Also, you haven't addressed how you are handling races that say they will not accept entries through  race pass. I am certain there are many that feel that way. I know of some that have asked to be removed from the listing and that say they will refuse 3rd party entries.
We remain committed to our mission to encourage people to race more, help race directors lower the cost of acquiring race registrants and give race sponsors and athletic brands a more efficient advertising solution. We hope that race organizers see the opportunity and the potential a platform like Racepass brings to them. Beyond this, we do not comment on rumors or speculation. We are open and committed to work with race organizers to honor Racepass race registrations.  We encourage race directors to get in touch with us directly if they have questions or concerns support@racepass.com.
After clarifying my statement and providing examples of races that posted that they would not accept third party entries, they responded with the following:
I would like to know how you are handling those situations. Are you removing races from your listings if requested?
In the unfortunate situation that a race organizer does not see the value in having its race listed on a central platform like Racepass, which has the potential to drive new interest and signups, we will remove if requested and after all other remedies have been exhausted – in most cases it is as simple as updating logos or clarifying waivers. Our goal is to help the running community we are ourselves a very active part of.
I felt it was most appropriate to present their answers and my questions unedited and largely without commentary. Races and runners should make their own decisions and judgements. I will allow and look forward to further debate and discussion.
If you would like to make a contribution to support the site, please choose an amount below and click on the link.
Thanks again to all who have contributed and supported the site.
-Derek