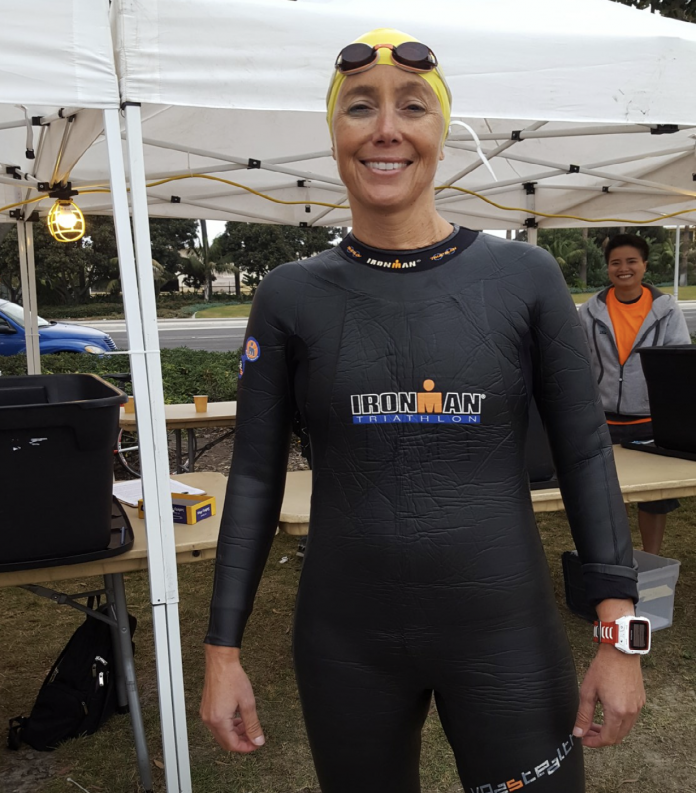 When I wrote the article on Anita Carcone, I focused on her over the top reaction to being disqualified from The San Diego International Triathlon. The story was less about the actual disqualification as it was her response.
Disqualified Triathlete Reported by "Race Buster", Her Reaction is Shocking
"…I hope that place blows up in flames! F*** YOU CALIFORNIA!!!!!!!!"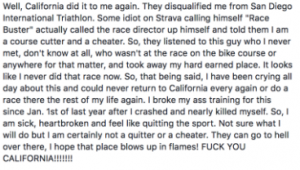 "…I understand all shooters of all the mass shooters of all the mass shootings now."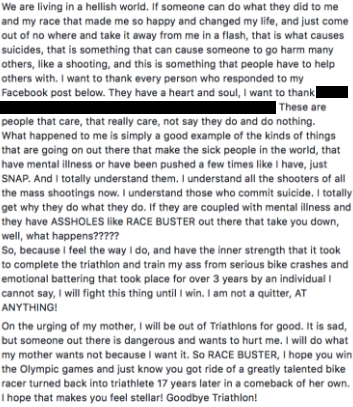 Since I wrote about Anita Carcone over 5 months ago, I would receive emails out of the blue from her friend Bill. (I do not know their exact relationship).
I chose to ignore the messages. See below: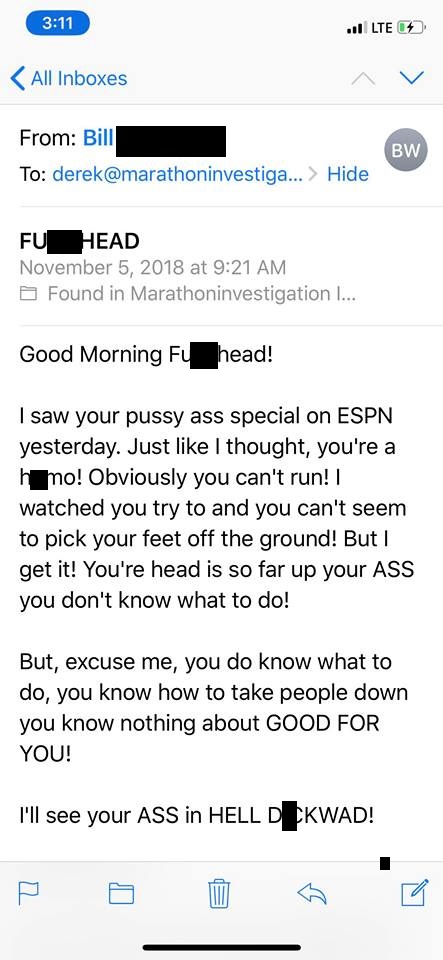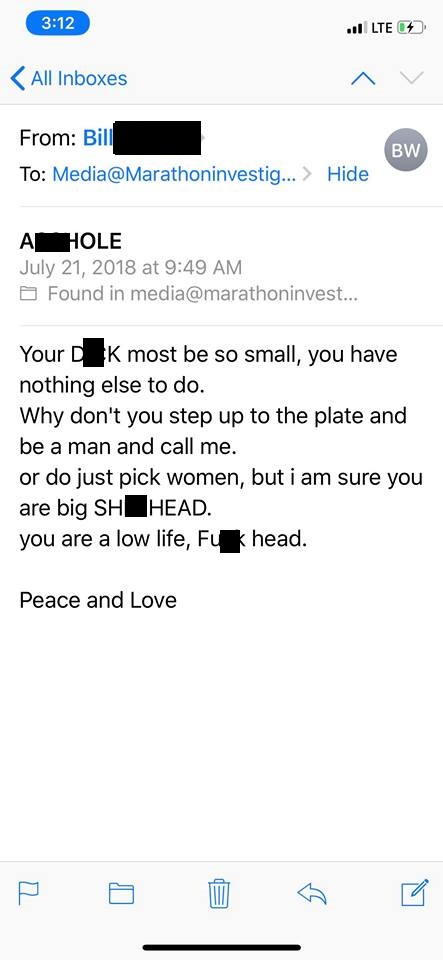 A couple weeks ago, I received an email that was purportedly from Anita.
It simply said:

While the tone was the same, I replied and invited her to come on the podcast. I've always said that I will give anyone that I profiled on the site an opportunity to respond. It just so happened that we were planning to record an episode that night and had no guest booked. Anita did not reply to my email, but co-host Scott texted the # and they agreed to come on the show.
When we called, we got Bill instead. You can click the below link to find it on iTunes or you can find it on most podcasting platforms. This post is meant to summarize the podcast. If you want to hear Bill yell for most of an hour you can listen as well.
Disqualified Triathlete – Anita Carcone on iTunes
The intent with this call was to let Anita tell the whole story. Without Anita we were left to try to learn something from Bill.
We did learn two important things:
Bill conceded that Anita did not do the 2nd loop. He says that Anita did not attend the pre-race meeting and that she was misdirected. She biked the sprint distance. It is plausible that she missed the turn. I reiterated throughout the interview that I never called Anita a cheater.
I asked about the Facebook comments. When I asked about Anita writing this statement, Bill immediately said that he made the post.
After the emails I received and after listening to Bill for an hour, IU have no doubt that it was Bill behind these statements.
What we did not learn was what led to the editing of Anita's Garmin data, and why suh harsh reactions to the disqualification if they now concede that she did not complete the second loop.
After The Podcast
The next morning I received additional emails – these were much more reasonable than the communications I had prior. I believe these were from Anita.
Anita asked if I would be writing a follow up article explaining that I did not feel that she cheated. I told her I would concede that it is entirely possible that she cut the bike ride short inadvertently.
I also had some key questions regarding why the reaction to her disqualification was so harsh given the fact that she did miss a loop. I also am left wondering which statements were made by her and which ones were made by Bill. Looking back through the Facebook posts, it is easy to see the quick changes in tone and I can easily believe that the posts were a mix of Bill and Anita.
I asked these questions to Anita below and she seemed receptive.
Derek,
This sounds good to me. I will answer the questions soon I am back home recovering from a tough ride earlier today😃👍
Thanks
Anita
On Sat, Dec 1, 2018 at 9:47 AM Derek wrote:
Bill did say that you were misdirected. As such, you won't get your results back since you didn't do the full distance – even if it was no fault of your own.
Getting misdirected does not make you a cheater. In my opinion you should just be removed from the results with no note of 'disqualification'.
It was the aftermath of the disqualification that led to this going viral. If you answer these questions honestly, I think it can go a long way…
The initial reactions after you were DQd. About hoping California burns and understanding mass shooters and suicide. Was that you or Bill?  It's hard to take those comments back. But any statement you wish to make about those post may help you.

When did you realize that you may not have biked the full course? I understand the anger more if you didn't realize until after you were DQ'd.

The Garmin connect entry was modified to try to show the full distance. Did you modify it? Did Bill?
I ask these questions because I am looking for context. 
Here is what I think happened:
You had thought you did the full course and all of a sudden Race Buster started coming after you and got you DQd. You were angry thinking this was completely unfair. You had argued for so long that you did the full course that when you realized you unintentionally missed the 2nd loop, you didn't feel you could then admit that you didn't bike the full distance.
I thought we were making progress and would be able to get her final statement out. However, just minutes later, I received this response:
Hey I thought u said this was over yet you still keep going I don't get it? I thought you said there was closure on this thing?
Let it go!!!!! 
If you don't want to let it go, step up to the plate, call Bill and talk to him about why you want to keep this going.
It would seem that Bill hopped in to the conversation. I never did get an answer. I emailed once again just prior to making this post to offer the opportunity for Anita to respond, but received similar a similar reply.
Please Support Marathon Investigation
Every contribution helps. I am currently working full-time on Marathon Investigation. The only way to sustain this level of effort long-term and maximize my efforts to catch and act on all known cases of cheating is through your support. Please consider a small contribution. If you represent a race, feel free to reach out for partnership opportunities.
Don't want to use PayPal? Click below to contribute without going through PayPal.